At the end of January 2021, Arsenal lost Kieran Tierney for a few weeks to a knee injury. With no other natural left-back in the first squad, Mikel Arteta was forced to play a right-back on the left. Cedric Soares, in fairness, didn't play awfully. However, Arsenal had lost a massive threat in their Scottish left-back and went on to win just two of the five games he was injured for.
A clear problem was outlined during two separate periods of the season. Kieran Tierney has struggled many times throughout his career with injury and Arsenal simply could not continue without a player who could take to the field in his place. In the Summer, Arsenal moved for that player.
The recruitment team settled on Nuno Tavares and made him Arsenal's first Summer signing. The 21 year-old Portuguese international's SL Benfica career ended in slightly dramatic circumstances, as some social media 'errors' had the fans angered. The Portuguese club were willing to part with their former academy player for just £7m.
Premier League emergence
Tavares had been restricted to bench appearances and Cup competitions so far this season but prior to the Aston Villa game, Kieran Tierney picked up an injury. Tavares was brought into the line-up and has performed exceptionally in the two games since.
Arsenal fans love Kieran Tierney for his direct play-style. When on top form, the Scotsman constantly goes at his man, often beating him and delivering dangerous, penetrating crosses into the box. Nuno Tavares has replicated this impact perfectly, arguably bettering Tierney's performances this season. With powerful runs and seemingly endless energy, Tavares has proved a nightmare for his opposition since coming into the team. When in full-flow, he is incredibly quick and intractable.
As Tierney would, Tavares is playing very high and wide in Arteta's system. He combines with Smith Rowe well, often running beyond him.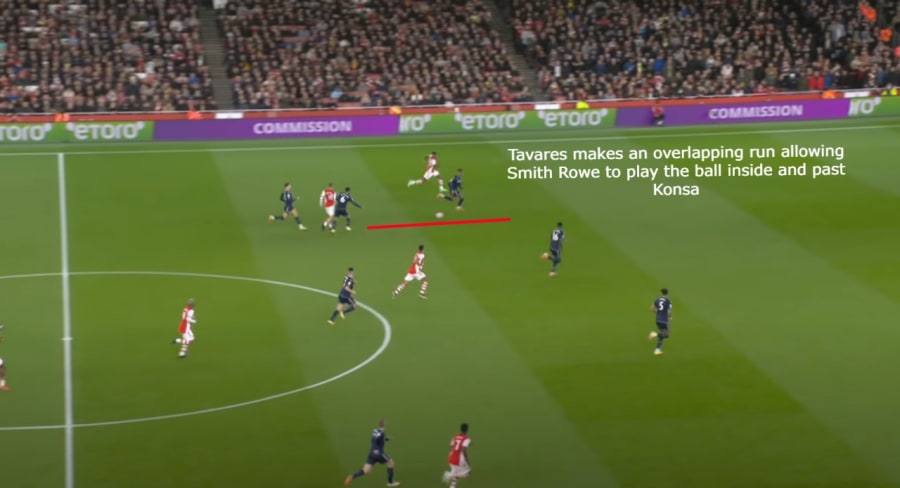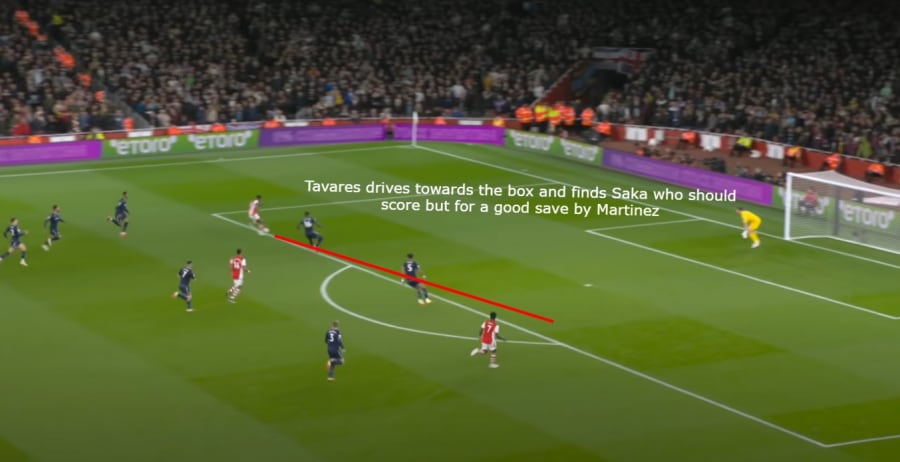 Tavares constantly made these runs and could've ended the night with a goal and an assist with better finishing. In the second half the introduction of Bailey forced him back, but he still played a part in Arsenal's third goal. Finding Aubameyang with a driven ball, the Arsenal captain flicked the ball onto Smith Rowe, who went on to score.
Against Leicester, Tavares was tested defensively for larger periods of the game but coped well. He made three clearances, two interceptions and three recoveries. Up against tricky winger Ademola Lookman in the second half, Tavares restricted the Leicester man to just one shot and one cross. Admittedly, the shot should've been stopped and required a good save by Ramsdale, but the defensive performance was overly strong.
Advert Inserted
Elements of Tavares' forward capabilities were also present in this game.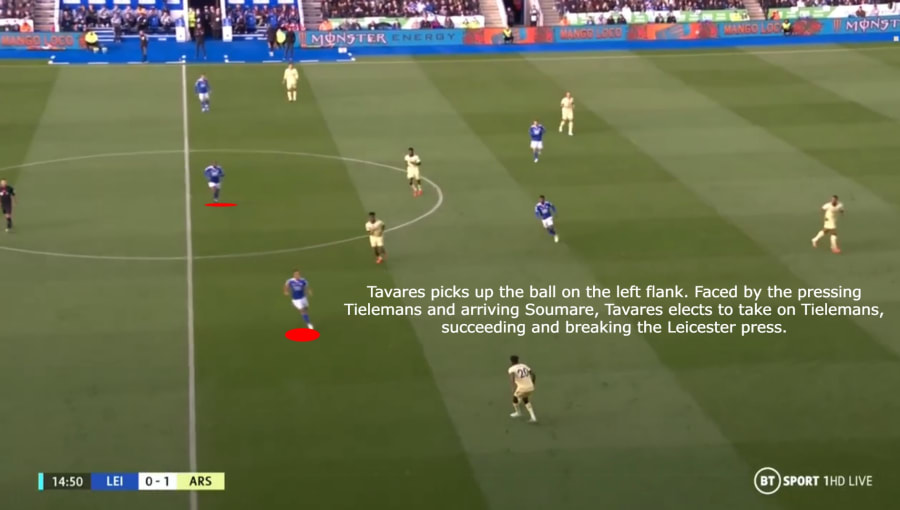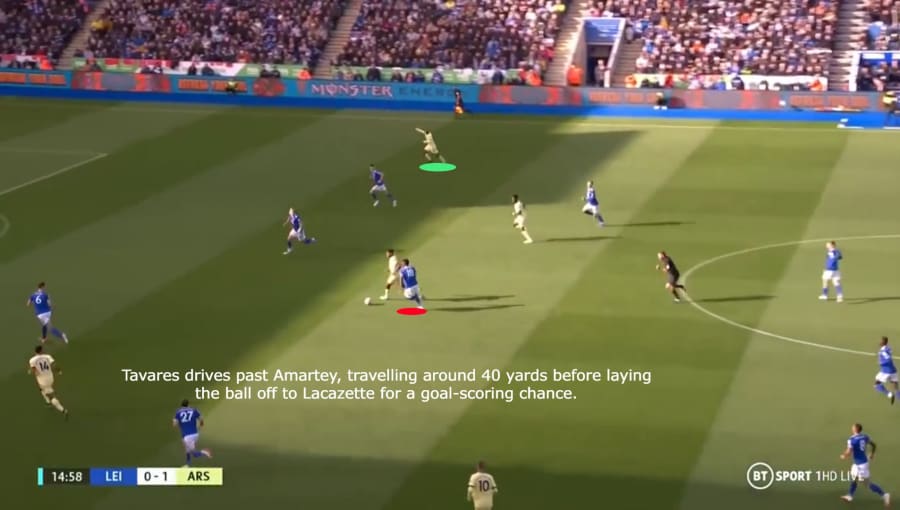 Tavares's powerful ability to run with the ball can consistently give Arsenal an out ball in situations such as this. In some areas, the left-back can make the wrong decision but he is young, this is an expected and coachable trait.
A fightback for Tierney
Mikel Arteta gave no clear indication of when Kieran Tierney would be back fit but with an international break coming, it is hoped the delay won't be long. However, Tierney doesn't face a leisurely stroll back into the starting XI. Despite playing just two league games, Tavares has arguably presented a higher standard than from left-back this season, definitely offering a more consistent threat going forward.
This is not to discredit the Scotsman who has been largely faultless for Arsenal since arriving in 2019 and is highly touted as Arsenal's next Club Captain. Competition is healthy and it's what Arsenal need in their squad. For Mikel Arteta to have two hungry young left-backs at his disposal, pushing each other and fighting for a starting position, is only a positive.
With the obvious precursor to say 'early days', Nuno Tavares looks to be yet another Arsenal 2021 Summer success story. The Portuguese youngster came for a low fee and has looked incredibly impressive in his early Arsenal days. With all the physical and technical attributes to improve at this club, Nuno Tavares will only get better and Arsenal will benefit to no end.