With the amount of funds holding Arsenal back in the transfer market, especially over the signings of Atletico's Thomas Partey and Lyon's Houssem Aouar, rumours of Mikel Arteta wanting Jorginho have ramped up again.
This has been partly to the fact that, at the time of writing, Arsenal have not been able to offload the likes of Sokratis, Sead Kolasinac, Matteo Guendouzi etc.
Now while I do not particularly like the Italian-Brazilian midfielder (especially the way he takes penalties), he would serve an important function in Arsenal's team and would suit the system Mikel Arteta currently has.
I know you won't like what I'm going to say, and I don't like it, either but stick with me.
He currently has a quality that the Gunners lack in the squad; someone who is a deep-lying playmaker. Unfortunately, Granit Xhaka currently isn't one, and Dani Ceballos doesn't seem to be trusted by Arteta to be one.
There are a couple of reasons for this, which I explained on Twitter. Firstly, Xhaka isn't a playmaker and as shown against the 3-1 defeat to Liverpool on Monday, when we try to play from the back against a team who will energetically pressure us from the back, he's not the player you want to receive the ball as he can't turn when under pressure and he can't link up play when playing in deeper zones. Also when Xhaka plays deep he has a tendency drop into the left half space.
Ceballos has similar qualities to Jorginho but like Xhaka, drops into the right half space when playing deep. That means you have no one in the centre when they both drop deep. This is also a problem when we lose possession.
The lack of a deep-lying playmaker is most evident in games where the opposition uses a low-block (basically any game where we have the ball for the majority, e.g. both our recent Premier League games against West Ham). Where we will have around 60-70% of the possession and create a worst xG than our opponents/two shots on target. It's this essential piece of play that would open up to create more chances against these teams.
Advert Inserted
You could argue that it's a lack of quality in midfield, which I have also argued for. And in part, it is. However, you can not argue that Sheffield United, West Ham etc. have better quality midfielders than Arsenal. It's not just quality but also how you use it and having another plan of attack (no pun intended), when the first one doesn't work. A reason why Liverpool bought Thiago (difference of reputation in the player they bought, but Liverpool have a better credentials as Champions League and Premier League winners recently).
Anyway, here is how we could work against those low block teams: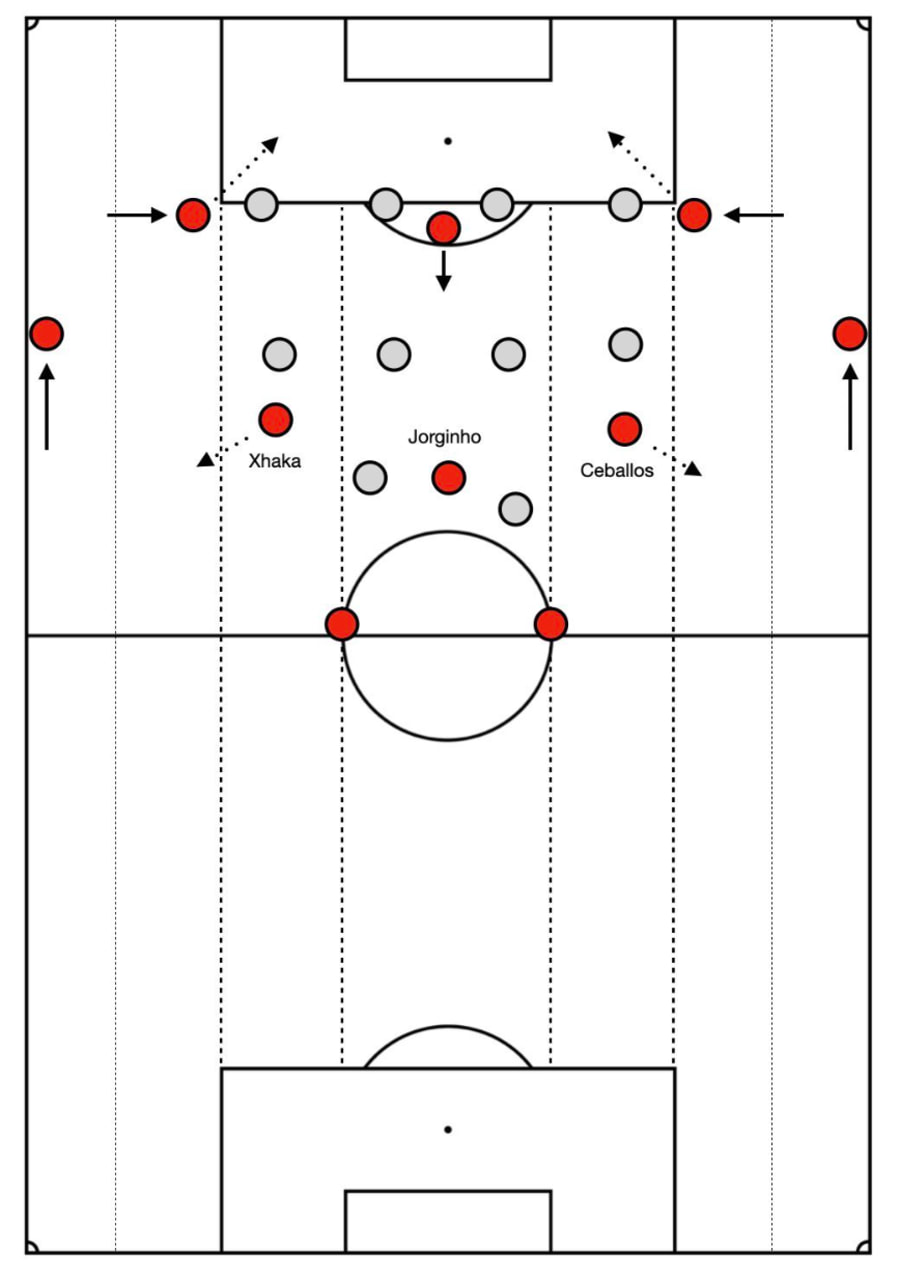 When Arsenal usually attack, they attack in a 2-3-5 outfit as you see here. Don't be worried about the centre-forward dropping slightly back, this is what Alexandre Lacazette already does. As Xhaka and Ceballos already float toward their side's half-space this would be easier to integrate than a completely new system.
How do the three centre-midfielders dropping back help Arsenal push forward? Well, it helps overload the wings. E.g. Against in the 2-1 v West Ham this season, Xhaka positions himself back left which allows Kieran Tierney to push up high, this pins back Ryan Fredericks with both Tierney and Aubameyang attacking this space. Jarred Bowen then has to decide to cover either Xhaka or Tierney from this sequence, making it hard to defend.
If Xhaka drops out to left and you still need a linking option if you want to switch from side-to-side, and to keep the ball circulation going, that's where Jorginho would fit in.