Dušan Vlahović, born in Serbia, started his professional career with Partizan, signing his first professional contract at just the age of 15. At the start of 2016, he was already given the #9 shirt.
A year later, in 2016, he made his professional debut, and with that, he became the youngest debutant in club history. In the next match, he came on in the Belgrade derby, breaking the record for youngest player to play in the fixture - a record previously held by Luka Jović. In the spirit of breaking records, 2 months later, Vlahović scored his first goal for Partizan in a 3-2 win, becoming the youngest scorer in club history. Vlahović thrived in the cup that season; scoring in a semi-final 3-0 win and scoring in the cup final - which Partizan won.
In June 2017, Vlahović signed for Fiorentina, for a fee of around £1.76 million. Vlahović scored his first professional goal for Fiorentina - a brace against Monza in August 2019. Since then he has become one of Europe's most promising young talents.
He started strong in Italy, scoring 14 goals in 25 appearances in all competitions in his first season. Fiorentina finished 5th in the youth league that season, with Vlahović as their top scorer - with 11 goals in just 13 appearances. The next season saw Vlahović having to adjust to the Serie A, scoring 6 goals in 30 appearances. However, for a 19-year-old, this was a more than adequate season, totalling 9 goals in 35 appearances (in all competitions). Fiorentina finished 10th in the 2019-2020 season. The 2020-2021 season is where Vlahović truly made a name for himself across the footballing world. Despite Fiorentina's relatively disappointing season, finishing 13th, Vlahović scored 21 goals in 37 games in the Serie A, which made him the 4th top scorer in the league. Currently this season, Vlahović has scored 8 goals in 12 league appearances, which makes him the 3rd top scorer. Vlahović is averaging a 7.33 rating, which is the 9th highest in the league, averaging a goal every 134 minutes.
Vlahović is a left-footed deep-lying, hold-up striker. At only 21, he is 6 foot 3. He uses his strength to hold up possession, distribute it to the wings and charge into the box and use his aerial or goalscoring ability to score. This is evident by his touch map from this season.
The fact that 7 of his 8 goals have come from inside the box shows what a threat Vlahović can be when receiving the ball in the area. Similarly, 20 of his 21 goals last season were inside the box. He has also gone from 0.6 goals per game to 0.7, demonstrating his improvement.
Arteta likes to play with a hold-up striker - especially seen in the recent run of form following the switch to a 4-4-2 formation - which sees Aubameyang and Lacazette hold up the ball whilst releasing it to the overlapping runners. A role in which Vlahović would thrive. Furthermore, Arsenal is known for crossing the ball with no success. During the 2020/21 campaign, Arsenal hit 751 crosses, and only 21.4% were accurate, as well as only 7 headed goals resulting from that. With the expected departure of Lacazette, as his contract runs out this summer, Arsenal's need for an aerial threat increases. 10% of Vlahović's goals in the 2020/2021 season were headed goals, showing that he is more than capable in the air.
Vlahović started scoring goals more regularly last season and looks to be becoming more consistent. In 2019/20, he scored 6 goals from 17 shots on target, whereas in 2020/21, he managed 21 from 34. Doubling his shots on target and scored more than 3x the goals.
The xG value of his shots has increased - the distance he's taking when shooting from goal has decreased. His decision making has improved as he adjusts more to the league. He's taking fewer shots per game but he's hitting the target more often. Another sign of improvement.
A key reason for this is the change in the areas he is choosing to shoot from. He is a clinical striker. On the left is his shot map for the 2019/20 season, compared to the 2020/21 season and finally compared to the 12 games Vlahović has started this season. Green = goals scored.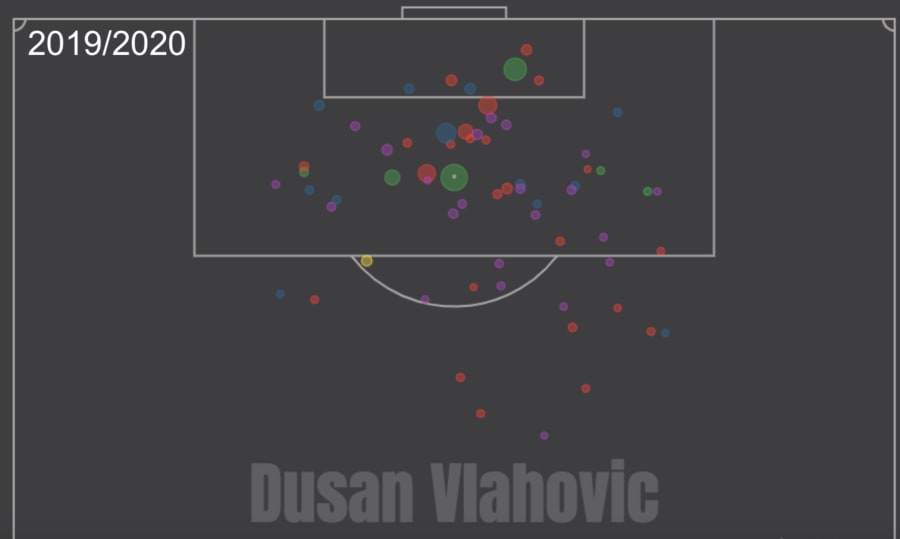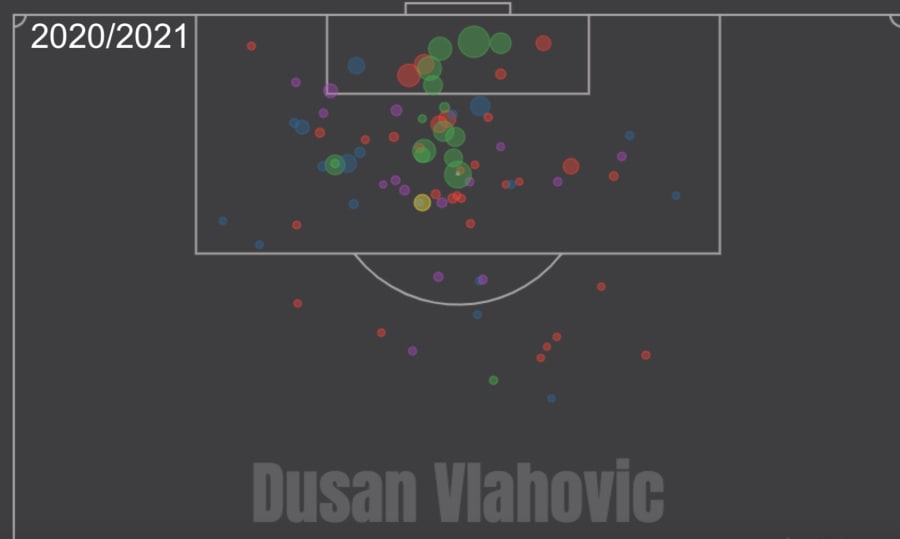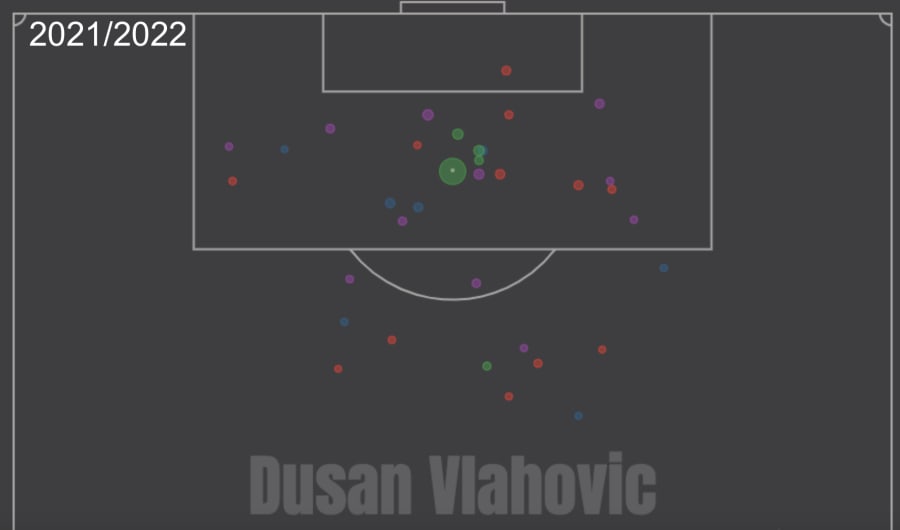 This is emphasised by his stats during his time at Fiorentina. His goals p90 have rapidly increased. Vlahović continues to overperform his xG which marks an improvement in his finishing abilities. He takes his chances - something that would hugely benefit Arsenal.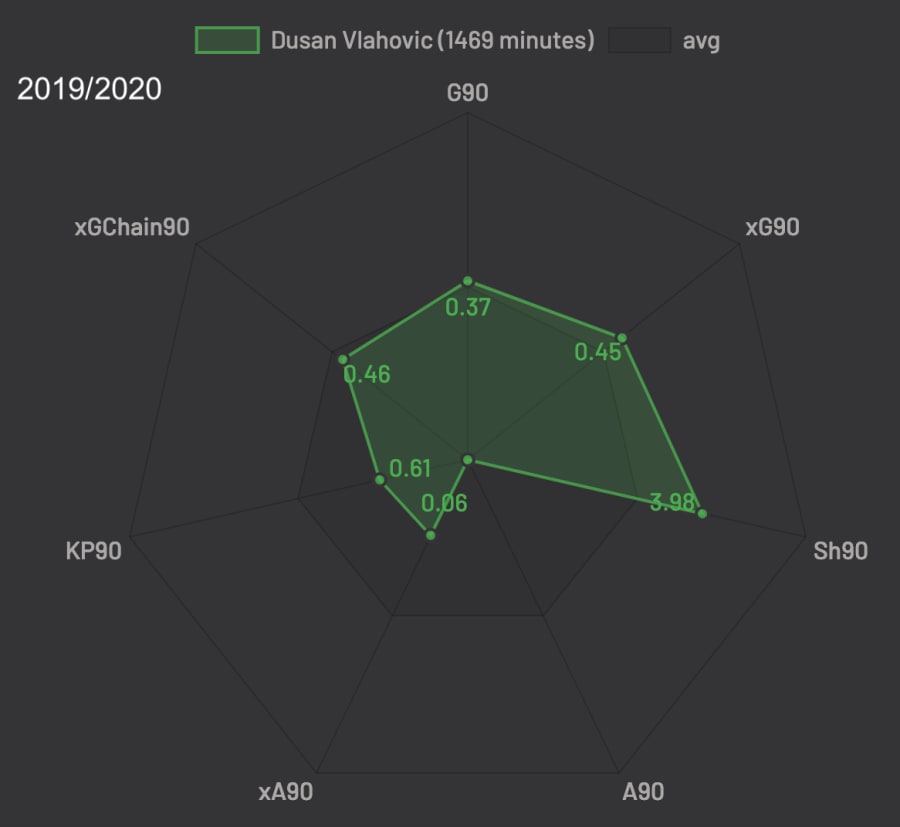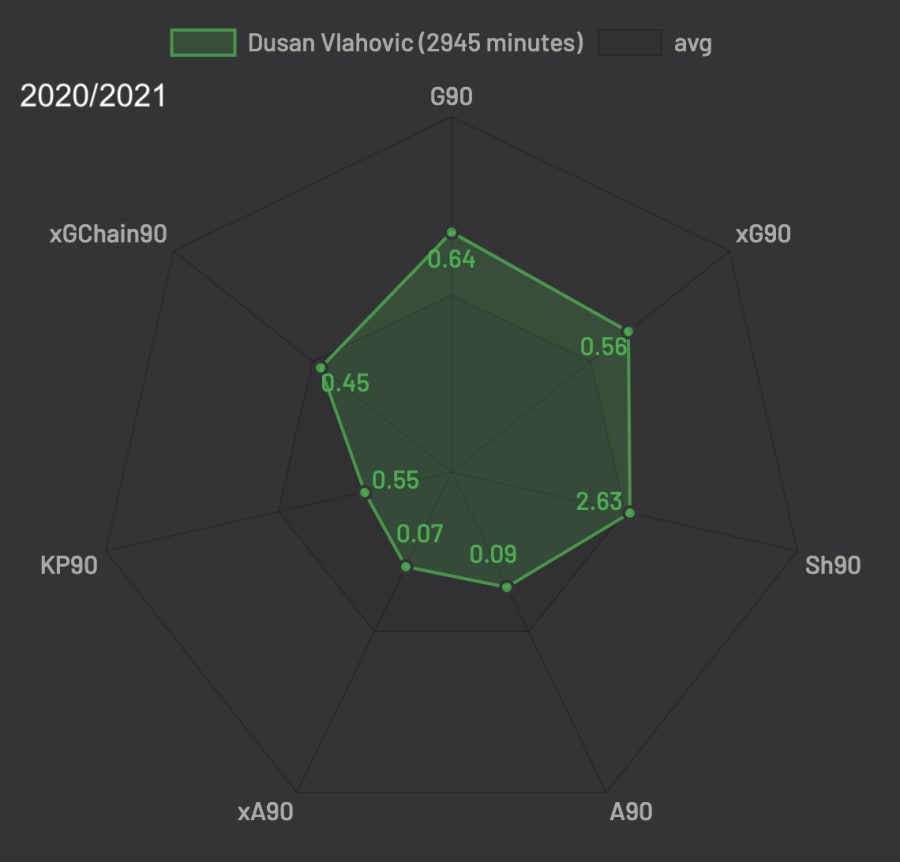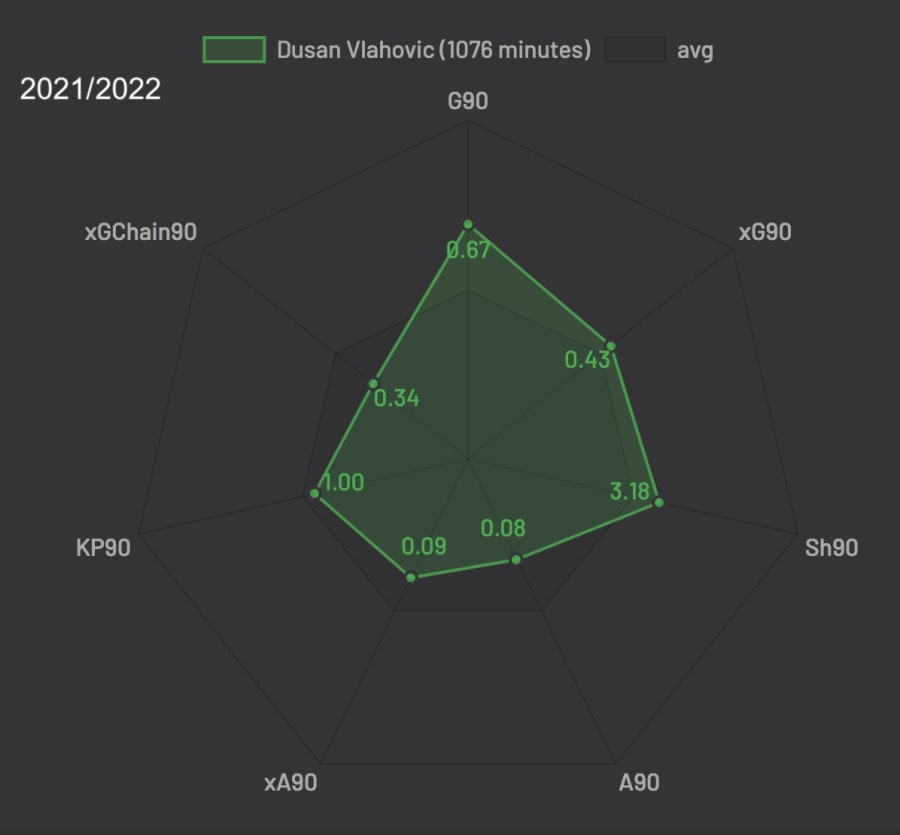 His shots have decreased, yet his goals have increased, showing an improvement in goalscoring ability. This season Vlahović has a total xG of 5.12, with 4 non-penalty goals. To become of the top strikers in Europe, he should be getting around 20+ npg's a season.
Comparing Vlahović to other strikers who Arsenal are rumoured to be targeting, Vlahović is the most prominent goal threat - having 0.67 Gp90, higher than that of Isak (0.55 Gp90), Osimhen (0.57 Gp90) and Toney (0.18 Gp90 - Toney's stats are only from this season).
Advert Inserted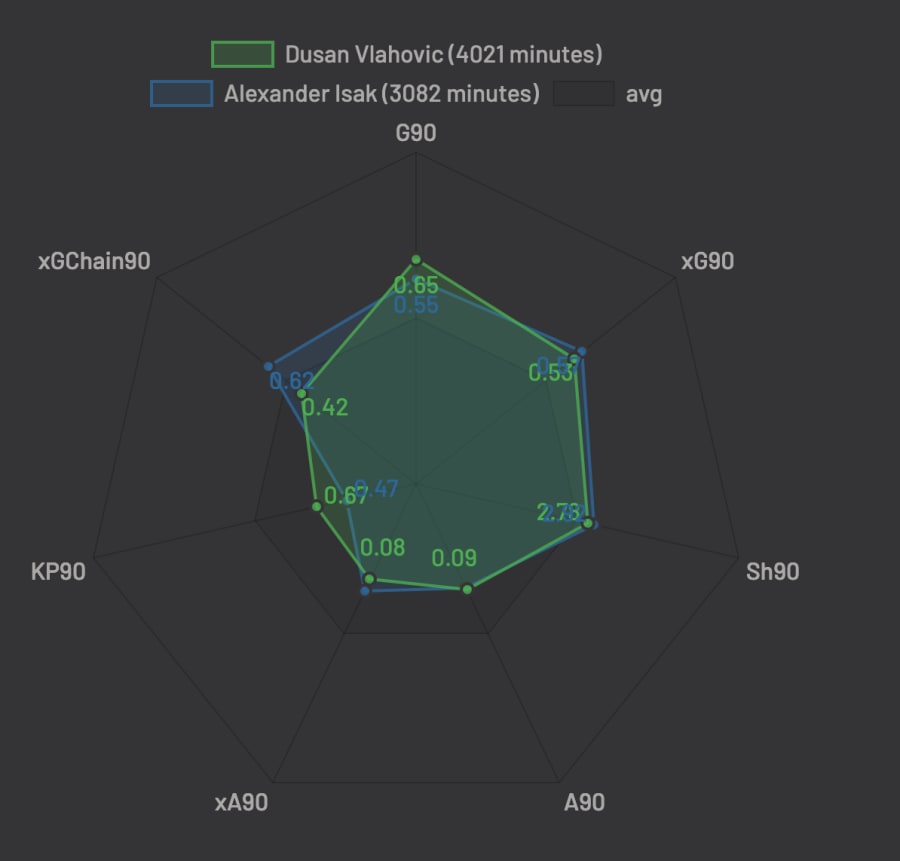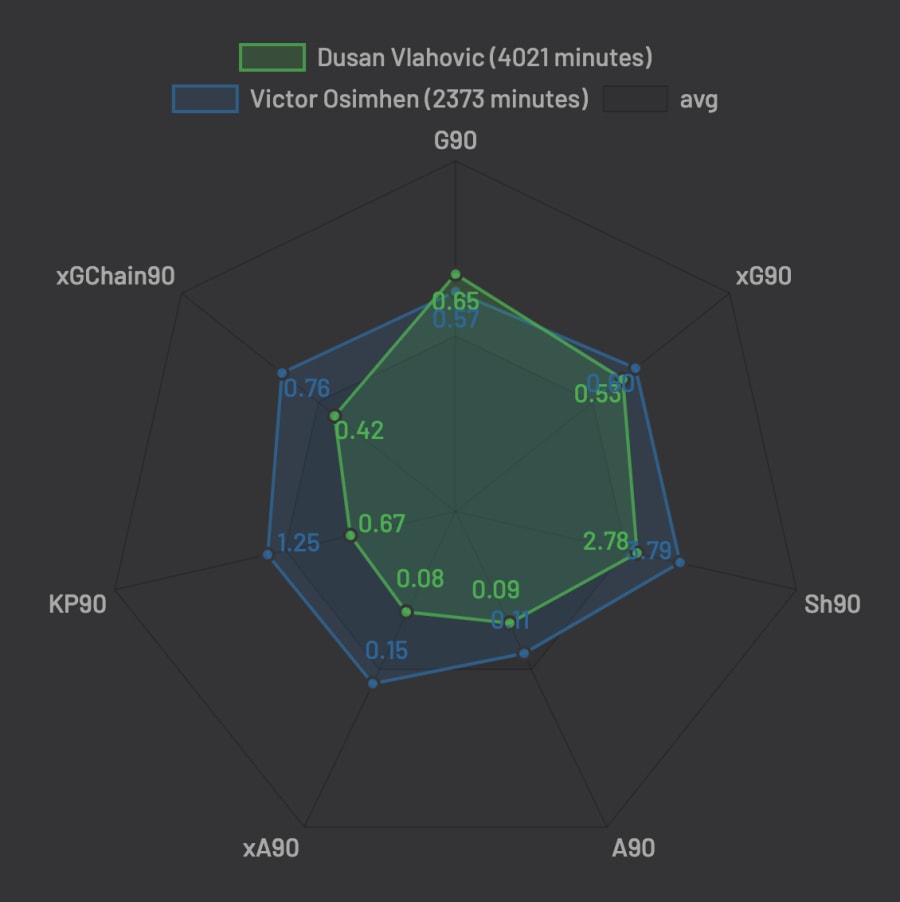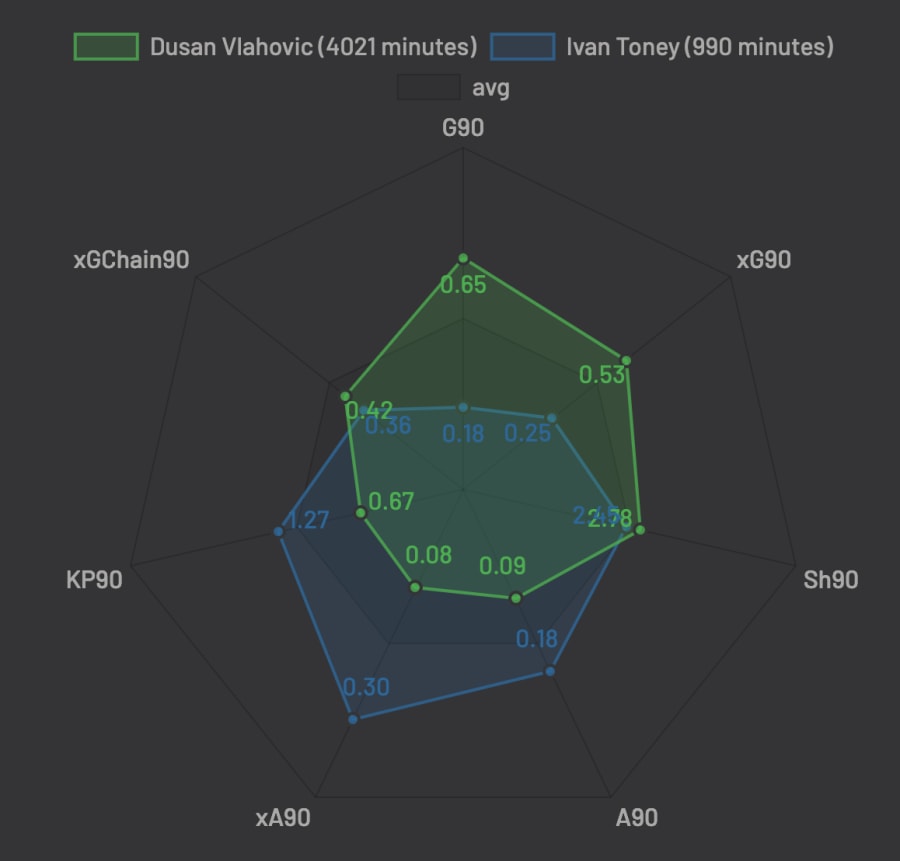 Despite Osimhen having the highest xG, of 0.60 p90, the strikers all underperform their xG, whilst Vlahović overperforms it - having a 0.53 xGp90, with a 0.67 Gp90. This reinforces his finishing and goalscoring ability. These stats are from both the 20/21 and the 21/22 seasons.
Vlahović is the main out ball for the team. He offers a threat in behind, but he is also tasked with receiving the ball and holding onto it. Last season, he averaged almost as many touches in the middle third of the pitch (16 p90) as he does in the attacking third (17.8 p90). His involvement in goals (passes leading to goals [A90] - 0.08) has remained the same despite being relatively low. This is very similar to the sum of xG from his key passes (xA90 - 0.09). However, his passes do not come from that deep inside the opposition half (as seen by the touch map earlier and the two below from the last few seasons) therefore its less likely goals will come directly from his key passes.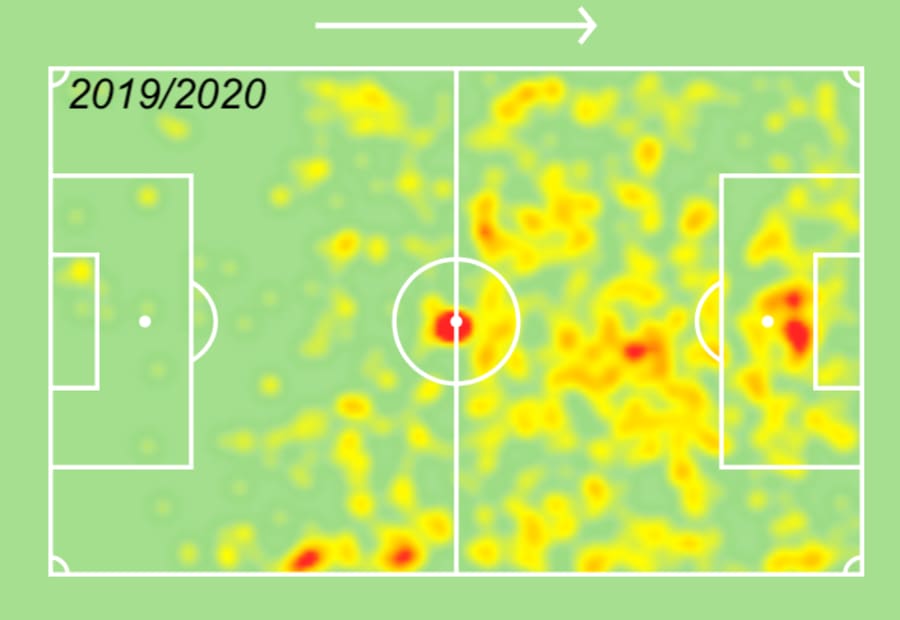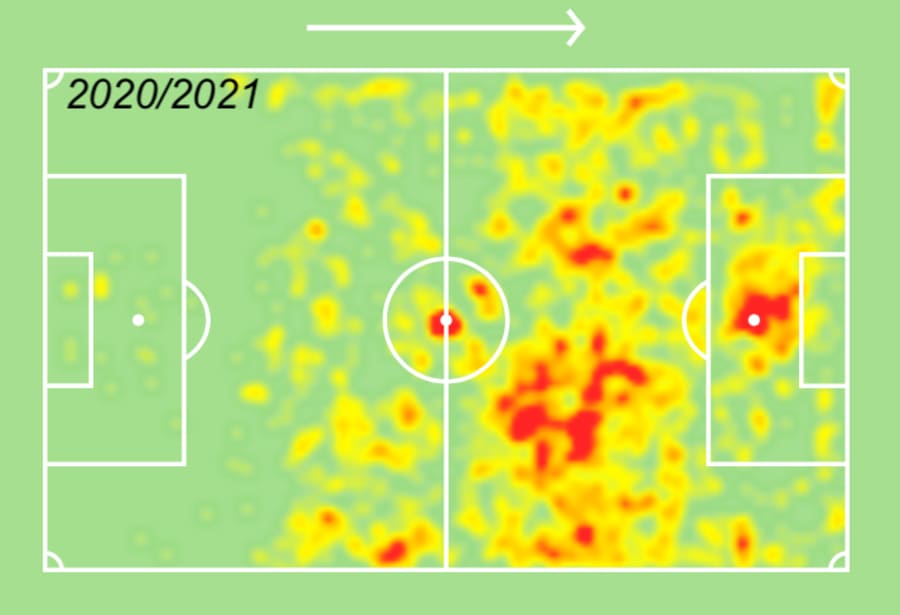 It is clear a constant press is the future of success in football. For Arsenal, the high press saw Aubamayeng and Ødegaard push up, with Smith-Rowe and Saka dropping back on the wings, therefore transitioning into a 4-4-2. The same is with Lacazette coming into the side.
Vlahović, in his first season, had a consistent press. This was rated 89/100 by SmarterScout. His recoveries were low, but a high and constant press will be key if he comes to the prem. His height and pace will surely offer an advantage when pressuring the defence.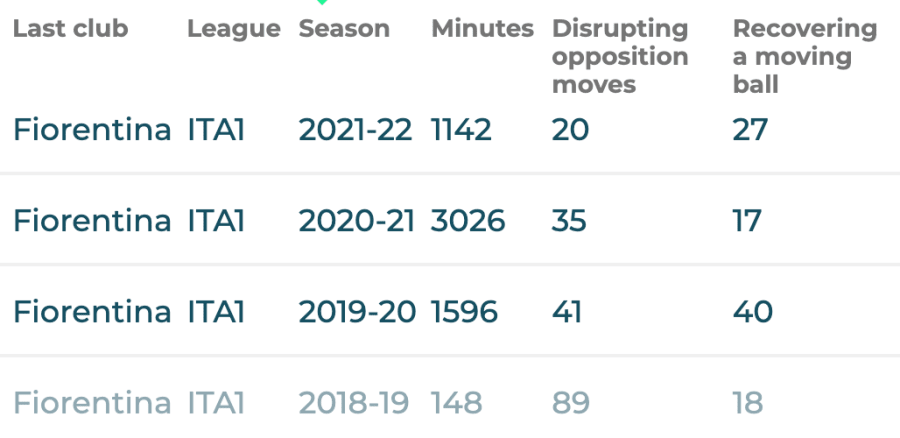 Vlahović is 6 foot 3, and he has the frame to match. You don't play in the Serbian top-flight at 15 years of age if you can't handle yourself. That size is vital for his role at Fiorentina and can be extremely effective when handling the intensity and physicality of the prem.
Finally, Vlahović seems like the perfect striker for Arsenal. He almost has similar attributes to Erling Haaland. Vlahović is a clinical striker and takes advantage of every chance he is. He poses a threat from everywhere on the pitch and has an elite, calm mentality.
He is the final piece to Arteta's puzzle - a hold-up, physical striker who charges into the box and who can consistently score in the air. He takes his chances and is a composed striker with remarkable finishing abilities. He has scored 11/11 penalties for Fiorentina.
Despite there being no concrete rumours of Arsenal and Vlahović, for a rumoured price of around €70 million, it seems like a fair deal. However, to truly prove himself, he needs 20+ npg's this season. For me, this would cement the idea that Vlahović is the striker for Arsenal.
Touch maps, career and crossing stats from SofaScore. Shots map and heptagon stats and comparison diagrams from UnderStat. Pressing stats from SmarterScout.
Twitter - @afcfreedland
(Featured Image: Via Getty)