With there being countless rumours about who Arsenal should sign & shouldn't sign, I picked up on a transfer rumour that was prominent for a lot of Arsenal's summer window of 2020. Houssem Aouar to Arsenal. He is exactly who Arsenal need, and as he has gone up a few levels since his Champions League campaign, the perfect time to sign Houssem Aouar will be this summer.
Houssem Aouar will be Arsenal's facilitating player to allow them to play a 4-3-3 without any problems, he's a disciplined player that provides Arsenal with a strong attacking threat, but his in-game intelligence allows him to be a strong player defensively (even if the numbers do not support that.)
What type of team are Lyon?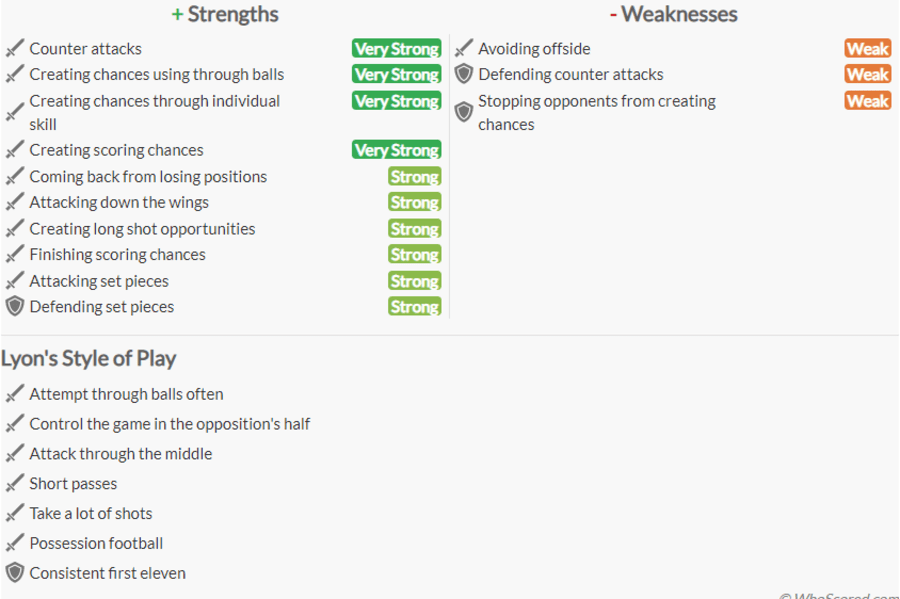 Lyon are a 4-3-3 side that relies on selection consistencies to help their team create bonds & to work well as a team, which is why they're so strong on counter-attacks. As they don't have a central focal point, their main form of chance creation comes from out wide with an additional emphasis on them attacking on the left-hand side (which is where Houssem Aouar operates.) Lyon seek to control every game, with their midfield 3's technical security making it easy for them to do so, which is why they prefer a 4-3-3 to a 4-2-3-1, where they'll lose control.

Houssem Aouar is Lyon's main creative outlet (even if he isn't racking up a ridiculous amount of assists.) He gets the ball into the final third, either by carrying it, playing a killer pass or simply receiving it & most of the time, his team will end up getting a shot on goal once it happens. He doesn't rely on creating opportunities through taking set-pieces which is a positive for any team wanting him as it makes him less likely to flop at his next club, regardless of how they play & who takes their set-pieces.
Off the ball runs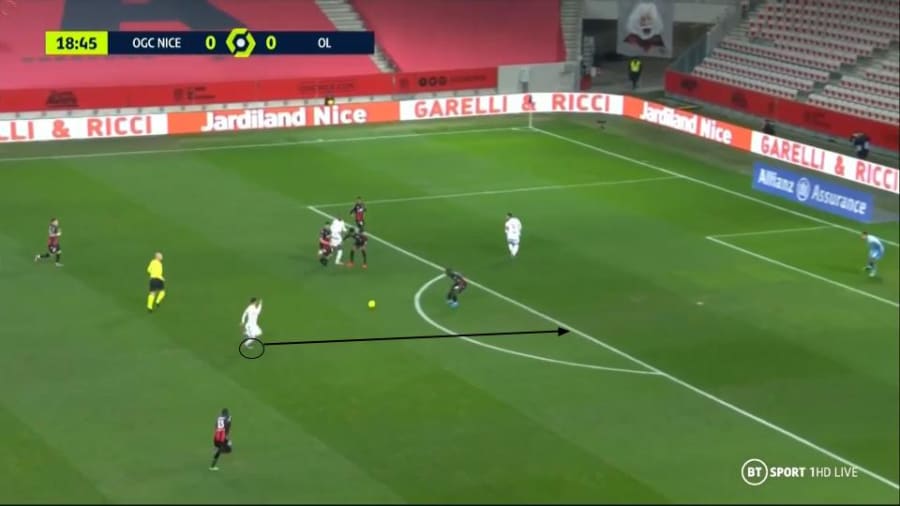 Houssem Aouar's spatial awareness is something to be desired. He picks up the ball & runs into the gap which was made vacant as the defending team were being hit on transition, and he is able to get a shot on goal As he is able to find space & attack it, Lyon becomes a force to be reckoned with when they hit teams on transition, and the intelligence of Aouar is used to good effect as a result.
Arsenal needs a midfielder who can create the final action for them or the pass before the goal. Houssem Aouar has shown that he is that player with his exploits at Lyon, and as he is capable of drifting into space that evades the opposition, tracking him would be difficult to do & Arsenal can score 5-10 goals extra per season utilizing that.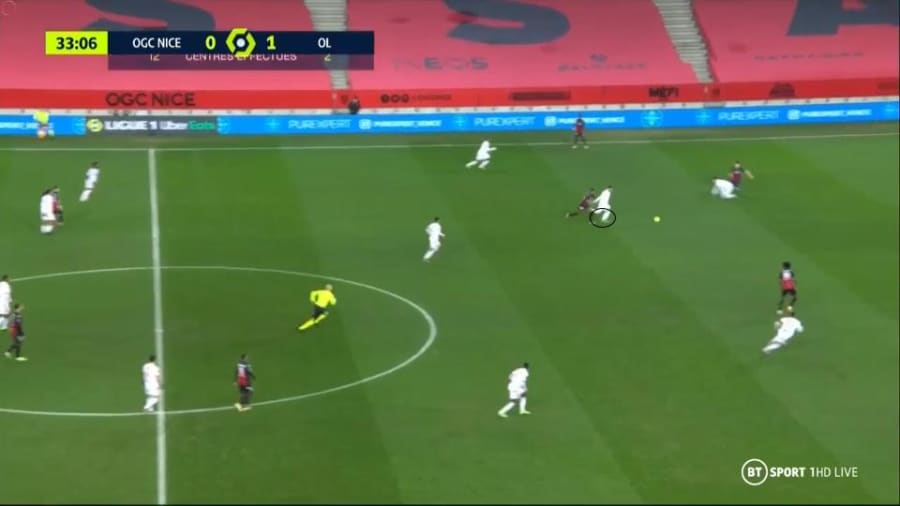 Houssem Aouar being Lyon's main creative outlet is on display again, as he's ready to receive the ball when the LW/CF loses it through an opposing challenge. He can then exploit the gap between the RCB-LCB that's left open because it isn't being covered well by the opposition. That off the ball run/space exploitation is commonplace in Houssem Aouar's game, and because It's reliant on where the opposition leave gaps for him to exploit, it will be difficult for them to stop him from doing so.
The only Arsenal midfielder capable of doing this type of run (albeit to a lower level) is Joe Willock, and he isn't at Arsenal. Arsenal's regular midfield double pivot (Xhaka & Partey) is both static & confined to the same zones. Emile Smith Rowe/Martin Ødegaard is confined to a space that's too advanced to have the same impact on transition as Houssem Aouar does.
Passing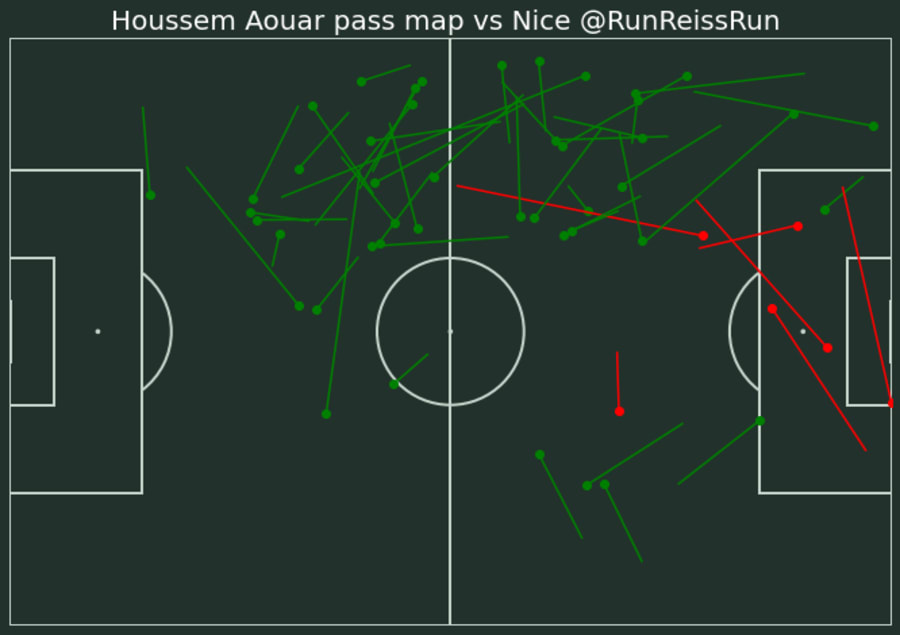 Houssem Aouar is generally a secure passer that can help his team build from the back & he can drift out wide if he's tasked to do so (the same way Dani Ceballos does for Arsenal to compensate for no Kieran Tierney.) He was able to accumulate 5 SCA, despite being limited in the zones that he played, which is always great to see.
Houssem Aouar is good at sticking to his defined role as an LCM in a 4-3-3, where his responsibility is to provide an attacking threat on the left-hand side and to link up with the LB/LW/CF when they need an extra man to play themselves out of pressure from the opposition.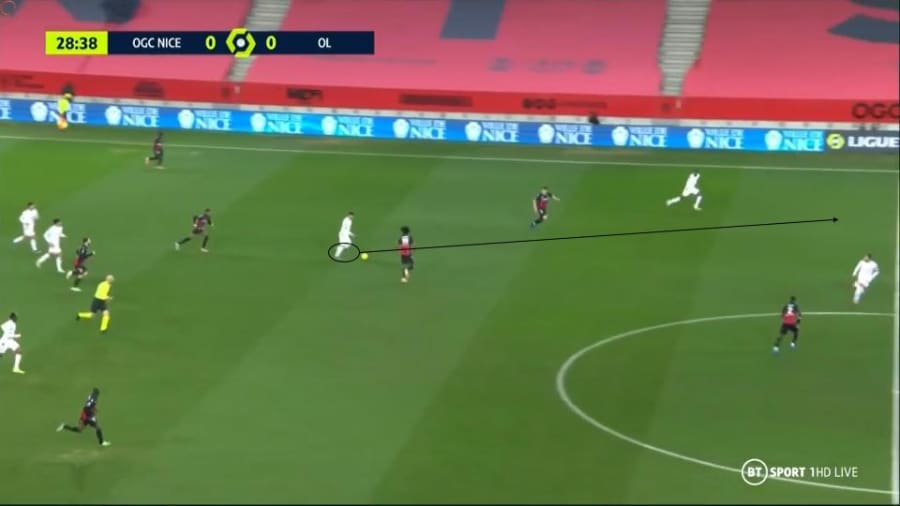 As stated before, Houssem Aouar is a huge threat in transition. He can find space & play the LW into open space before he runs to create a 3v2 situation where his team has a numerical advantage in attack. His limitation in this situation is that he can only pass towards the left-hand side, so if there is a runner on the right-hand side to be found, he won't switch the play & play the ball to him, or he has shown no indication that he'll do so.
Advert Inserted
Aubameyang/Martinelli/Pepe will be the winners if Houssem Aouar becomes an Arsenal player as Aouar will get the ball to them as quickly as he can (or he will help them exploit space that they can take advantage of if that doesn't work out.)
Discipline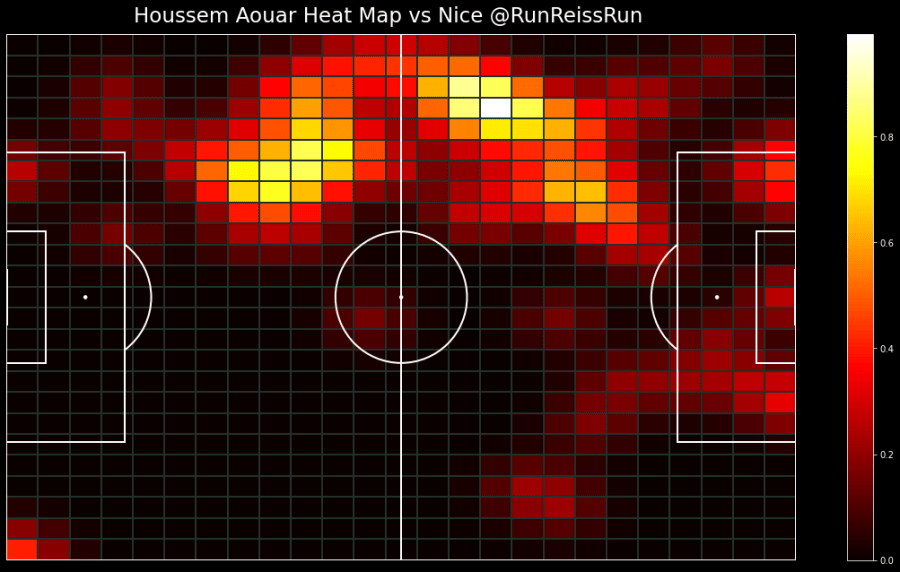 Houssem Aouar is an LCM in a 4-3-3, and his heatmap shows exactly that. He follows his instructions well & he keeps himself confined to the part of the pitch which is his. His discipline is what Arsenal need as that has been their downfall in recent times. They have players (Ceballos & Guendouzi) who love being out of position, and it leads to there being gaps that the opposition will inevitably take advantage of as no one will cover that gap, so having Aouar will help Arsenal defensively (as he will keep the shape) as well as offensively, which is why Arsenal want him.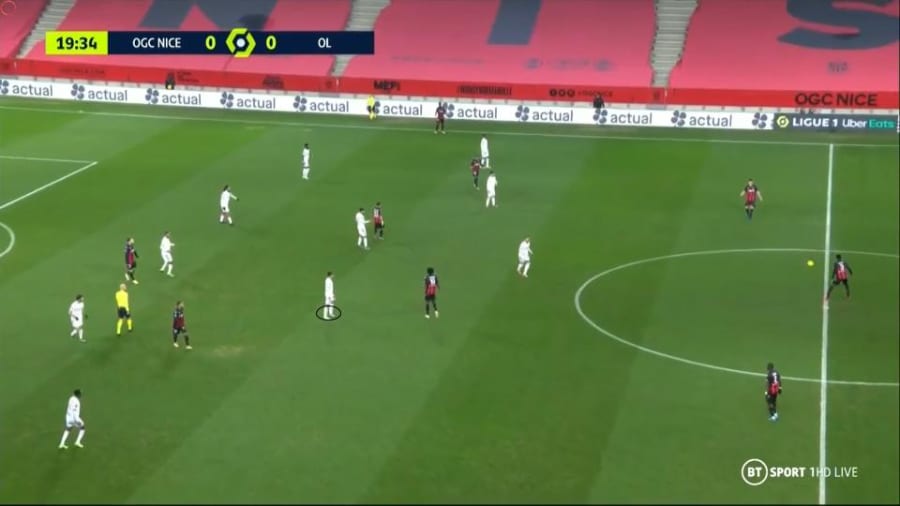 When Lyon are defending, Houssem Aouar keeps himself in a position that allows him to track his man, but also maintain the shape in which his team is playing in. Lyon defended in a 5-3-2/5-4-1 with Houssem Aouar occupying space in the middle of the pitch. Compare that to Arsenal who defends in a 4-4-2 shape, with the central midfielders occupying the same positions as the Lyon CM's, the change won't be huge for Houssem Aouar & it wouldn't take long for him to acclimatize to the Arsenal set up.
Defensive Contribution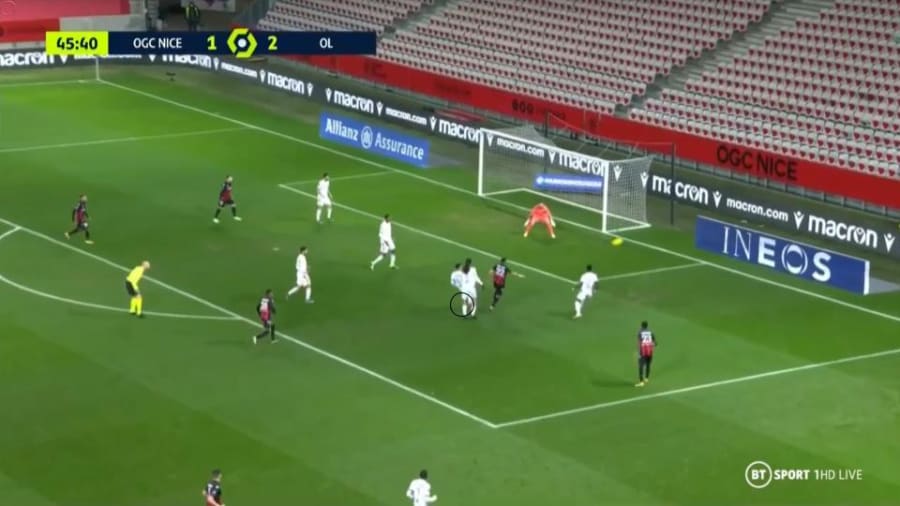 Houssem Aouar does not defend much, as he is given an attacking role by Rudi Garcia, but his defensive awareness is better than it's given credit for. He's able to track runners & drop back when necessary, preventing the opposition from getting more shots on goal than they should.
In a 4-3-3, Arsenal shouldn't have him defend too much because he's someone you want up the pitch, creating chances on transition, but he's great to have as an option to drop back when Arsenal need an extra man to stop the opposition to have a numerical advantage over the Arsenal defenders.
This situation is different, with Lyon's back 4 ready to stop any attacks, but as there was an impending 5v4 scenario that would give Nice a numerical advantage, with the extra man situated on the left-hand side of Lyon, it makes sense for Houssem Aouar to trackback & to stop the attack. Aouar nullified their attacking threat by creating a defensive triangle with his LCB & LB, making it impossible for Nice to get around them without straying into an offside position.
His intelligence is on display here, as he knows when to venture into different positions to offer a passing option for his team, or he knows how to squeeze tight to the opposition so they can't get a chance to attack vacant space (if Aouar wasn't in that position, Nice would've had a clear line between 2 of their attackers & a goal would've been inevitable.)
Where he would fit in at Arsenal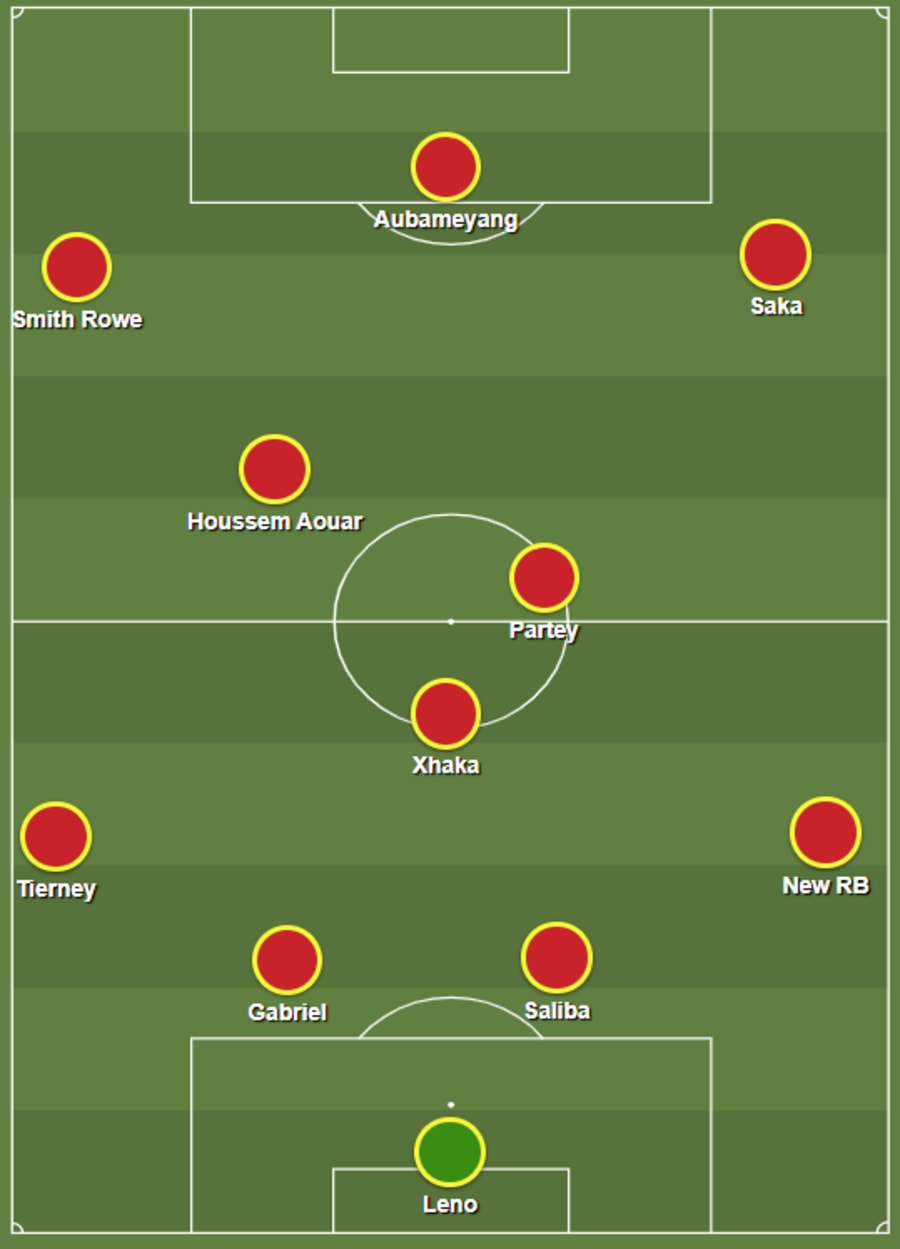 Houssem Aouar is the facilitating player to allow Arsenal to play a 4-3-3 instead of a 4-2-3-1 as he's a good substitute for an attacking midfield player, and Thomas Partey can play his 'desired' role as an RCM instead of a defensive midfielder. Arsenal will line up similar to how they did in my Italy piece for the Arsenal review. If Arsenal can find a RB that's capable of holding his own flank down, the same way Kieran Tierney is, Arsenal can play the 4-3-3 without having to worry about them being a predictable side as they'll have the personnel to switch it up & to attack any side with minimal defensive issues.
Last Thoughts
Houssem Aouar is the final piece in the puzzle for Arsenal's transition to the 4-3-3. He offers them an attacking threat, good link-up play with the wide players, and a non-set piece reliant creative option to help Arsenal get more shots out per game. I'm unsure as to whether he will successfully adapt to English football, but he should be Arsenal's number 1 target for the LCM/free 8 position if Arteta wants to transition to the 4-3-3 imminently.