Arsenal have agreed a deal for Brighton CB and England international (currently on holiday after Euros) Ben White for a total fee in the region of £50m as per the reliable David Ornstein.
A major reason for the move is he solves a key issue for Mikel Arteta's Arsenal via reliable right-sided progressive distribution and carries when compared to the current options.
Let's take a look at two data visualizations by the brilliant Jon Ollington that clearly illuminate White's potential impact.
First, a quick note - while at Brighton last season White spent 68% of his time as a RCB in a back 3 and the other as a DM whereas with Leeds on loan in 2019/20, he played 78% of the time in a back four.
This clearly illustrates White's versatility and dynamism but for the sake of this analysis, lets focus on the Leeds data as Mikel Arteta's known preference is to play with a back-4.
Progressive Passing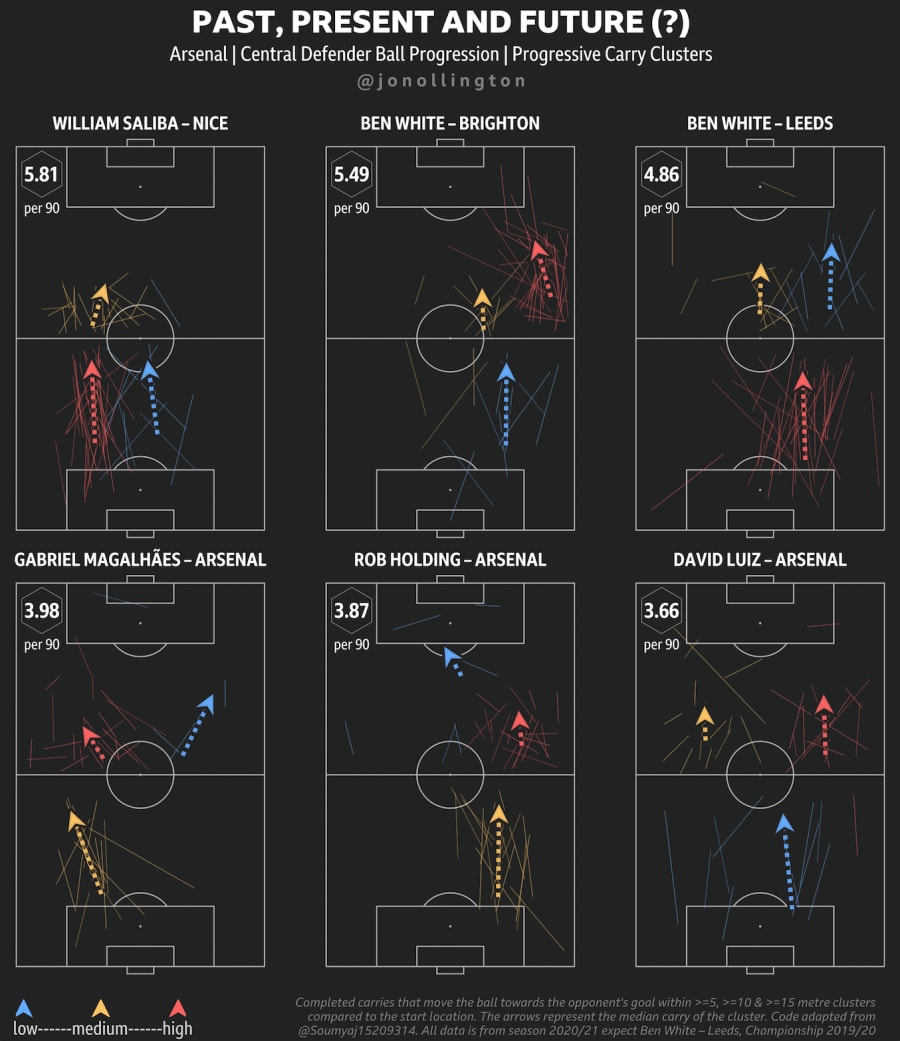 Credit: Jon Ollington (@jonollington)
Advert Inserted
Three things jump out with White's progressing passing:
1 - The sheer number of progressive passes at 4.96 per 90, nearly double that of the closest Arsenal CB Rob Holding
2 - White's highest frequency passes coming from a relatively advanced position at nearly midfield
3 - The ability to play a long sharp diagonal ball. Each of these are rare compared to Arsenal's current crop of CB's, particularly Gabriel and William Saliba who tend to progress from deeper and more centrally.
Progressive Carries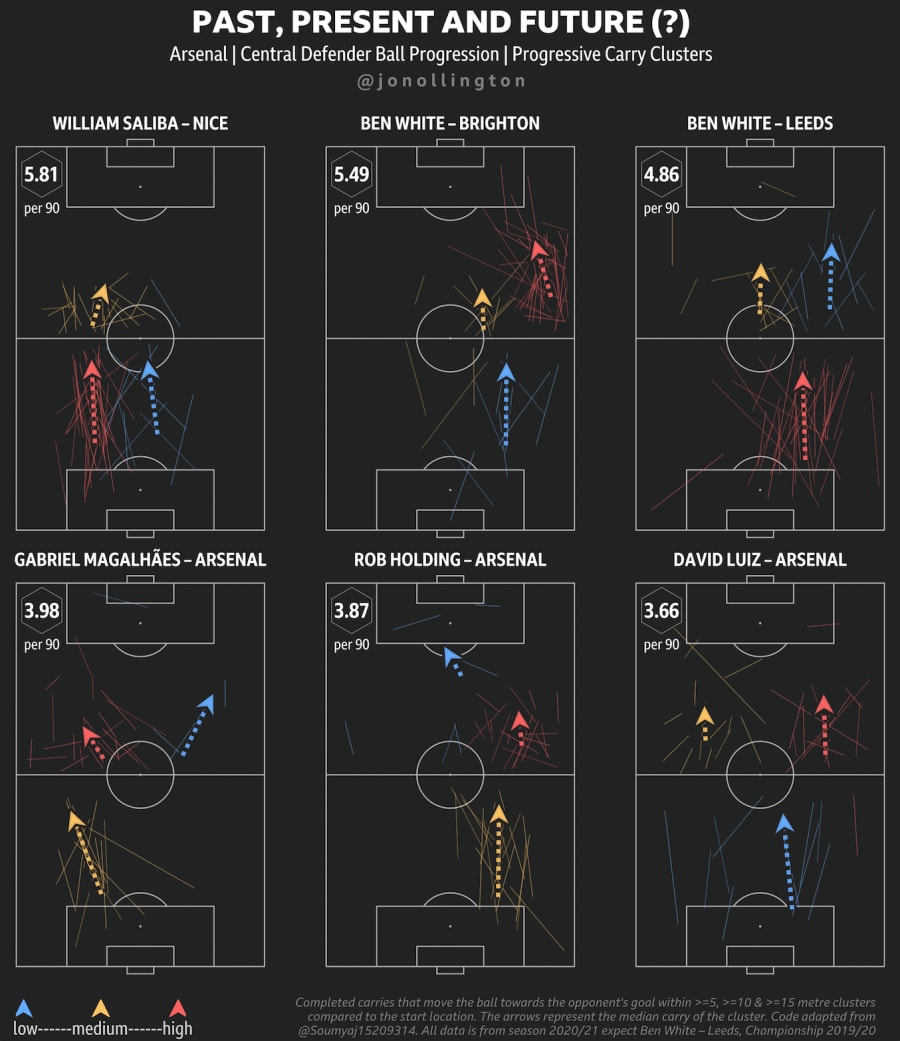 Credit: Jon Ollington (@jonollington)
The key things that jump out with White's progressive carries are:
1 - Again the sheer quantity at 4.86 per 90 - only Saliba is higher and both complete nearly 1 more dribble per 90 than their next closest counterpart
2 - Nearly all of Ben's carries biasing along the right channels
3 - His ability to directly carry the ball both from deep into the midfield and midfield into the final ⅓.
In Combination
Ben White's progressive passing quantity, positioning, and variability in combination with his comfort carrying the ball at high frequency both both from the final ⅓ and middle ⅓ of the pitch allow him to ask numerous questions of an opponent's defense and control the right channels over the course of the game - key attributes Arsenal have been sorely lacking.
Additionally, at just 23 years old, White is still a work in progress so his effectiveness and ability will likely only increase as he builds cohesion and chemistry. It's clear why Arteta and Arsenal are pursuing him aggressively - he fills a key weakness for the team and could become a foundational building block in the club's ongoing rebuild.
If you prefer a video version, you can find that Arsenal analysis here:
Fin. COYG.
Dr Rajpal Brar, DPT, (@3cbperformance) is a physiotherapist, movement expert, fitness trainer, sports scientist and mindfulness coach. He runs the LA and online based wellness and athletic performance clinic 3CB Performance, is an avid Gooner since 1995, and you can subscribe to his Youtube channel (which posts a variety of Gunners' related content).