Martin Odegaard, the Norwegian national team captain and former Real Madrid wonderkid, was among the most-debated players linked to Arsenal this summer. And that's not because there was a lack of action elsewhere.
Some were convinced after his roughly 10 games in the Premier League and handful in cup competition that he has what it takes to be a great Arsenal creator and leader. Others were underwhelmed, saying he'd never live up to the high bar by his predecessors, that he stat-padded in meaningless games and underperformed where it mattered.
Whatever your take on the above, it's unfair to say Odegaard had no impact on Arsenal's second-half turnaround. It was a relatively small sample, but Odegaard ended up leading Arsenal in expected assists per 90 (using his minutes played as the minimum), as well as key passes and shot-creating actions. His rates, if kept up over a full season, would have been near the top of the Premier League: 19th in xA, 11th in KP, 9th in SCA.
When Arsenal set out to find their creator of the future this summer, Odegaard's name was rightfully on the list. But so were others, the most popular of which was likely James Maddison, who may have cost £60m but had both a great Premier League track record and questions surrounding his fitness and form.
It's too early to say definitively whether Arsenal stole a star from Real Madrid for £30m, particularly given Arsenal's issues with fitness and its all-out terrible performance against Manchester City. But what do the numbers behind the game tell us about Odegaard so far? Let's take a look.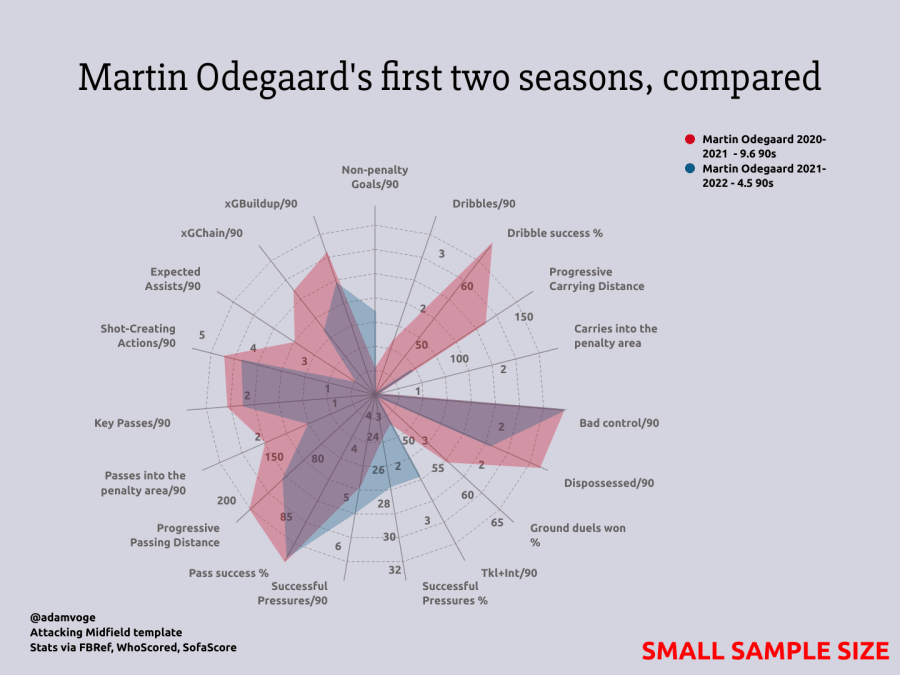 Putting his stats on a radar chart makes Odegaard's performance this season look a little lackluster. In some ways, it's certainly fair to say he hasn't been up to his form from last season: his expected assists/90 have dropped from 0.22 to just 0.07. He's gone from winning 55% of his ground duels to just 28%. His passes into the penalty area have dropped from 1.88 per 90 minutes to 1.33. Of course, Arsenal's all-round xG and xA performance has been down this season, partly because of those eggs laid against City and Chelsea.
But there are also some other factors at play here: It's been 4.5 90s for Odegaard. One great (or terrible) performance could drastically change how you evaluate his entire season to date, due to the small sample size. Odegaard isn't a dribbler by nature, but even if he made two dribbles in a couple of attempts, suddenly that upper-right quadrant wouldn't look so bad.
And, at least to me, it feels fair to say Odegaard is playing a bit differently this year. Let's investigate.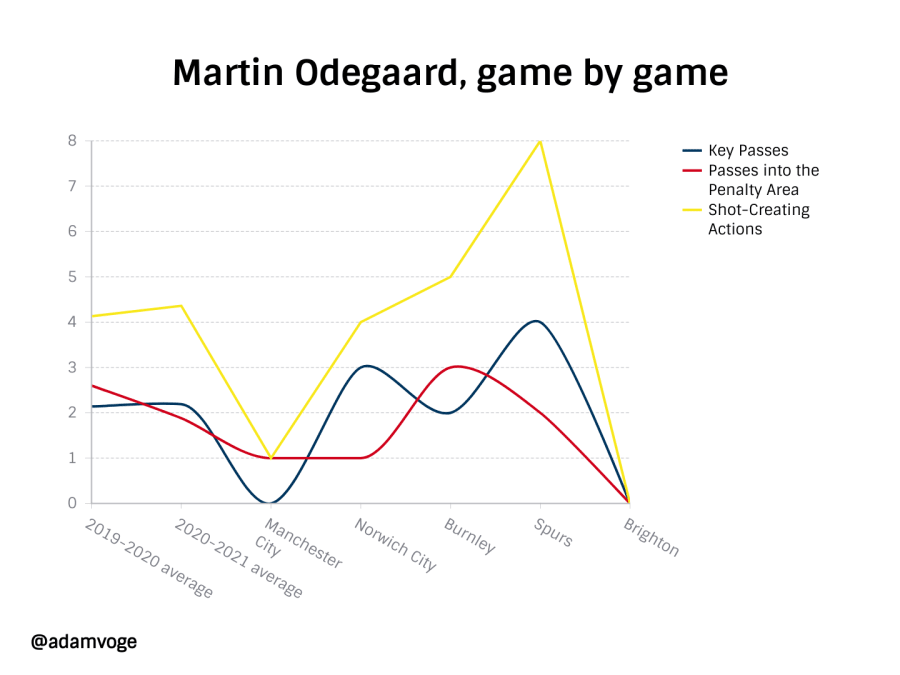 First: We've played so little football, and Manchester City and Brighton were undoubtedly poor Odegaard games (and he wasn't alone). That's not all that unexpected for a 22-year-old. Having top skill is a great thing; applying it consistently is what separates you from the rest.
Consider the above. That Brighton crash is harsh, but mentally cut it off after Spurs and what do you see? A bit more of an upward trend from what he did last season, or even at Real Sociedad, where he had a real star turn. It's so few games, but I'd at least posit that there have been really good Odegaard games along with the bad, and if he can keep those lines at or above the Norwich/Burnley/Spurs level, you're looking at a good player.
Next, look at his heat maps. Certainly similar in a lot of ways, and these maps tend to be a little harder to read until there are more minutes played. But we've heard anecdotally that Odegaard is playing more centrally this season so far, dropping deeper. And I think these charts do show some of that, particularly those two dark red dots on the border of the defensive third and middle third.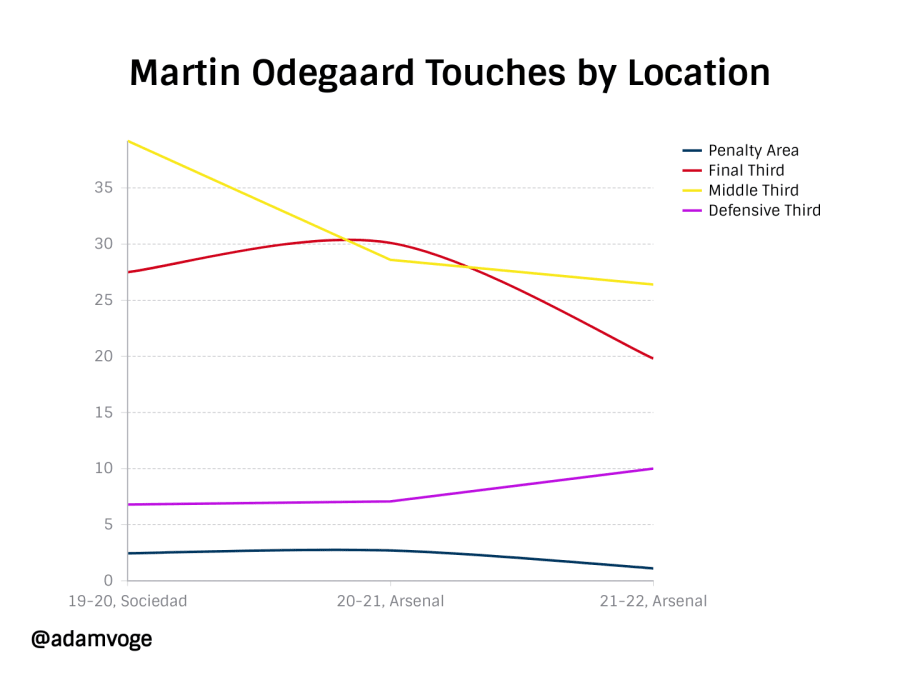 To illustrate the point further, take a look at where Odegaard is actually touching the ball. The starkest difference has to be in the final third, where Odegaard made 30.1 touches every 90 minutes in his first few months at Arsenal. So far this season? Just 19.8 touches per 90 minutes, more than a one-third drop. He's also making a bit more than 10 touches in the defensive third per 90, up from just over 7 last year.
Now: Is that just because Arsenal haven't been on the front foot as much, having been dominated down a man against City, mostly sat back for a full half against Tottenham, etc.? That may have something to do with it. But Arsenal's touches in the final third sit at 153.3 per 90 at the moment, down just about 12% year-over-year. Odegaard has gone from getting a little over 17% of Arsenal's final-third touches to just under 13%. So it seems to be a little of both.
Advert Inserted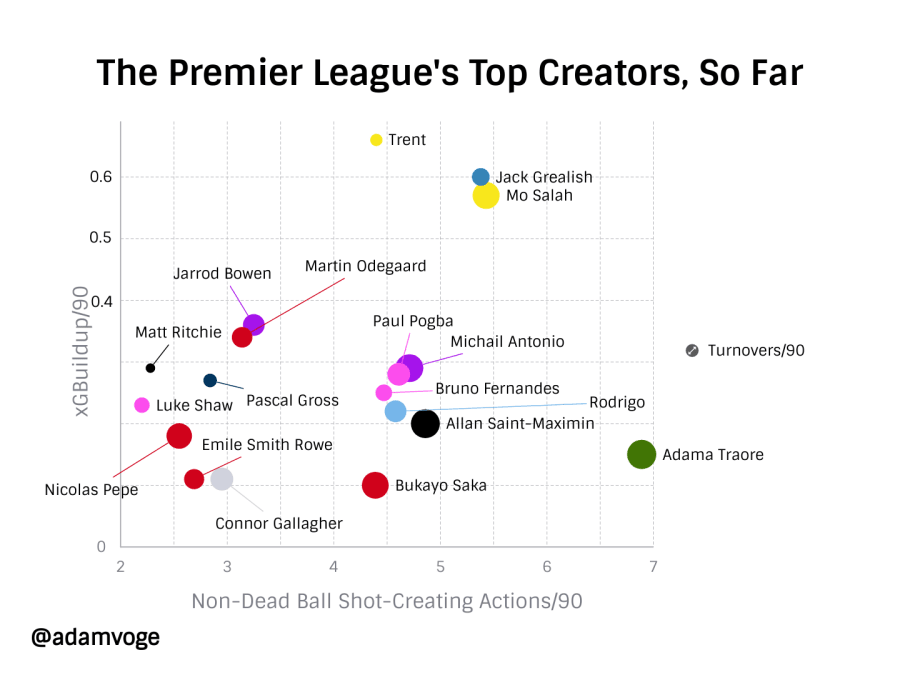 Odegaard currently ranks just outside the top 10 in the Premier League in shot-creating actions per 90, an accomplishment for any player. I wanted to explore that, so I removed dead ball SCA and plotted it against xGBuildup/90, the measure of how valuable a player is in the buildup to xG, removing their key passes or shots. The size of the dots represent how often the player loses the ball, with smaller being better.
I wouldn't use this chart doesn't show that Odegaard is one of the best creators in the Premier League quite yet. But what it does show, in my estimation: of the players who are creating the most shots so far this season, Odegaard is also among the most valuable to his team in buildup, one of only five names here who is above 0.30 xgBuildup/90. And of course, Salah, Trent and Grealish have been on a god level so far this season.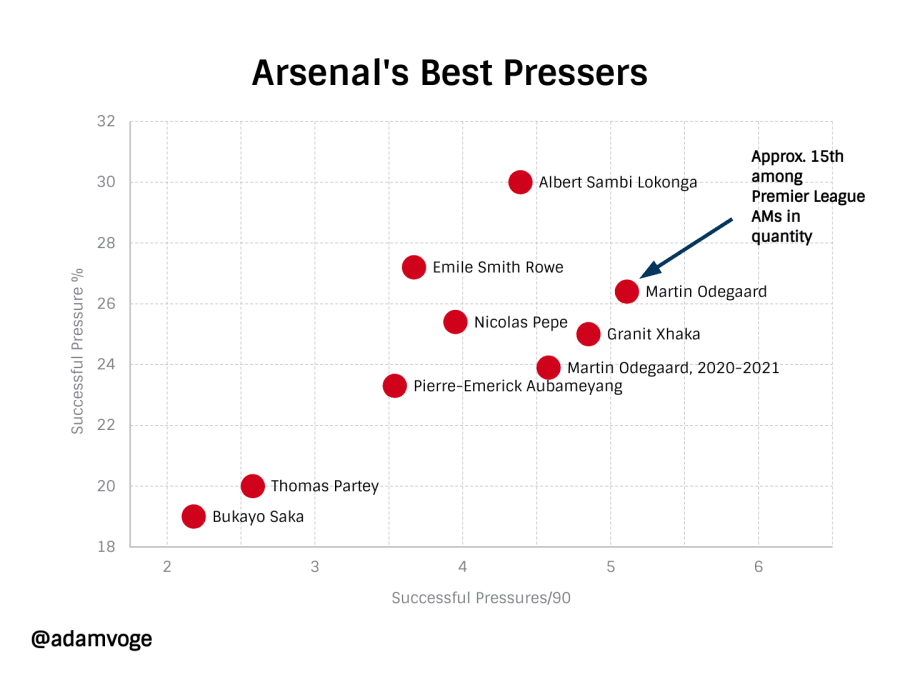 Of course, no conversation about Martin Odegaard's impact on Arsenal is complete without talking about pressing. Arsenal have not done it particularly well this season, and that shows in their league ranks: dead last in number of successful pressures per 90, and 18th in successful pressure percentage.
But if you had to pick a player who's most important to the press, it has to be Odegaard. This season, he's the only midfielder or attacker in the squad averaging more than five successful pressures per 90 minutes, and for his trouble he's still got the third-best pressure percentage. Emile Smith Rowe presses successfully about 70 percent as often. Bukayo Saka only successfully presses about twice per 90.
That's not new. Only Alexandre Lacazette pressed better among Arsenal attackers and midfielders last season, with Odegaard at 4.58 per 90, and 23.9% success. So far this year, Odegaard's been even better statistically, and that's despite a woeful 3-for-28 (10.7%) pressing effort against City and Brighton combined.
So it's clear that Arsenal are better when Odegaard is on his game. But would they have been better off buying someone else?
We could spend all day speculating about creators we could have signed from Europe and other continents, but let's just check in on the creative player most heavily linked to Arsenal: James Maddison.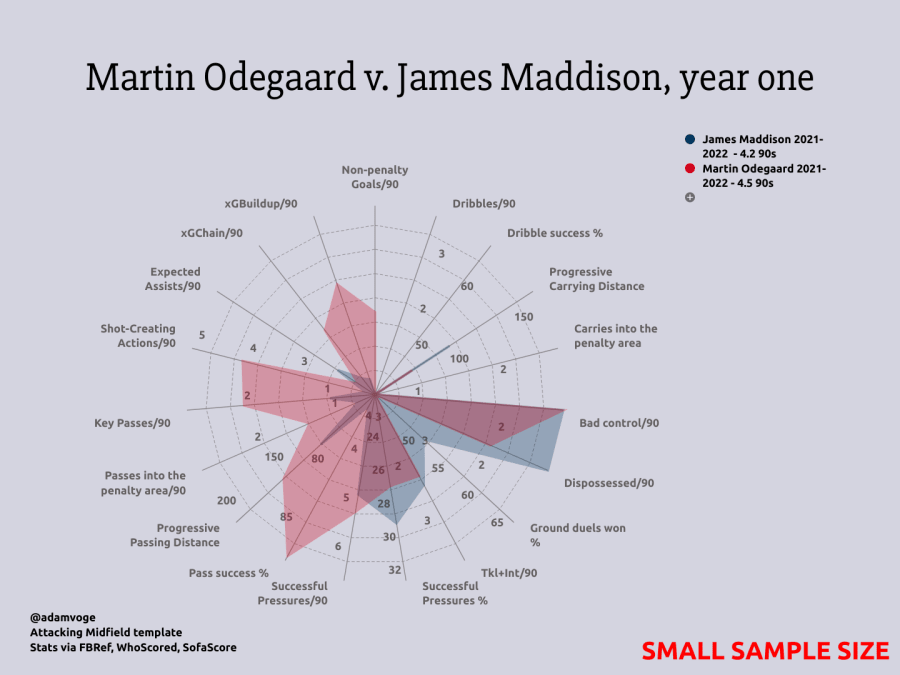 By all accounts, Maddison would have been significantly more expensive than Odegaard. So would you have taken him instead? I don't purport to be an expert on the inner workings of the Leicester training ground, but this is not the Maddison that nearly made the England national team and drew interest from Arsenal. He's been off, and he's getting dropped somewhat regularly. Would that be different at Arsenal, or is this a bigger issue?
As things stand right now, it's clear Martin Odegaard is important to this squad. As he continues to grow into his role at Arsenal, I'm hoping we can count on him to win more of his duels, to pull off an occasional dribble, and for those incisive passes that get you out of your seat, like the cross to the back post he's about to strike in the above still, taken from this weekend's Norway-Turkey match. This is my favorite ball Odegaard can play, with the exception of the back-heel we saw against West Brom.
Will he turn out to be worth the £30m? Only time will tell, but for now, there's reason to be optimistic.