It is so good to be back to winning. This is our first away league victory since West Ham in December and Mikel Arteta's maiden one in charge. Two Hale-end jewels in Eddie Nketiah and Joe Willock were on the score-sheet and there were plenty of promising performances in other areas. In this blog, I am going to focus on Bukayo Saka who is going from strength to strength.
Arsenal set up in what looked like a three at the back formation. However, it is extremely reckless to generalize this to the entirety of the match as our shape changed in accordance with different situations. But predominantly, the idea was a 3-4-3 - Shkodran Mustafi on the right, Rob Holding at the center, with Kieran Tierney tucking in as the third center back. Bellerin and Saka as the wing backs, even though the former was more deeper. Throughout this piece, I've highlighted Saka with the circle.
An aspect of Saka I like at left back or wing back is that his off the ball runs are extremely hard to track. It is all the more harder for an opposing full back when he's coming from deep like that. In this scenario it is a touch and go offside call, so it doesn't lead to much. However, since Arteta has been here, the dynamic between Xhaka and Saka has been a really valuable outlet for our attacks. The left hand side has proved to be an integral part of our build up play and quite a few of our goals have stemmed from this underrated combination.
From time to time, Saka dropped in more central to adjust to the team shape. 6 Arsenal players all marking the right hand side to pressure Southampton from the throw in. Saka hasn't maintained his position on the left and instead has joined the others to make it very difficult for Southampton to try and switch it. And it worked. Arsenal's midfield is far from complete. There is a reason for the links with Thomas Partey. Arteta has made the full backs tuck in like this from time to time to add more numbers in the middle to prevent us from being overrun. Saka shows great positional discipline and follows instructions to perfection.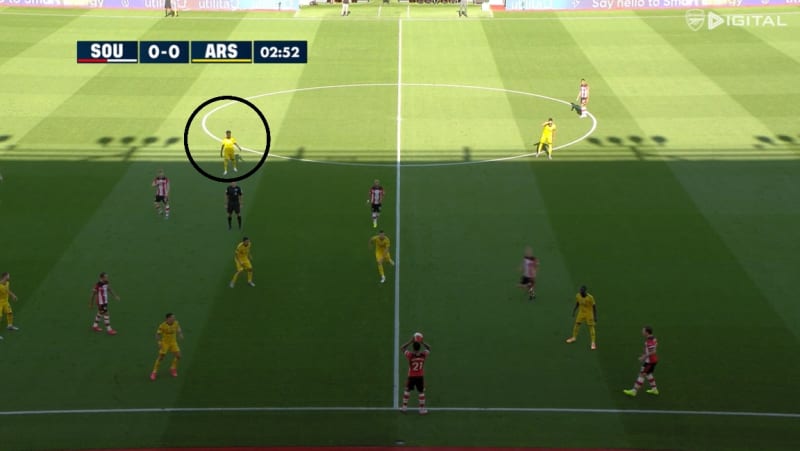 Via Arsenal Media
While I am not a huge fan of Aubameyang at left wing, a dynamic I do enjoy a lot is when he drops inside allowing Saka to have all the width. As you can see, we have 4 attackers as a result and are able to create that numerical superiority in the final third. Aubameyang's movement off the ball is absolutely top class. The full back is always caught in two minds. Go with Aubameyang and Saka can run into the space and play a devastating cross. Go with Saka and there's a chance Aubameyang gets into a scoring position. It is an absolute nightmare for a centre back to contain Aubameyang when he pops up into promising zones from the left.
Carrying on from the point about Saka dropping more centrally from time to time, Arsenal were able to defend off a corner and counter quickly which was initiated by Saka from a central position deep in our own half and he gets himself into a really promising position. However, Dani Ceballos absolutely ruins the counter by delaying the pass and playing a poorly placed ball to Pepe. Just have a look at Saka's position here, it is where a right forward plays. On paper, he is the left wing back. But he understands space and knows where to be.
In the second half, Southampton brought on Kyle Walker-Peters to try and stretch Arsenal's left hand side. However, Saka was more than up to the task. In the first few scenarios, the Tottenham loanee showed a keen desire to try and take him on. But Saka got the better of him after which Walker-Peters was more conservative in his approach play. This was an extremely encouraging sign considering that prior to this game, most of Saka's defensive work when he played left back was undertaken by Xhaka. Saka showed that he is ready for a duel and will compete at 100% for every action.
Arsenal were suffering defensively early on in the second half. It wasn't that Southampton were opening up our defense for fun, they were just getting into our final third way too easily. Arteta removed Nicolas Pepe and brought on Willock to add more energy in the press and temporarily shifted to a 4-3-3 with Saka moving further as the left winger and pressing with intensity higher up the pitch to slow down Southampton's buildup which at the time was gathering momentum.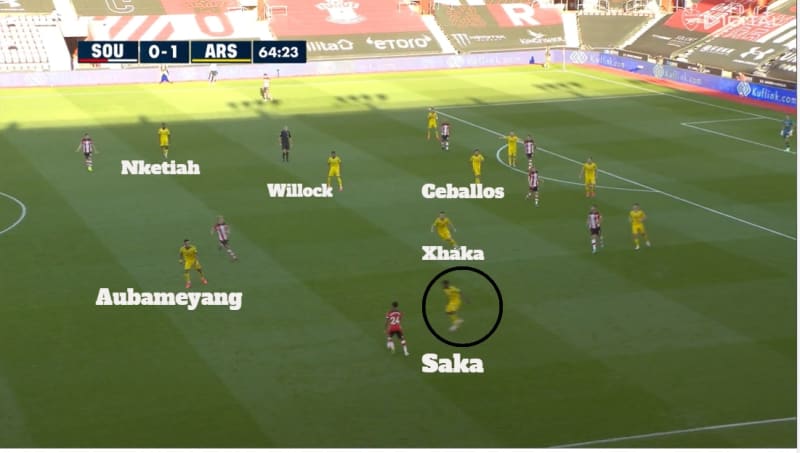 Via Arsenal Media
As the game went on, Ceballos was taken off for Ainsley Maitland Niles. Tierney came off and was replaced by Kolasinac and Arsenal returned to a back 3. Saka played as a wing back and we were getting more opportunities on the break. Once Southampton were reduced to 10 men, Saka once again showed his class with a perfect through ball to Aubameyang who squared it to Alexandre Lacazette.
It was a magnificent display by Saka at the tender age of 18. While he started as a wing back on paper, he's been all over the pitch according to the scenario of the game.
He has shown exceptional positional awareness, which Arteta has praised on numerous occasions. It is a huge reason why he has adapted to different positions so seamlessly. He is also a risk taker, not a player that simply wants to keep the play ticking to ensure he doesn't make a mistake. That fearless attitude is something truly admirable. It will be interesting to see where Saka finally ends up - he certainly is capable of playing at a high level in a plethora of roles.