The 2019/20 season was Arsenal's 28th season in the Premier League, 103rd overall season in the top flight and 100th consecutive season in the top flight of English football.
Despite finishing eighth and enduring one of the most turbulent seasons in the Premier League, Arsenal ended the season with silverware, winning the 2019-20 FA Cup for a record fourteenth time.
Throughout the season, one in which Arsenal parted ways with Unai Emery and Mike Arteta took charge on 20th December 2019, the Coronavirus pandemic saw football suspended for three months, before action then went behind closed doors where of course, we experienced both highs and lows, as is the course of football.
Across the four competitions; Premier League, FA Cup, EFL Cup and Europa League, Arsenal played 54 games in total, with 25 victories, 17 draws, 12 defeats, scoring 93 goals and 65 conceded.
The Gunners won 14 games in Premier League and drew as many games, losing ten. The other two losses came in the Europa League to Frankfurt and Olympiacos. We were eliminated by Liverpool in the EFL Cup on penalty shoot-outs. We went unbeaten in the FA Cup.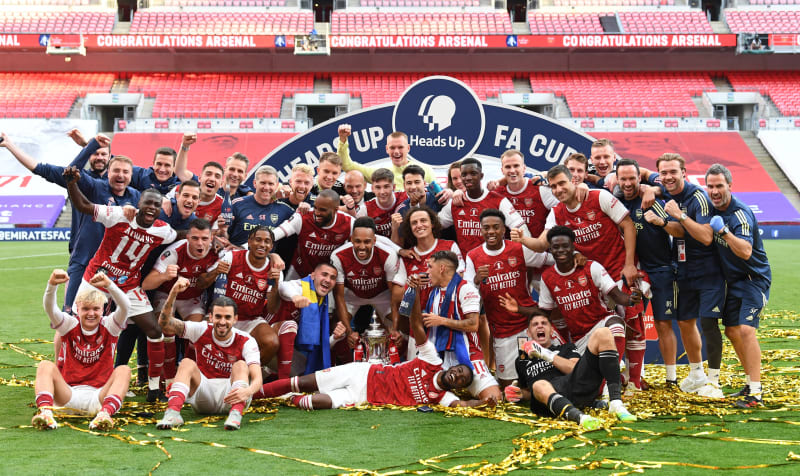 Despite an unpredictable season finishing eighth in the league, Arsenal qualified for the 2020/21 Europa League group stage as the 2019/20 FA Cup winners.
A frustrating spate of injuries to Leno, Ozil and Torreira among others, highs and lows throughout the season may have disrupted our progress but, after the resumption of the season in June, we managed to lift ourselves to FA Cup victory.
Here is a detailed look at SOME of the stats behind the season…
We won 10 out of our 19 Premier League games at the Emirates Stadium. Drawing 6 and losing 3. Our away record in the league wasn't great as we won only 4 games, drew 8 and lost 7.
We took maximum points from only two sides in the Premier League; Newcastle United and West Ham United.
We kept 17 clean sheets in all competitions. Martinez had 9 while Leno kept 8 clean sheets. 10 of the 17 clean sheets were in the Premier league.
Of the 93 goals scored overall, 56 were scored in the Premier League, 16 in Europa, 11 in FA Cup and 10 in the EFL Cup.
Aubameyang finished as our top scorer for the second season in a row with 29 goals this campaign, Lacazette finished with 12. Gabriel Martinelli with 10 while Pepe had a tally of 8.
Bukayo Saka finished with the most assists, 12 while Pepe came in second with 10.
David Luiz was the player with most appearances, 42 appearances for us. Pierre-Emerick Aubameyang and Granit Xhaka on 41 and 39 respectively were our next highest appearance makers.
Granit Xhaka finished with the most yellow cards, 13, 10 of them in the league, no red card while David Luiz received 5 yellows and 2 red cards all in the Premier League. Maitland-Niles was shown 4 yellow cards and 1 red card. Overall we received 107 yellow cards and 5 red cards in all competitions.
Joe Willock was the most used substitute as he came off the bench on 24 occasions with Ceballos next on 14.
Arsenal hit the woodwork 15 times this season in the Premier League.
Granit Xhaka completed 1,903 passes this season in the league, the most of any player in the team.
David Luiz conceded 5 penalties this season, a new Premier League record. He also blocked 37 shots this season, more than any other Arsenal player.
Gabriel Martinelli became the first teenager to net 10 goals in all competitions in a single campaign for Arsenal since Nicolas Anelka in 1998-99. He achieved it against Chelsea.
Pierre-Emerick Aubameyang also scored his 50th Premier League goal (against Norwich) in fewer appearances (79) than any other Arsenal player. 6th fastest of all PL players.
- Lets hope for an improvement and the best to come next season. #COYG