Olympiacos vs Arsenal - Thursday Feb 20th 2020 (Karaiskakis Stadium)

It's a return to European football for Arsenal this Thursday, as Mikel Arteta's side travel to Greece to face Olympiacos in the first leg of their Europa League round of 32 knockout game against the Greek side.
Despite a spectacular 4-0 win over Newcastle on Sunday, qualifying for the Champion's League through a top 5 finish in the Premier League still looks rather unfeasible for the Gunners, meaning that victory in the Europa League could be their only chance of securing a place in Europe's most sought after footballing competition, which will be vital if Arsenal want to keep key players such as Pierre-Emerick Aubameyang and Alexandre Lacazette, who have made no secret of their desire to play Champion's League football, which makes this game all the more important.
Not an easy game
Given the excellent standard of football played in the Premier League (arguably the best in Europe), teams from England's top flight have a slight tendency to look down upon teams from Europe's not-so-prolific leagues.
This is easily done with Olympiacos, a team who play in the Greek Football Super League, Greek football as a whole doesn't have the greatest reputation amongst other leagues, with only the same six teams having won the league in Greece in almost 100 years, (the same number of teams that have won the Premier League in 28 years). Although some Arsenal fans may automatically label Olympiacos as an easy win, this is certainly not the case.
Despite the Greeks only winning one game out of six in the Champion's League group stage, the outcome of Thursday's game is relatively unpredictable, as Arsenal have played Olympiacos eight times, with each side claiming four victories each from these meetings, as a matter of fact, if stats are anything to go by, Arsenal are not in a particularly favourable position going into this match, as Olympiacos have won three out of four meetings with the Gunners in Greece.
Therefore, it is vital that no one at Arsenal, be it staff, players or even fans, overlooks this fixture as merely another cup competition formality, as an incorrect attitude to Thursday's fixture could well prove decisive in whether or not Arsenal play Champion's League football in the 2020/21 season.
The Gunners beat Olympiacos 3-0 in Greece in 2015 thanks to a Giroud hat trick

Team selection is key
For any manager, it can be tempting to give players who don't often get a look in during league games, a chance in cup competitions, however, Arsenal must approach this with caution, as (mentioned before), the Europa League must be taken extremely seriously.
However, this does not reduce the importance of the Premier League in any way and given that Arsenal face Everton back in North London three days later, Mikel Arteta must ensure that he assembles a squad which is able to perform well in Greece, without being detrimental to the Gunners' chances against the Merseysiders.
Fortunately, Arteta has proved that, unlike another unnamed manager in the Premier League, he cares about cup competitions and put together well-balanced squads which were able to see off both Leeds and Bournemouth in the FA cup and hopefully the Spaniard will be able to repeat this in Greece.
Arsenal have fared well in cup competitions so far under Arteta
Patience from the fans is vital
Whilst being subjected to one of, if not the most painful season in recent times, it is understandable that us Gooners will be optimistic for this Europa League clash following our recent thrashing of Newcastle at the Emirates, however it is important for Arsenal fans to remain patient with Mikel Arteta and his players.
The former club captain has been in charge for less than two months and being able to convert the shipwreck of a club he inherited from fellow Spaniard Unai Emery, is hardly a task that can be accomplished in seven weeks, and it is ever so crucial that the fans back the new manager and constantly show him their support if he is to accomplish the great things he is clearly capable of at Arsenal.
This being said, Arteta has shown real signs of improvement, reflected both in results and team performances but also in the fact that the players finally seem to feel happy and at home at Arsenal, which almost every player certainly was not under former coach Emery.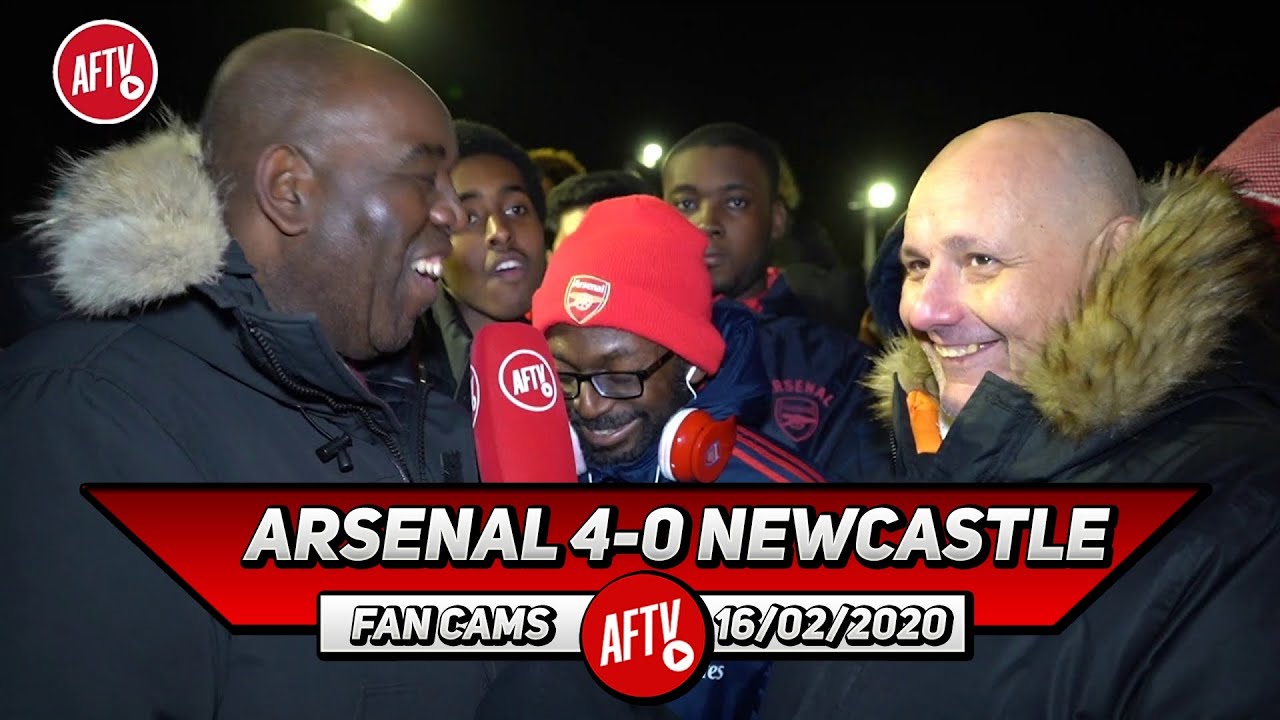 Arsenal fans are starting to regain some hope for the season following Sunday afternoon's performance
Taking this all into account, Arsenal should rise to the challenge of Olympiacos and let's hope Mikel and the team do us all proud on Thursday night!