Its been a good start to the season for Arsenal. Despite an unconvincing win against West Ham United, we've won our opening 2 games, which gives us a good platform to build on.
One decision by Mikel Arteta has raised a few eyebrows, however, which is Willian playing ahead of Pepe who has had to settle for a role on the bench. Some fans are concerned as to whether Pepe is going to come good after the huge sum we invested for him, whilst others are questioning the decision to bench him, given his unquestionable talent. I think it is very important to exercise context.
At this moment, Arsenal's creative presence in the final third from central midfield is virtually non existent. Sure, Dani Ceballos assisted Eddie Nketiah for the winner by making a run beyond centre back/full back but this is an isolated occurrence.
To compensate for the lack of presence in midfield, you will see Willian moving centrally from time to time like this: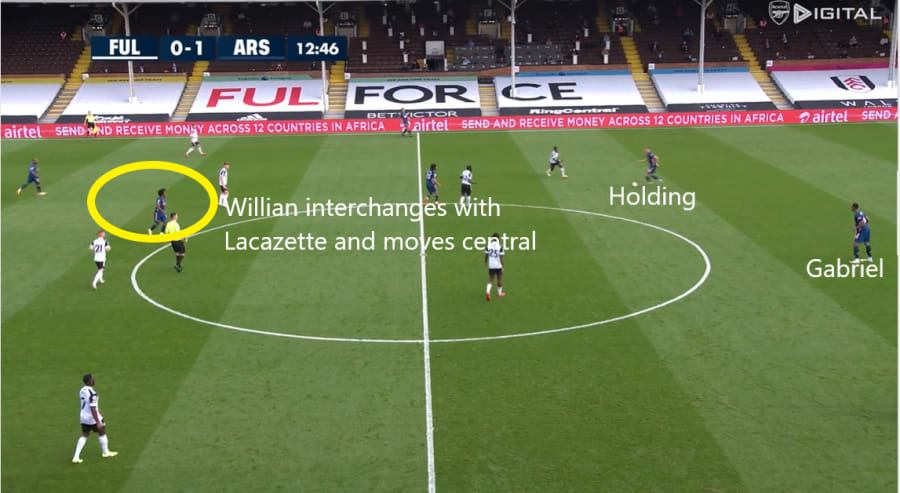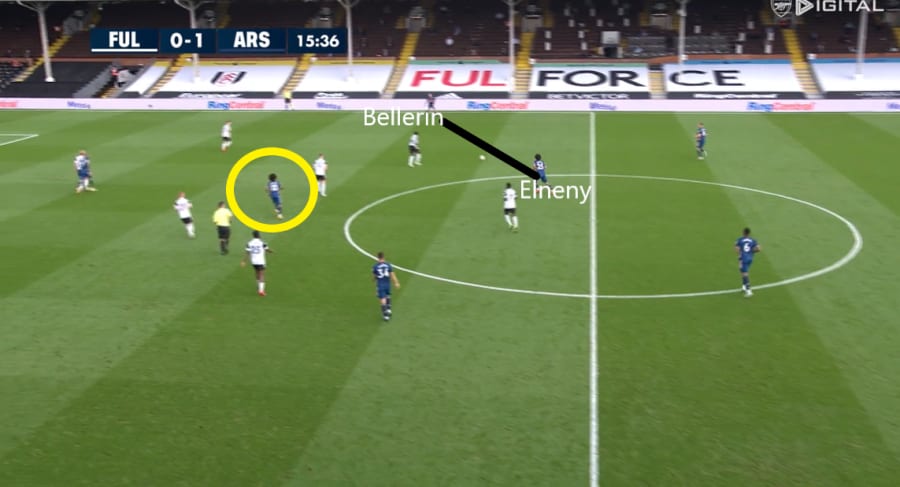 Nicolas Pepe is a completely different profile to Willian. Pepe is more of a forward, someone who is at his best when you give him the ball on the edge of the box. He is excellent in the final action. Pepe's numbers in Ligue 1 in the 2018/19 season involved 22 goals and 11 assists. Those are numbers Willian will never ever get to in his career.
Willian is more of a midfielder, someone who sacrifices for the team. A clever player who will drop deeper, move into the pockets and make himself available. Off the ball, he will work extremely hard. However, he's a player that can frustrate when it comes to the final third.
And this is where I have some level of sympathy for Pepe. It is a myth that he doesn't make runs off the ball. Just watch some of his Lille goals, he made runs and got picked out. At Arsenal, the lack of ideal midfield profiles doesn't allow him to do so. Can Pepe be more efficient in the final third at times? Absolutely. But we must work the ball quickly to get him into those sort of positions. Seldom is Pepe isolated against the opposition wing backs, for example.
As a result of this, he's had to do things all on his own at times. Some will say, 'look at his price tag.' Personally, I am going to look beyond his price tag and say that Pepe needs to impose himself more for sure. This is probably just one criticism I have of him.
His ability is extraordinary. He can create, get past virtually anyone and has a wand of a left foot. I want him to have that arrogance in every duel. And he is definitely on his way to achieving this. We are seeing him use his right foot in recent games which will give him another dimension, as sometimes he can be predictable with his dribbling. I also believe Pepe is working a lot harder off the ball than before. He didn't have much time against both Fulham and West Ham, but I liked his work ethic, which carried on from the back-end of last season.
In my view, Pepe was one of our best players towards the end of the season. You look at his contributions in the FA Cup run:
Quarter Finals - Goal
Semi-Final - Assist
Final - Assist
And you can even look purely beyond just G/A - his performances in all these three games were excellent. Whilst Aubameyang did brilliantly to grab 2 goals, it was Pepe who was our best attacking player - he stepped up when Arsenal needed him most.
Pepe and Aubameyang were forming a brilliant partnership. Those diagonals are a key feature of how we look to carve teams open in the final third. The aim for Arsenal must be to get Pepe into those positions as many times as possible.
The really tricky situation right now is working the ball into those dangerous areas and making shot creating situations. Arsenal are too pedestrian in midfield at times, we lack a connector in midfield, someone who can help us link the midfield with the front 3 and at the same time offer that intensity off the ball.
Once we bring that player in (Aouar based on the links), in addition to someone like Thomas Partey who excels in ball progression, through both his passing and ball carrying quality, we will see Pepe's game elevated even further.
Pepe, in just 22 starts last season had 11 G/A (5 goals, 6 assists). This includes the initial period where he came from the cup of nations into a new league, with Unai getting sacked, Under Arteta, he has managed to settle down.
Arteta perfectly sums up Pepe back in June, taken Via Independent:
"It's very important to try and understand a player and find out what his feelings are, how hard it's been to adapt to a new country and a language that he doesn't understand."
"However, he needs to take care of moments in the game when he disconnects himself a little bit. He cannot do that, and I will be very persistent with him to try to change that."
"He also needs to be decisive in every game because if he is at his best he is a player who can make the difference."
"There are things to work on and improve but he is heading in the right direction. He is doing things very well too, like realizing what he needs to do for the team when we don't have the ball. I am very pleased with him."

I think Pepe is going to have a big season, he just has too much talent not to hit great heights. Hopefully, this week will be the start. COYG.