So, here we are on the eve of a new Premier League season, about five minutes after the end of the last one.
2020, eh? Crazy times.
As someone who doesn't generally spend a great deal of time pining for transfer announcements every five minutes, tracking flights (someone's gonna get arrested one day ain't they?) or wetting my pants when the club tweet something that isn't a transfer announcement ("Announce *insert latest player to be tenuously linked to the club here*!!!!!!" How about logging off and announcing yourself to the outdoors, you freak?) I find myself looking forward to the season ahead.
If, like myself, you've been following The Arsenal for any length of time, you don't need me to explain the rollercoaster of emotions that this club can put you through. Maybe it's part of being a football supporter in general, rather than just Arsenal, I'm sure fans of other clubs feel the same way often enough. Ask yourself this, though; how many other clubs began the season with Unai Emery - who, let's be honest here, turned out to be as much use as a fidget spinner to a bloke with no hands - in charge and ended it winning the FA Cup?
As a grown-up (yes, I use that term extremely loosely), it feels that those "can't be arsed with football" moments come along a lot quicker and more frequently than they used to.
The thing is, this club has a habit of gently pushing me away, then grabbing me full on by the balls to drag me back in again, particularly at this stage of my life.

Beginning last season with the aforementioned Emery in charge, after the debacle in Baku (deBakule, anyone?), the eve of the 2019-20 season was one of those aforementioned can't-be -arsed-with-football moments.
Just a few weeks in, we drew 2-2 at Watford, after being 2-0 up and I had pretty much had enough already. I really struggled to be bothered.
Emery's departure sparked me back into life, particularly with Mikel Arteta taking over – a man I had always wanted to return to Arsenal since he moved into coaching – and the early signs were good. Well, I thought so anyway.
Of course, nobody could have predicted what was to come next. A season that eventually lasted a year, locked down in its prime by a global pandemic. (How much worse that actually was than another full season under Emery might have been is up for debate….)
If there's anything that can force you to re-evaluate football's standing in your life, stirring up the can't-be-arsed-with-football feelings, then spending the best part of every day with keeping yourself and your family safe during a global pandemic at the forefront of your mind must be up there at the top of the list.
Football did return, however, and finishing the season with a trophy, in this most traumatic and depressing of years, was indeed something to savour. Especially when you consider the way that some teams celebrated merely scraping a Europa League place….
I've seen us win a few FA Cups, and been lucky enough to do so at Wembley, but this one felt as special as any of the others. Why that is, I can't quite put my finger on, but I guess the fact that 2020 has been such a complete and utter shitfest that anything good that comes out of it is extra good!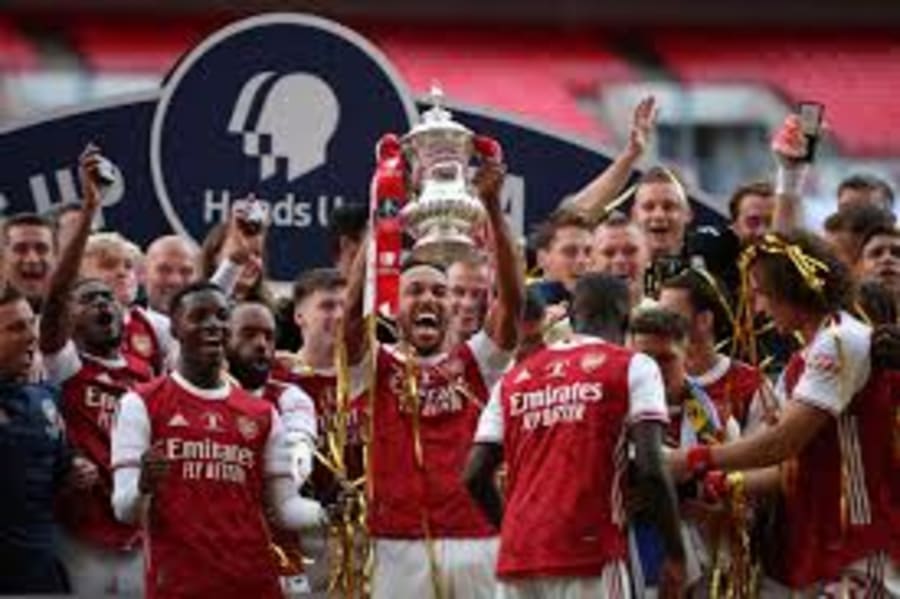 It wasn't just the final either. The performance against Man City in the semi-final had already got me well and truly back in the groove.
I genuinely can't remember the last time I saw a defensive performance like that, and the fact that Arteta got that performance out of the defence that we had can only be a good sign.
That's not that I'm saying that Mustafi, Luiz and Xhaka etc are "the answer" now, but maybe that Arteta is. It is possible to accept that a player such as Xhaka, for instance, has been better under Arteta without it meaning you now think he is the best midfielder in the world and are ready to put your mortgage on him winning a Balon d'Or.
Care in the Community
Firstly, let's get the rules regarding the Community Shield straight….
If you lose, it's nothing but a meaningless pre-season warm up. A friendly that means nothing for the coming season at all. If you win it, then it's a trophy and a great way to go into the new season on a high. It's quite simple really.
Look at it this way - this game came two weeks before the new season starts; would you prefer to go into that new season on a high, or after getting completely dicked by Liverpool?
If you can't be excited, or at least encouraged, for the future by that and the way last season ended, I suggest you give up.
Some people just can't – or more to the point, won't, though, will they?
Some people just live for negativity.
Positivity and harmony just doesn't swell the coffers, does it?
Actually, scrub that. It's not even negativity. Labelling it as negativity suggests there's a level of emotion or a modicum of intelligence behind it.
I did have a bit of a rant ready as to what I think about these people, but decided there really is no point giving them oxygen.
Let's be honest, it really has nothing to do with Arsenal at all.
I suppose, at the end of the day, if you want to make money from being a c**t, then crack on, it's not as if there isn't a market for it.
But, let's get one thing straight – what you do is not, never has, and never will be about The Arsenal.
That's enough of that for now anyway.
The general mood among normal Arsenal fans is a good one at the moment, and although I'm sure most of us accept that investment is still needed in this squad, the signs are more encouraging than they have been for a while now.
Of course, Arsenal being Arsenal, this could all change spectacularly by 2 o'clock on Saturday, but that's all part of the ride. As they say…. it's the hope that kills you!
I'll be back next week with the return of my Season Diary. It's something I shelved for quite a while as, well, I couldn't be arsed. But, as usual, just when I thought I was out; they pull me back in….
Until then.
Up The Arsenal