Mikel Arteta has made clear his intentions of turning Arsenal into a team that eventually plays the 4-3-3 formation.
Speaking to DAZN Spain, Arteta said: "We want to move to a 4-3-3 but for that, you need a lot of specificity in every position but now in five or six positions, we don't have it."
l decided to look at how could become a 4-3-3 team through 2-3 facilitating transfers that either need a specific profile and is less player dependent than I make it out to be in the piece (even if the players suggested are the best on the market, or not attainable for Arsenal to sign.)
Previously I've done an article on how Arsenal can play a 4-3-3 using Roberto Mancini's Italy as the inspiration - if you're interested, you can check that out here.
What players do Arsenal need for a 4-3-3?
Different 4-3-3 setups require different profiles for their midfielders & fullbacks, & Arsenal already have some of the required profiles currently in their squad. Note, I don't include new attackers in the hypothetical 11's as I just focus on new fullbacks & center-midfielders to sign.
For the 'Dual 8's' setup, Arsenal needs 2 CM's (alongside Partey) that can offer a strong attacking threat, high levels of press resistance & good intensity in their playing style. Luckily, Joe Willock ticks all those boxes on paper (even if there are minor fears over the number of passes he can complete per 90 & the quality of them.)
The 2nd name is Rennes' Eduardo Camavinga, who has been linked with an Arsenal move. Even with his preference to drift to the right-hand side, he's well suited to the left where he can link up well with the LW & CF without too many fears.
As both fullbacks will be settled into the midfield 3 when in possession alongside Thomas Partey, it makes sense for Tyler Adams to be that option. As a player comfortable at playing the DM role, he's the best inverted fullback on the market & with a £35m RC, It may be worth looking into.
In the flat midfield 3 setup, I persist with Eduardo Camavinga for the reasons stated above, with 1 change in my reasoning. Camavinga already plays in a midfield 3 in Rennes with Camavinga somewhat close to the DM, a flat midfield 3 may just favour someone of his profile.
For the RB, Arsenal needs a marauding right-back that'd get the ball up the pitch quickly from out wide & provide a strong attacking threat. As there haven't been many links to such right-backs for whatever reason, I suggest Max Aarons plays there just as a safe option, even if Arsenal reportedly do not want him.
The hybrid system brings the 2 setups together, with the demands needing an inverted fullback & a 'flat' midfielder to make it work. That's why I opt for Eduardo Camavinga to be the CM, with Tyler Adams as the RB (as the dual 8 setup has,) with the changes in their respective roles being down to how everyone else around them plays, instead of it is because of how they individually are.
Can Arsenal implement a 4-3-3 with Dual 8's?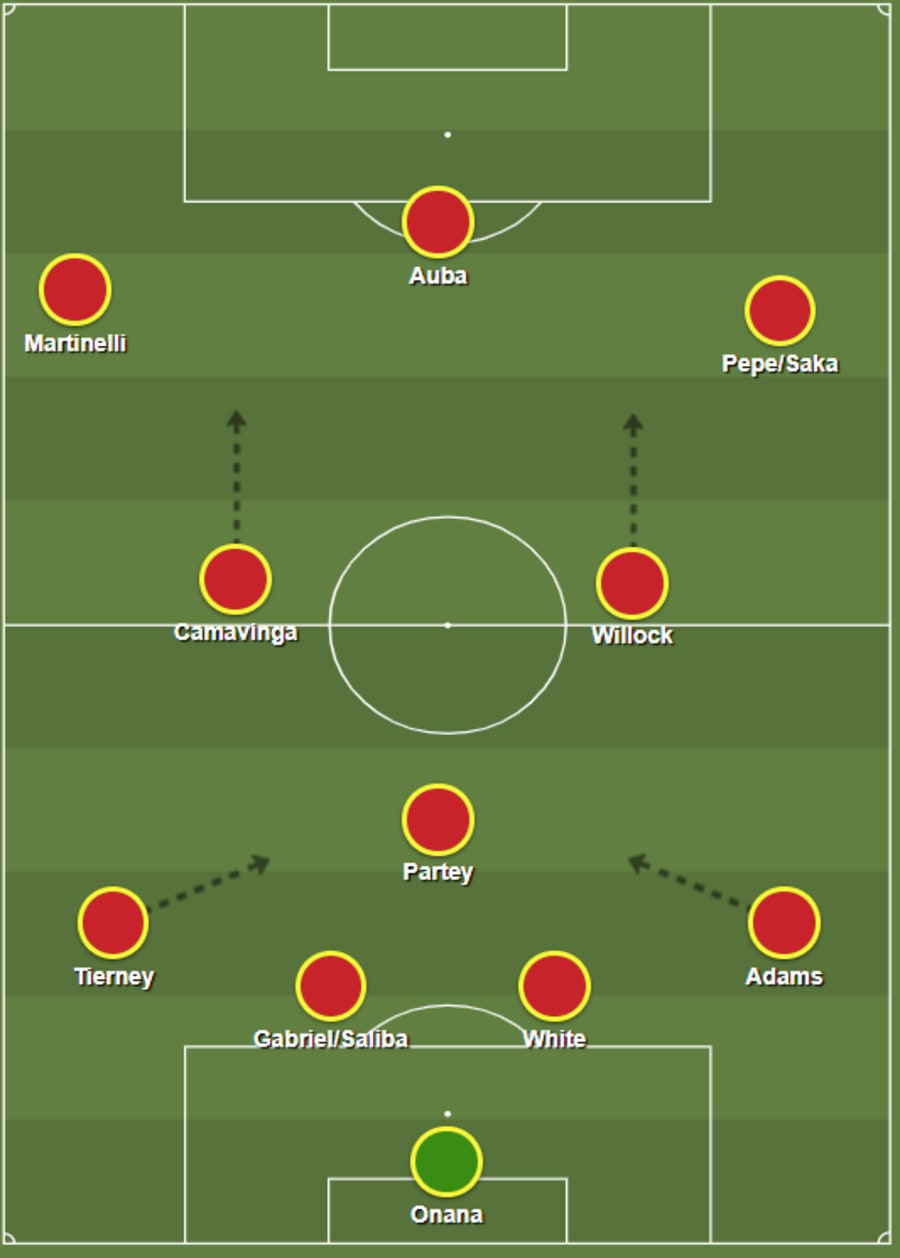 This 4-3-3 setup gives the front 5 complete freedom to attack with the defensive base being built around the defenders/defensive midfielders. This is theoretically akin to Man City 2017/18's setup where Fernandinho was tasked with playing at the base with Zinchenko & Walker slotting into midfield to allow for the team to be solid in midfield whilst giving Kevin De Bruyne & David Silva a strong free role, that'd change the task of assisting/consistent final third involvement onto the CM's rather than the fullbacks which is normally the case.
In attack, Gabriel Martinelli & Bukayo Saka/Nicolas Pepe are there to hold the width so the CM's can dominate the right/left half-space, with room for the CM's/Wingers to alternate positionally.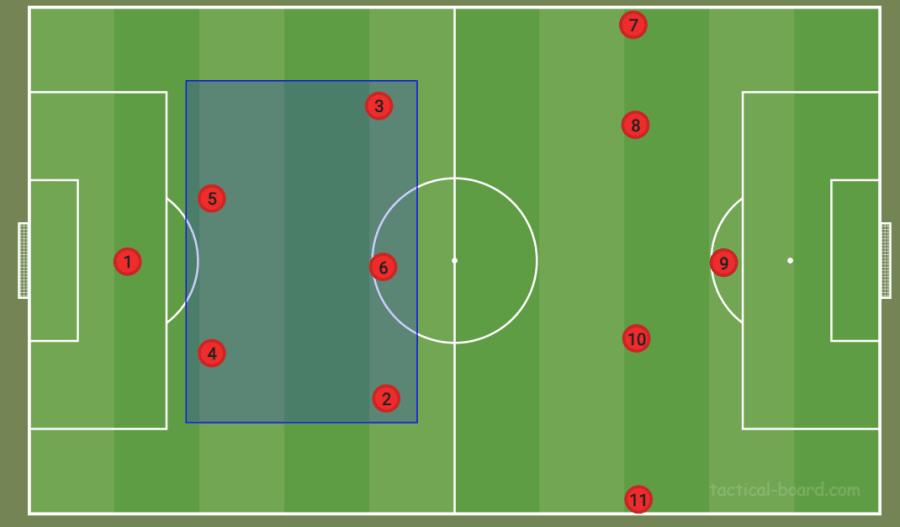 The above picture shows how the setup would look when the team is in possession. There will be a 2-3-5 setup with the fullbacks (#2 &#3) helping out the defensive midfielder when in possession.
Currently, Arsenal plays with a 3-2-5, because of the technical quality of their centre backs being too weak for them to have an extra man in midfield & it causes them to sacrifice a small bit of control for defensive stability which won't be the case with a back 2 of William Saliba & Ben White.
The front 5 will only thrive if #7 & #8, and #10 & #11 can link up & rotate well when they have the ball with the CF (#9) linking up both sides well.
Note, #2 & #3 are expected to help get the ball to the central midfielders/wingers as fast as they can, as transitions from in possession to in attack should be quick & snappy to give their team the fastest chance to break through the opposition before they can set up their defensive shape.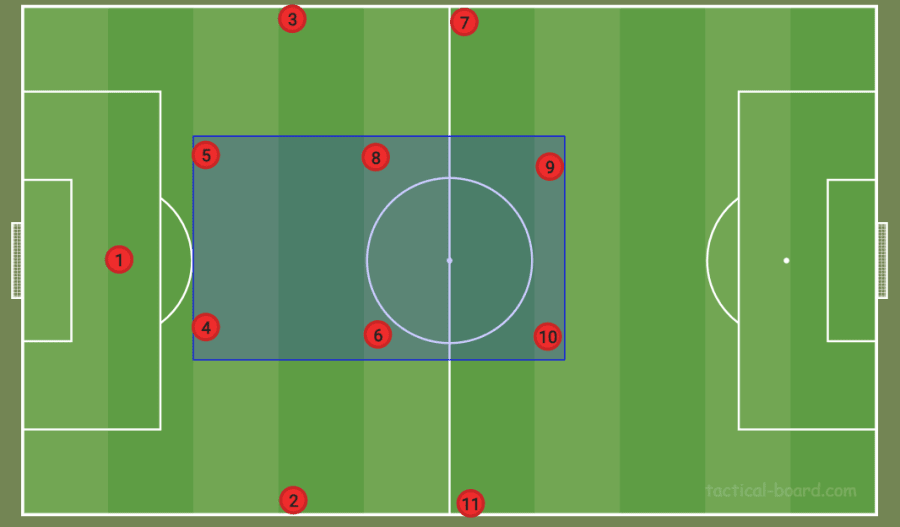 When the team is in the defensive stage, they'll play what's seen as the best defending shape. In a 4-4-2. The 4-4-2 in defence is what Arsenal currently uses with the #10 joining up with the CF when defending to allow the team to press better as a unit whilst having a shape that's difficult for the opposition to break down.
The midfielders in the 4-4-2 must be able to defend well with a good desire to win the ball back when it crosses their path, luckily Arsenal already have wingers that can operate as wide midfielders in a 4-4-2, who are also able to maintain their shape well so it isn't a possible issue at all.
Can Arsenal implement a 4-3-3 with a flat midfield 3?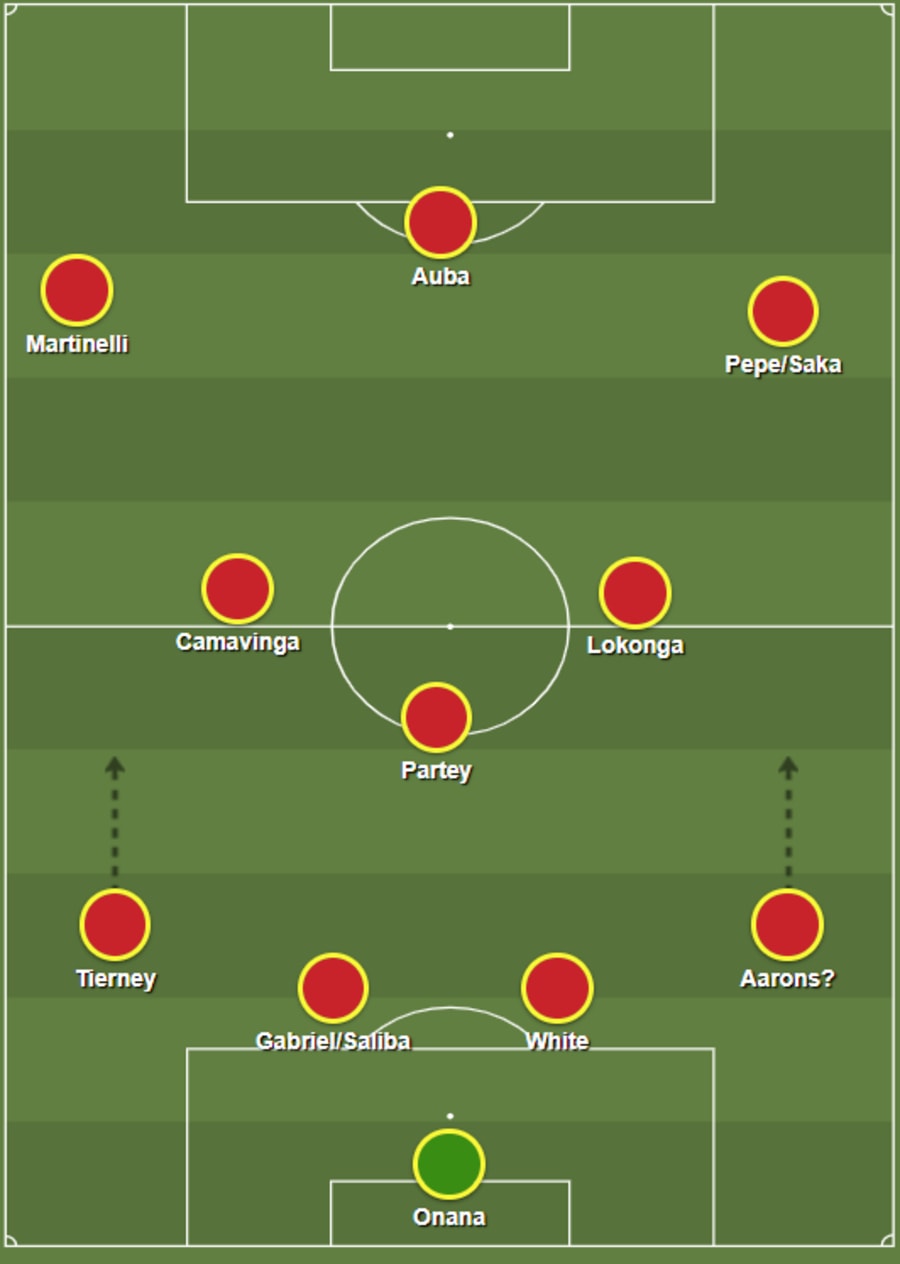 The 'flat midfield' 4-3-3 has slightly different demands to the 'Dual 8 4-3-3.' There's no dominant DM in the flat midfield 4-3-3, with the midfielders being tasked with recycling the ball, & spraying it out to the attackers to get their team on the front foot.
Eduardo Camavinga & Albert Lokonga are on this midfield 3 as all 3 players have been played as a lone 6 for sustained periods in the recent past, & they're all relatively high-volume passers that can win the ball back whilst launching it forwards when the chance is there.
Advert Inserted
Kieran Tierney will be limited a lot less in this situation as he'll be given the license to attack from the left, so his role will be to build a connection with the partnering LW in Gabriel Martinelli.
Max Aarons typifies the type of RB that Arsenal needs, someone that can dart forward with good attacking sense, if Tariq Lamptey becomes cheaper during the window, he'd fit the bill for what Arsenal need in that attacking RB position if need be.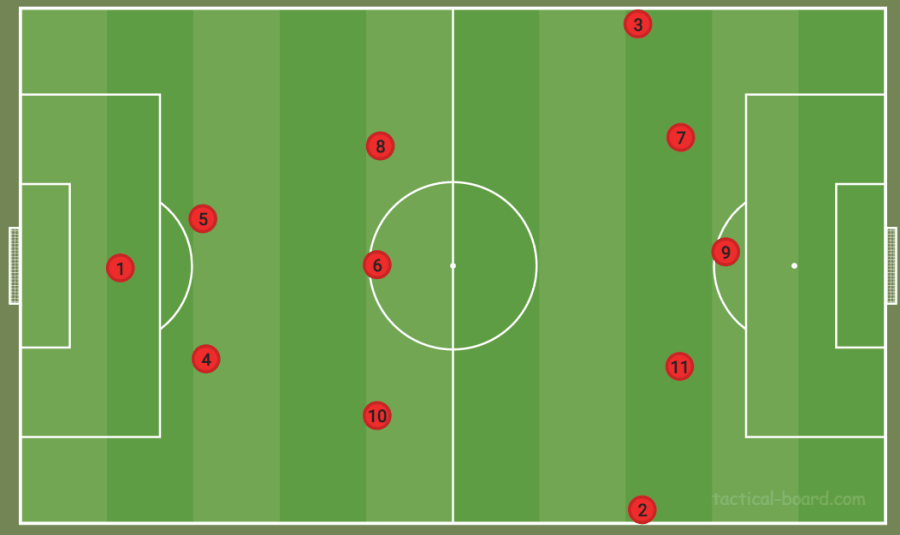 The 2-3-5 in possession/transition is more traditional than the 'Dual 8 4-3-3' set up one, the fullbacks shoot forwards with their role being to hold width so the wingers can attack the right & left halfspaces, solely to wait for the opposition to leave gaps open to exploit.
The 3 midfielders are midfielders in the traditional sense, being both the first line of defence & being tasked with getting the balls to the attackers as quickly as possible to keep their team on the front foot (which is a common theme when discussing the 2-3-5's usage.)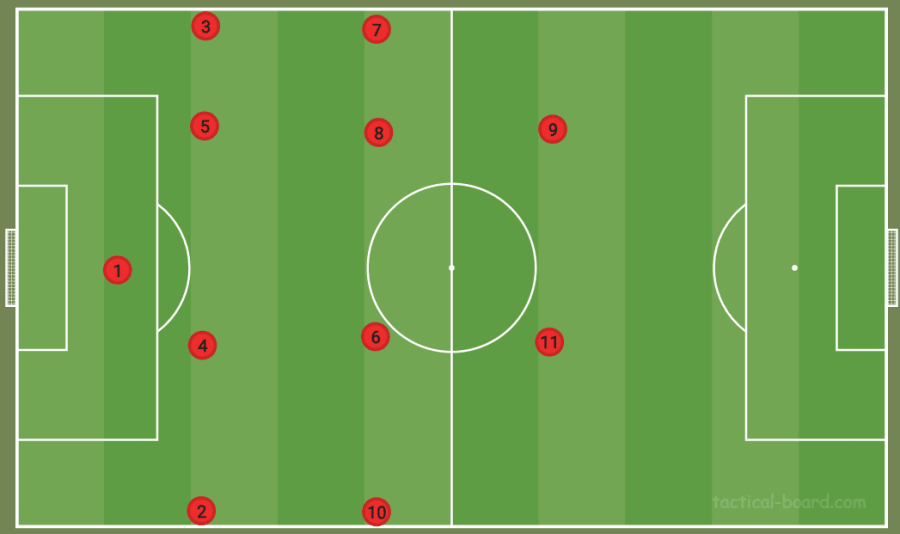 When Arsenal defend in the 4-4-2, the main goal is for central compactness to be maintained. In the 4-4-2, there won't be a #10 figure that can help press from the front alongside Aubameyang so the next best thing is to get Nicolas Pepe to do that exact role.
The midfield 4 would be a bit awkward as tasking Lokonga to defend from the right side of midfield will be too unfamiliar for the player, but a theoretical solution to evade it is to have Thomas Partey fill in at RB, have the right back defend at the right midfield position & for Lokonga/Camavinga to line up next to each other.
The awkwardness of this setup means it isn't a viable way for Arsenal to play next season,
The possibility of Arsenal deploying a 4-3-3 hybrid: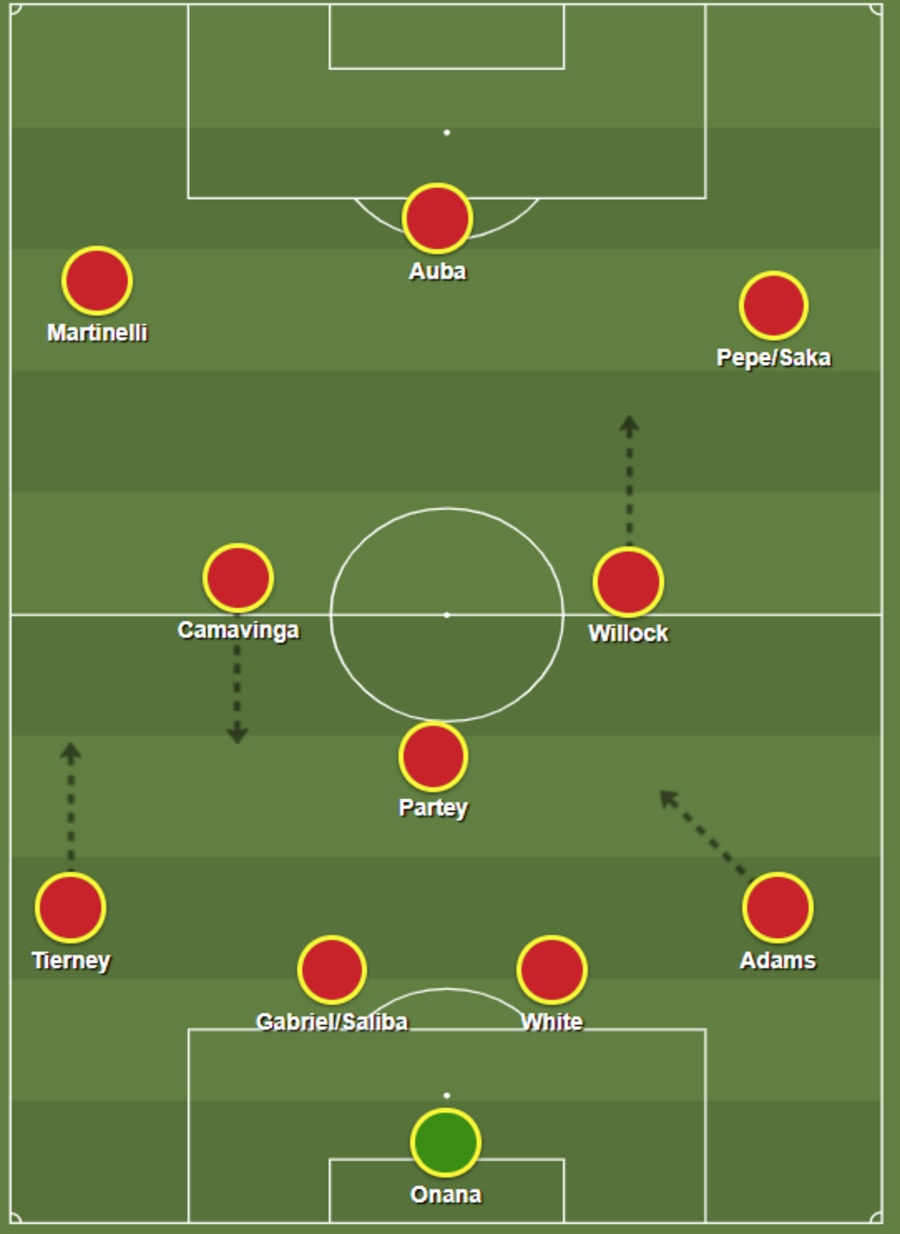 The 4-3-3 hybrid set-up brings the 2 preceding ways Arsenal can play in a 4-3-3 together without compromising how well Arsenal's key players play.
Kieran Tierney is best suited as a fullback that's given complete license to attack, which is why I opt for Eduardo Camavinga playing a slightly restricted role to allow for that to happen.
With Joe Willock being best suited closer to goal, an inverted fullback behind him will take off some defensive burden with his focus being on making late runs into the box, & just looking to contribute to attacks.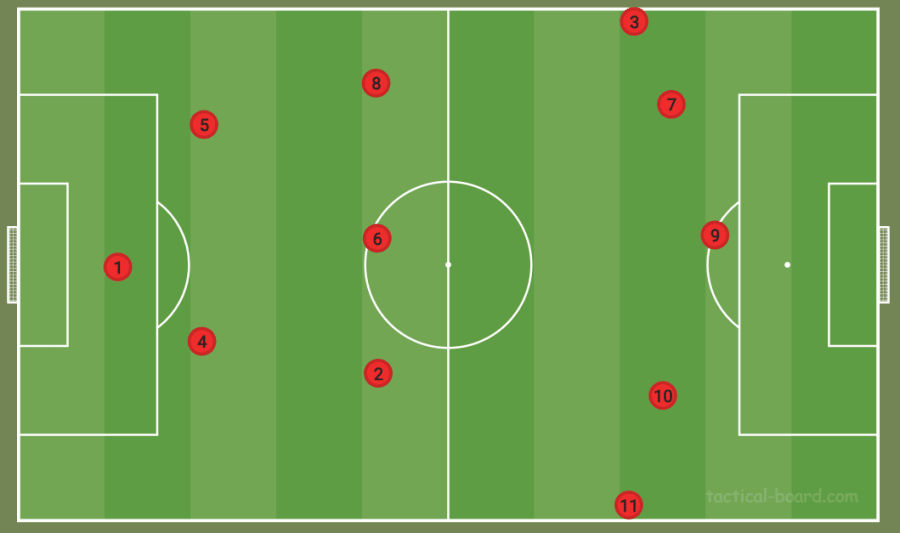 In possession, the 2-3-5 will give Arsenal more dynamism up front with the balance of profiles along the front 5 being supported by a midfield 3 that won't be easily beaten when hit on the counter.
Kieran Tierney, Gabriel Martinelli, Pierre-Emerick Aubameyang, Joe Willock & Bukayo Saka/Nico Pepe gives Arsenal a player to hold width, someone to make late runs into the box, someone that can hold their own in attack, a strong finisher & a player who can take the game by the scruff of the neck at any given time.
The midfield 3 behind it (RB-DM-CM) will be tasked with being solid defensively & creating attacks/exploiting openings out of nothing, which itself is possible if Tyler Adams can translate his Bundesliga form over to the PL.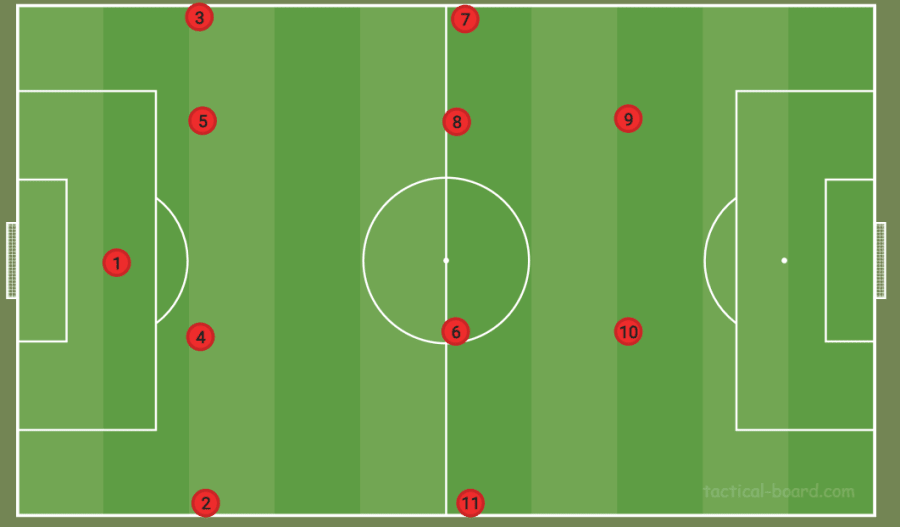 This 4-4-2 is more conventional, and it mirrors what has been seen already in Arsenal's 4-4-2. Joe Willock aids the press from the front by partnering Aubameyang in the front 2, Martinelli & Pepe/Saka's proficiencies at RM/LM in the shape have already been outlined earlier on the piece.
The big question marks will be surrounding whether Kieran Tierney can cover ground quick enough to settle into his position as the LB in the 4-4-2, but looking at how teams have performed against Arsenal when Tierney leaves gaps open, those fears are alleviated as he covers ground well enough to get back into position.
What suits Arsenal best?
The best set-up is the hybrid 4-3-3 set up, Arsenal can strengthen the Martinelli-Tierney dynamic on the left by balancing it with Bukayo Saka/Nicolas Pepe & Joe Willock having a similar one on the opposite side.
As an inverted fullback is necessary to give Arsenal the midfield balance they need, that's why I've proposed the possible signing of Tyler Adams or someone of that ilk to play the role.
Last Thoughts:
There are many ways for Arsenal to the lineup in a 4-3-3, but there's no single style that suits Arsenal best as their 11 is full of players with different profiles who require different demands to thrive, that's why the hybrid 4-3-3 setup (third option) is the best way for Arsenal to facilitate a 4-3-3 change for next season if they get their signings right.