I'd like to start this week with a quick mental exercise, if you don't mind.
Flash back to early August. Arsenal have signed Albert Sambi Lokonga, Nuno Tavares and Benjamin White. They're waiting to sign Martin Odegaard, are rumoured to be flirting with Aaron Ramsdale and are likely to sign a right back before the deadline.
Keeping that in mind, and looking back on the past season, who's the most undroppable player in the starting XI? And not just in terms of actual talent, but depth behind them.
Thomas Partey perhaps? Gabriel? One name I would have at least mentioned myself back then, and expected others to say, is Kieran Tierney. He had been a bright spot of the squad over the past two years, and was being touted - at least by many fans - as a future captain.
So how did we find ourselves in a position where we're openly wondering whether a healthy Kieran Tierney should start? A couple of things: Whether it was the nagging injury that took him out of the past few games, confidence, or just poor form, the fan favorite left back just hasn't been up to his usual standard. After a season debut where he spammed an amazing number of crosses into the box, with little to no results, Tierney has been mostly either quiet or disruptive to the attack, depending on your point of view.
Meanwhile, Nuno Tavares has filled in quite well. He's a unique physical profile, he's aggressive, and he's fun to watch. Add in the new toy factor, and of course there have been calls for Nuno to take Tierney's place; it's understandable.
Barring an injury during the international break, Mikel Arteta will find himself in a tough position against Liverpool: Should he go with what's working lately, and start the more volatile, but less predictable, Nuno? Or should he revert to Kieran Tierney, who's played big Premier League games for Arsenal going back two years, is beloved by his teammates, and is more established?
Let's look at what numbers tell us about the two so far.
Let's start by looking at each player's radar. I've done Kieran a favor here by removing Arsenal's two biggest shellings of the season, against Chelsea and Manchester City. Love it or hate it, I'm doing it to give the most accurate picture of Tierney in a "normal" game possible.
What we see here seems pretty definitive, right? Tierney has statistically been dribbled past rarely, he's been secure on the ball, and his creation has been better. He hasn't been great in the air, but his ground duels are very strong. Neither he nor Nuno has been active pressing the ball, but that could be down to a stylistic choice for Arsenal, since so few players on the team have impressive pressing numbers.
Advert Inserted
Nuno, meanwhile, has been excessively strong in the air, and he's unsurprisingly a very accomplished dribbler, completing 2.22 per game. He's already got the fourth-most dribbles completed of anyone on the team, attackers, defenders and midfielders included. He's also playing accurate crosses at an encouraging rate, with 31% of them on the mark.
Tierney's creation numbers here are something of a misnomer, though. Brentford away provides most of the advantage for Kieran. Despite Arsenal's embarrassment that Friday night, the Scot did provide 7 key passes and 11 shot-creating actions in that game, out of his 11 and 19 for the season, respectively.
Tierney has been far less consistent as a creator since then. His last four appearances yielded three SCA and not a single key pass.
Consider the above more of a "form radar." This is Tierney from Norwich through Crystal Palace. Without the buoy from Brentford, Tierney actually has fewer shot-creating actions per 90 minutes than Nuno, and a lower cross total and percentage. He is still better at keeping dribblers in front of him, having not been dribbled past at all, and is rarely dispossessed. All qualities that are valuable in the right setup.
Nuno's strengths remain, and in this comparison he's now more creative and progressive as a ball carrier.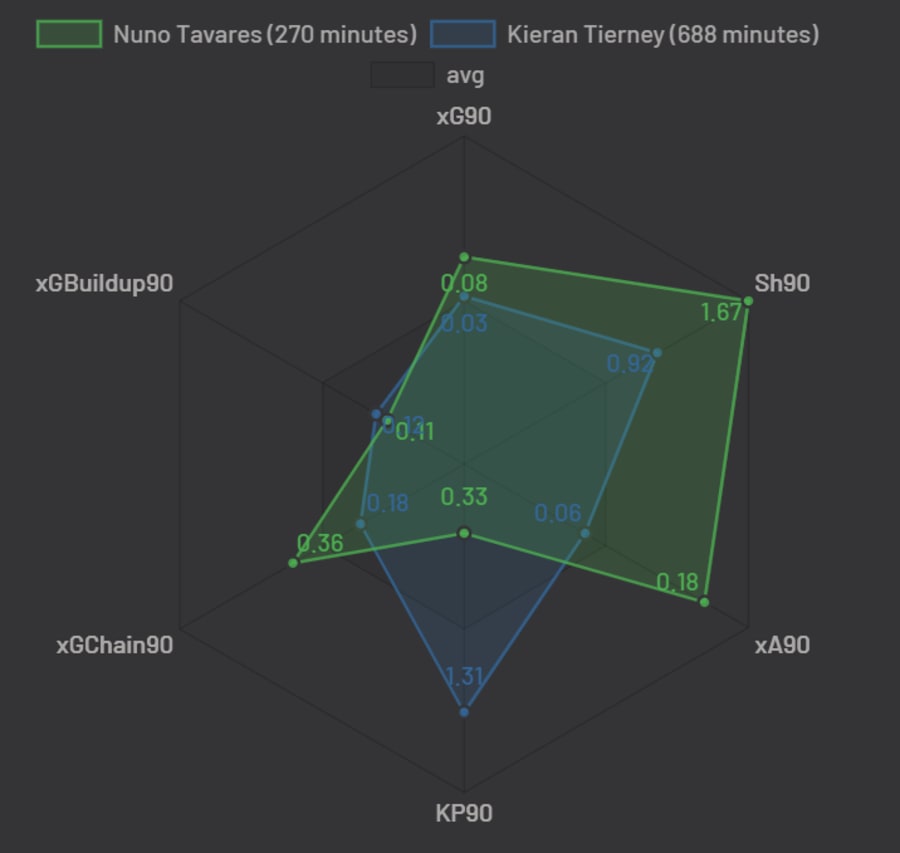 Here's one more visualization, courtesy of Understat. Nuno's expected goals and assists per 90 minutes, as well as his xGChain per 90, are higher. Again, Tierney's Key Passes per 90 are higher, keeping in mind that Brentford swell. Both are around the same in terms of xGBuildup/90, the measure of value on possessions involving them where they don't take a shot or make a key pass.
There are many levels to the decision Mikel Arteta has to make at left back. Tierney is more established, possibly more trusted. But Nuno has provided a level of dynamism Arsenal have missed of late, and he really hasn't made the mistakes I expected. Maybe those are coming, or maybe Nuno's just more than some of us imagined.
Which direction should Arteta go for Liverpool and beyond? In the past he's gone more with the devil he knows, but he's come around to experimenting with younger or newer players more recently. Whichever decision he makes, it's an outstanding bit of squad building that the club has these two options.