There's no doubt that Arsenal have just completed what seems like a pretty successful season for the campaign they just had, ending it with an FA cup and more recently a Community Shield in what is Arteta's first year of being a head coach in his career. However today we are going to find out if Arteta has actually improved Arsenal and turned them into a winning club.
Before we get started we're going to look at Arteta's career before Arsenal and how it has shaped him into the coach he is today. During Arteta's playing days he was no stranger to winning, although not winning heaps of trophies he collected a few in his time winning 2 FA cups and 2 community shields with Arsenal as captain in 2014 and 15, and winning a domestic treble in Scotland with rangers in 2002/03. However it is not the trophies that stand out, Arteta spent his career playing at big clubs like Barca as a youth, PSG, Rangers, Sociedad, Everton and Arsenal meaning he knows what it takes to play for a club with a winning culture and what it means to the fans. After the 15/16 season Arteta retired and immediately took on a job as Pep Guardiolas assistant manager at Manchester City. Although Arteta was an intelligent footballer, he learnt a lot from shadowing pep and this is what really turned him into the tactical genius he is hailed as by arsenal fans today.
Arteta himself stated "In my coaching career and my personal life, he has an enormous influence" when talking about Pep Guardiola. Furthermore Arteta said at another time that "As a coach, I have learned so much from him, we have spent some amazing moments together, some difficult ones as well, but the experience next to him has been incredible" Really emphasising how much Pep influenced him.
At Manchester City, Mikel Arteta won 2 Premier leagues, 2 league cups, 1 FA cup and 1 Community shield as assistant manager turning him into a serial winner, winning 6 trophies in 3 years. This silverware trend being an important one he wanted to bring to Arsenal with him. In addition to this Arteta's silverware was not the only thing that tipped him to be a great manager as he got seals of approval from various figures in the football world.
Arsene Wenger said "He has all the qualities to do the job (managing Arsenal)" back in 2018 and went on to say "He was a leader… he knows what is important at the club" Showing us that Arsene Wenger the "Father of football" saw a good manager in Mikel
Pep Guardiola stated "He's a young manager, but he has experience already to handle big players and teams" and "He's so happy when we win but suffers when we don't and that is why he tries to find a solution… he is already an incredible manager and he'll have incredible success in the future"
Leroy Sane made the remark "People always ask me about training under Pep, but the things I've learnt from Arteta!" And "He's always right"
Finally Mauricio Pochettino claimed "He'll make an exceptional coach"
Now we're actually going to get into comparing Arteta's time in charge to that of Emery's 19/20 season and 18/19 season individually.
We will start with comparing Emery's 19/20 season with Arsenal to Arteta's 19/20 season with Arsenal.
There was some obvious improvement between Emery's reign and Arteta's during the 19/20 season. Through all competitions Unai Emery managed a 40% win rate throughout 20 matches picking up 8 wins, 7 draws and 5 losses all while scoring 44 goals and conceding 34. It also must be noted that 4 of Emery's 8 wins came from cup games in the Europa League group stages and the carabao cup against lower league opposition which are notoriously easier games for a big club like Arsenal. Whereas in all competitions Arteta achieved a 58% win rate throughout 29 matches winning 17, drawing 6 and losing 6 while scoring 51 and having a more impressive goals conceded total of 31. Furthermore if we just look at their league statistics Arteta clearly made a huge improvement having a 45% win rate in 20 matches compared to Emery's 30% in 13 matches, while scoring 32 and conceding 21 juxtaposing Emery's 18 scored and 19 conceded. Making it clear to see Arteta really did sort out the calamitous defence Emery left behind.
Advert Inserted
Not only did Arteta improve Arsenal's results but he finally gave them back a sense of identity. Where Emery seemed to have no idea what formation he was going to play next fielding all of a 4231, 532, 3412, 343, 4312, 4411, 442, 4141 and a 433 throughout the 19/20 as he attempted to adapt the formation to whatever team he was up against. Arteta played primarily two formations since he arrived fielding a 4231 pre lockdown and a 343 post lockdown, allowing the players to actually get used to a system which then allowed them to thrive on the pitch. Top teams make smaller clubs adapt to them which is the opposite of what Emery was doing so for Arteta to come in and play two formations really helped to re solidify Arsenal's position as a big club which seemed to start to get forgotten about due to the poor results under Emery in the 19/20 season.
We are now going to get into comparing Emery's 18/19 season with Arsenal to Arteta's 19/20 season with Arsenal.
During the 18/19 season 58 matches were played under Emery, and 29 matches were played in the 19/20 season under Arteta so we are going to double all of Arteta's stats and compare them to Emery's last season. Please keep in mind that Arteta's stats could have varied completely differently and a full season would also consist of easier games due to the early round of cup competitions like the Carabao cup and the group stages of the Europa League in which Arsenal usually excel, the doubling is only done to be able to compare Arteta's season to Emery's so take it all with a pinch of salt. In Emery's 58 matches last season he amassed 35 wins, 8 draws and 15 losses giving him a 60% win rate all while scoring 112 and conceding 71. If you doubled Arteta's stats from the 19/20 season in 58 matches Arsenal would have picked up 34 wins, 12 draws and 12 losses giving Arteta a 58% win rate while scoring 102 goals and conceding 62. This shows us that Arteta although scoring less and having a worse win% is substantially better at setting up his defence to concede less goals which has been a prevalent issue at Arsenal for many years as Wenger just attempted to consistently play "champagne football". Comparing Emery's 18/19 to 19/20 it shows a rapid decline at Arsenal as he amassed a third of the losses and one less draw than he got the previous season in 38 less games, leaving Arteta a huge uphill battle in order to get Arsenal back to winning ways which he successfully accomplished which deserves a lot of praise.
A final comparison between the two managers is their approach to big games and the answer to the question if Arteta has improved Arsenal in this aspect is most definitely yes. Emery managed 16 games against the "Big Six" and only achieved three wins with those being against Spurs, Chelsea and Manchester United in the league. Whereas Arteta has managed nine games against the "Big Six" and has won five. Where Arsenal is usually the underdog in games against big rivals Arteta has seemed to change the mentality of just accepting defeat in this huge games and has made Arsenal start winning them again, two key wins being two cup finals with a 2-1 victory over Chelsea in the FA cup final and a 5-4 victory on penalties against Liverpool in the Community Shield final. Two very different results to Arsenal's Europa League final in the 18/19 season where Arsenal lost 4-1 under Unai Emery which killed Arsenal's chance of Champions League football for the 19/20, leaving fans to question Unai Emery's position in charge.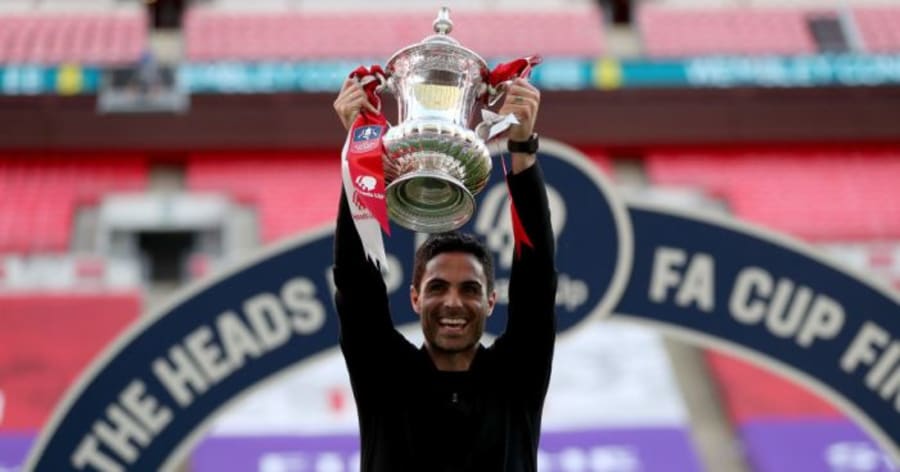 Next we are going to discuss how Arteta coming in may have helped some players to improve by comparing them to how they performed under Emery. We are going to look at two players specifically, Dani Ceballos and Mesut Ozil.
Starting with Ceballos he is an example of having a clear improvement under Arteta. Ceballos featured in 11 games under Emery, 0 under Ljungberg and 13 under Arteta. In those 11 games under Emery, Ceballos averaged a match rating of 6.65 according to WhoScored, compared to his improved average match rating of 6.99 under Arteta. In his first 11 games under Emery Dani Ceballos achieved 2 assists, 19 tackles, 1 interception, 11 key passes, 14 dribbles, 33 accurate long balls and 469 passes with a pass success rate of 87.7%. This is where there was some massive improvement under Arteta as in those 13 games he achieved 26 tackles, 31 interceptions, 15 key passes, 13 dribbles, 43 accurate long balls and 782 passes with a pass success rate of 83.4%. It is very clear here that Arteta had taken Dani Ceballos to new heights in his football career upping his defensive stats by huge numbers and making him a much more complete central midfielder, becoming one of Arsenal's key figures in the latter stages of the season on their road to FA cup glory.
Another player we are going to look at is Mesut Ozil. Ozil played a total of 18 games last season with 8 being under Emery and Ljungberg and 10 under Arteta. In the 8 games under Emery and Ljungberg, Ozil managed a 6.67 average match rating according to WhoScored. On the other hand in the 10 with Arteta as boss Ozil had an average match rating of 6.75. Ozil stats however were not very different under either coach with Emery and Ljungberg at the helm Ozil managed just 1 assist and with Arteta just the 1 goal and 1 assist, quite measly figures. Ozil however did offer something to the team providing 18 key passes in 8 games under Emery and Ljungberg, and the 19 key passes in 10 for Arteta, while holding a pass success percentage of 88% for all managers and completing around the same dribbles and passes for each as well (9 successful dribbles and 412 passes for Emery and Ljungberg and 7 successful dribbles and 424 passes for Arteta) Leading to the question of if Ozil improved with the team? or if the team just improved around him while he stagnated and Arsenal began to win more games leading to him not feature during project restart at all?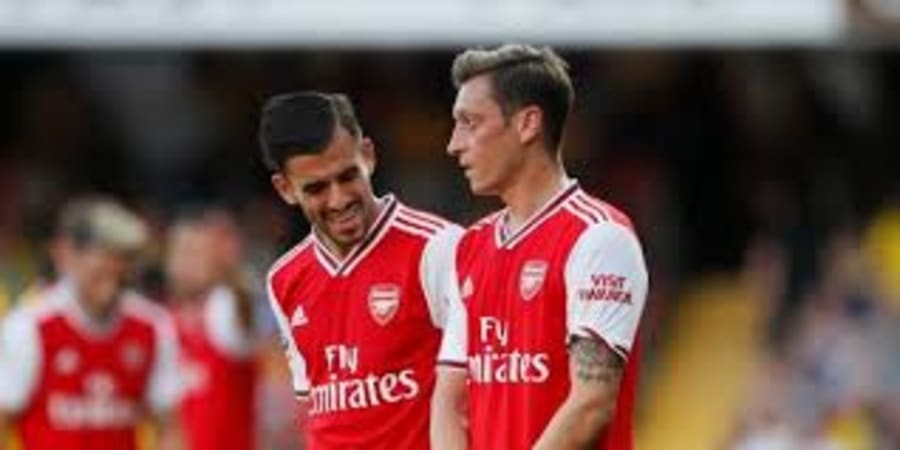 So this leaves us with the final question, will Arteta continue to improve? And my short answer is yes I believe so, but it depends on many things with the most important being new signings! The main targets of Arteta seem to be Atletico's Thomas Partey and Lyon's Houssem Aouar, two elite midfielders who would certainly improve Arteta's Arsenal and would bring great depth into the midfield. Arteta has already secured the services of Gabriel Magalhaes and Willian who will both offer very good qualities. Gabriel is a tall, quick, ball playing left footed centre half which Arsenal desperately needed and will partner the similar right footed William Saliba in the long term as Saliba is 19 and Gabriel is 22, leading us to believe that Arteta has his centre back partenrship sorted for at least the next 6 years. Willian offers much needed creativity to an Arsenal squad that created less chances than the majority of the league last season, so that is certainly a step forward for the club again. Personally I see Arteta setting up with his trusted 343 until he secures the services of his key targets such as Partey and/or Aouar, which could mean until October at the end of the window or next summer when Arsenal hopefully would've generated enough income for these signings through the missed ticket sales, qualifying for Champions League football and getting Ozil's wages off the books. I believe once these signings are made Arteta will change to a 433 or a 4231 to create a more balanced, modern team, capable of playing football the way he wants it played, potentially leading Arsenal to success domestically and in Europe, meaning that he would have definitely improved Arsenal. But for now what do you think, has Arteta improved Arsenal and is he taking us in the right direction?