Firstly, I would like you to wish you all a Happy New Year.
I'm not going to though, because as far as I'm concerned "Happy New Year" is for New Year's Day and New Year's Day only.
Some people take that too far don't they?
There's nothing worse than some c**t wishing you Happy New Year in February just because they haven't seen you since before Christmas. Maybe there's a reason for that eh, mate?
I'm doing a "round-up" format this week because, if I'm honest, I've lost track of what week this actually is. In true festive tradition, I've been nothing but an eating, drinking, shitting, farting machine who has trouble figuring out what day it is since Christmas Eve, let alone what week of the football season it is.
I may have figured it out by next week, but I also may not have been arsed.
I also realise I may be that c**t, seeing as I'm putting out a Christmas and New Year round up on January 8th. Ah well.
The last time I wrote properly was just before we faced Man City in the Carabao Cup.
As far as that game goes, well, I switched off after City went 4-1 up and watched Hannibal with my wife. I have to say that watching a TV series about a serial killer that cuts his victims up, keeps their body parts in the fridge and eats them with a glass of fine wine was far more enjoyable than watching Arsenal.
I had already decided before the City game that I wasn't going to bother covering the games one by one until we actually won.
I was done with football for now anyway.
'Twas the season to be jolly after all, and it felt important to enjoy Christmas as much as possible, what with the government deciding to cancel it at the last minute, leaving the majority of the country feeling like a Liverpool fan at Anfield '89 (that bastard Johnson, he's gone and Michael Thomas'd us all!!!)
By "enjoy" I do of course mean "drink and eat my way through it", and by "Christmas Day" I do of course mean "from December 24th to January 3rd."
We had three games coming over the festive period that were expected to be crucial in our battle against relegation and, according to some, Mikel Arteta's battle against unemployment.
Nobody was expecting much from the Chelsea game on Boxing Day. We had all agreed that the two games following that one were our next "must-win" games. (We do love a must-win game, don't we?!)
Those next two games being against Brighton and West Brom, our "relegation rivals", according to "Big Sam" as the media call him, or, as I like to call him "that f***ing fat c**t, Allardyce."
Bearing that and my decision about covering games one by one in mind, I thought to myself "tell you what, Dazza, take the night off from this one. Put your feet up and have a few beers. It is Boxing Day after all, and you've not had a beer for half an hour. Your liver thinks your throat's been cut…."
Arsenal 3 Chelsea 1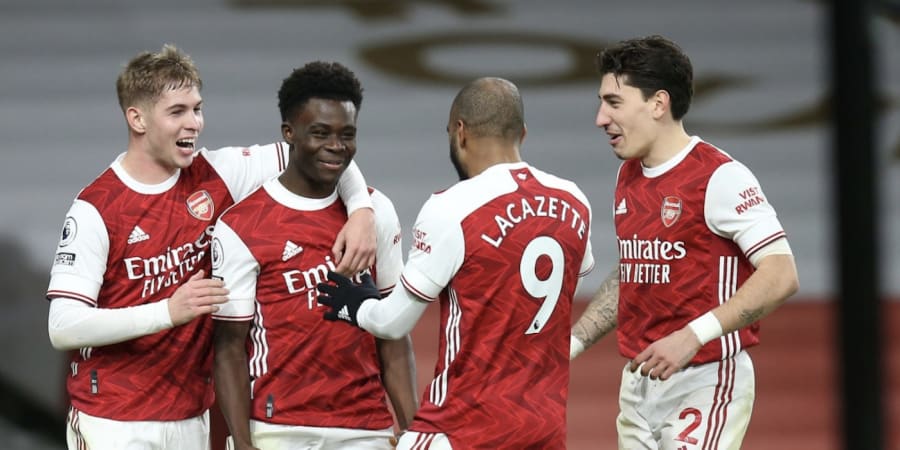 Well, spank my arse and call me Mikel. None of us saw that coming, did we?
I thought it was bold move from Frank Lampard to wear the clothes the in-laws bought him from Uniqlo for Christmas, especially when you consider he was standing next to the Premier League's best dressed manager of all time, but you have to wonder whether it affected his players.
I mean, imagine having him trying to tell you what to do dressed like that, when just a few yards away you see Arteta decked out in Armani.
I mentioned earlier in the season how this club have a habit of pulling off a result when you least expect it, but I have to admit that my faith in that particular phenomenon has been wavering recently.
I had a feeling it could happen in the North London Derby not so long ago. Turned out that feeling was probably wind.
The longer this bad run went on, the more likely it seemed that we would only break it by beating one of our "relegation rivals", or a team of one-legged, blind, alcoholic dwarves.
The manner of our performance was as impressive as the result itself. The superb Tierney was tripped in the box and up stepped Laca to score from the spot to put us 1-0 up.
Gary Neville then spent the rest of the game analysing the foul on Tierney from every angle.
"There's not much in it, he plays for it," said the big-nosed tosser.

"I don't think he makes any contact with him and then what Tierney does is throw his leg back and waits for him," the ugly little gimp continued.
"I don't think that's a penalty. It's been coming but it's not a penalty. I think it's absolutely certainly not a penalty," as if saying the word "penalty" enough in one sentence would magically make it not a penalty.
It was a penalty, Gary. There, I said it once and it's still a penalty.
He wasn't finished, though!
"Arsenal had one of the very best, Robert Pires brought it to the Premier League."
Well, that's any semblance of impartiality right out the window, eh!
Incidentally, just five days later Neville labelled Paul Pogba "clever" for tripping himself up to win a penalty for Manchester United against Aston Villa.
I can't be the only one that has felt uncomfortable at the generally good quality of Neville's punditry over the years, so it's actually quite nice to be able to call him a w**ker again.

Xhaka doubled the lead with a superb free-kick nine minutes later.

2-0 up at half-time and by far the better side.
I was confused by this feeling.
Things got even better in the second half as Saka put us 3 goals to the good (he meant it!)
You would usually say that's game over but, you know, Arsenal and that.
They pulled one back and then got a late penalty.
This was more like it. I felt like I was watching Arsenal again and hadn't eaten myself into some alternate universe.
Just as I was prepared to spend the last few minutes crapping my pants (not a pretty thought given how much I'd eaten and drank the past few days), Leno saved Jorginho's spot-kick and that was that.
A superb result and just what we needed.
The inclusion of the Smith Rowe was a big factor for me. Add Martinelli and the once again outstanding Saka, and we look a completely different side.
All hail Hale End!
I'm going to round up the next two games as briefly as possible, or we'll be here all bloody week.
Brighton 0 Arsenal 1
We ended the year with our…. wait for it…. SECOND WIN ON THE BOUNCE!
This was a bit of a different performance to the Chelsea game, but a result that was just as important, if not more so, seeing as it was against a "relegation rival" (you're next "Big Sam", you walrus looking chewing gum fiddler…)
We've had a few problems with our internet lately, and I did think my Amazon Prime stream seemed a little slow. Almost like watching a film.
Well, put it this way; I was still watching Lacazette getting ready to come on when he scored. I thought you were supposed to get stuff quicker with Prime?
Anyway, another good win to take into the next game, against another "relegation rival."
West Brom 0 Arsenal 4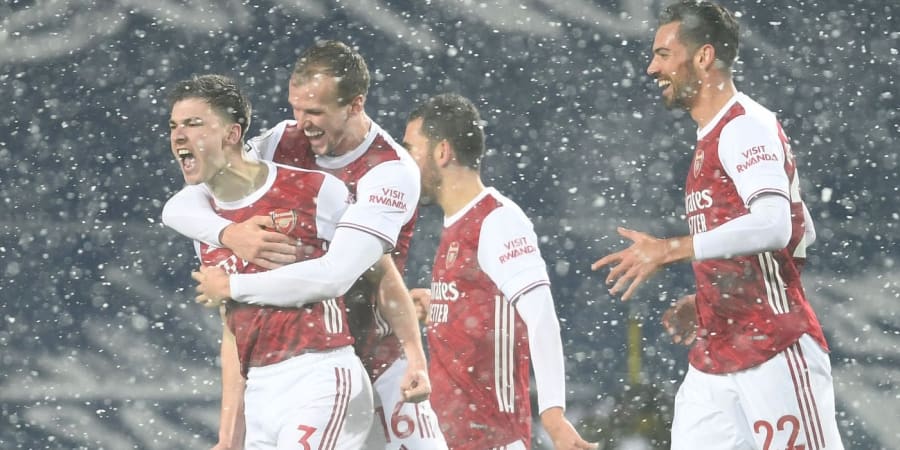 Away to West Brom. Managed by Sam Allardyce. In the snow.
Eleven words to strike fear into any Arsenal fan.
Tierney was superb once again, opening the scoring with a superb run and shot with his right foot.
Our second goal was a thing of beauty. A lovely flowing move including a sublime turn and run from Smith Rowe, with Saka finishing it off.
Superlatives all over the gaff, there.
All hail Hale End!
Even Steve Mcmananamanamanamanaman was purring at that one.
I think we were all expecting the ex-England manager (hahahahahahahahahahaha) to send his players out to kick the shit out of us in the second half and, although they gave us a bit less space to begin with, once the rejuvenated Laca added our third on 61 minutes it was game over. Three minutes later, he added his second of the night, and Big Fat F***ing Sam sat down on his big fat useless arse.
There aren't many people I hate more in football than Allardyce, and the look on his face was priceless.
He's supposed to specialise in saving clubs from relegation, but tonight he had the look of a man that specialises in making cocktails that's just realised he's got a job in an alcohol-free pub.
Lovely stuff.
This was, without a doubt, the best football we have played under Mikel Arteta.
Okay, West Brom were dreadful but you can only beat what's in front of you, Geoff. Also, if you were saying the other week that this and the Brighton game were our "must-win" games, then you can't really complain about winning them!
Even the sight of Ainsley Maitland-Niles in what looked like a pair of leggings he'd got from the lost property bin wasn't enough to ruin this.
The difference in the way this team have played since Boxing Day is quite something. The urgency, creativity and movement that we were lacking for what seems like ages is a sight for sore eyes. Some players are even doing things that we weren't sure they could. Nobody sums this up more than Lacazette, whose all-round game has taken on a new lease of life since the introduction of Martinelli and Smith Rowe, especially.
Sure, you could say that Arteta's hand was forced by Willian and Luiz being unavailable due to being unavailable through illness (Mari coming in for Luiz), but if you're focusing on the whys and wherefores rather than appreciating the outcome then, well, you must be great fun at parties is all I can say.
With all the doom and gloom around in the real world, this game left me with a warm feeling and in a good mood.
I like to think that I don't let Arsenal results affect my mood too much (for the most part I don't), but watching us play so poorly twice a week for so long, then feeling the way I did after this game, well, I didn't realise how Arsenal were affecting – or compounding - my mood for a day or two after a game.
I actually woke up on Sunday morning disappointed we didn't have a game!
Of course, it's only been three games, but after the last couple of months, all you can do is enjoy it. Just a few weeks ago, we looked in big trouble. I'm not having it that we were in danger of getting relegated, but I just couldn't see where the improvement was going to come from. That improvement has come in large from Hale End, which is a reason to be excited for the future. Saka and Smith Rowe have been outstanding, and Martinelli is going to be a very special player indeed. Add a fully fit Thomas Partey into the equation, offload some of the muck and add more quality where we need it and, suddenly, the future doesn't look so bad.
Credit to the manager too. It's easy to forget the fact that this is only his first full season in the job - his first managerial role - as it is to forget the unprecedented circumstances he's faced whilst learning on the job. That's without even considering the utter shitshow he stepped into in the first place!
The magic of the FA Cup is upon us this weekend, as we take on Newcastle in the third round. Let's hope we can keep the momentum going. This is our cup after all!
The season starts (again) here.
Up The Arsenal.