If there's one week that sums up this "rollercoaster" that I keep going on about; it's this one.
Wake up Monday morning after beating Manchester United at Old Trafford, full of optimism for this journey that we are on, go to bed on Sunday night having been walloped at home by Aston Villa and asking yourself why the f**k you even bother.
This is how it went down in my eyes....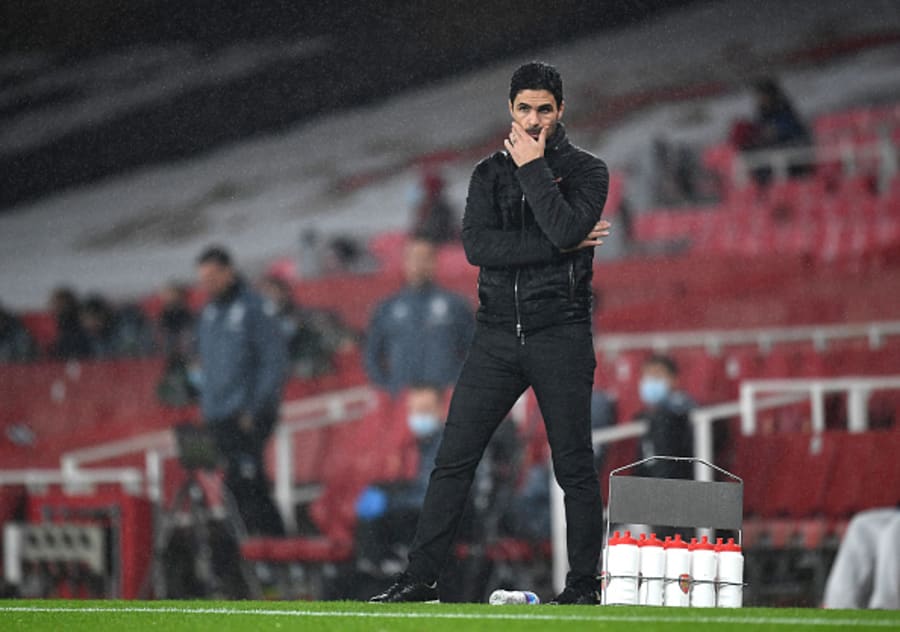 No league win for Arsenal at Old Trafford for 14 years.
No wins against the "big six", or whatever we're calling it these days, for around twelvety thousand years.
Arsenal not playing particularly well.
Questions being asked about Mikel Arteta.
Manchester United's striker single-handedly feeding starving children throughout the country.
You don't need me to tell you what the stage was set for here, do you?
Arsenal fans seemed resigned to Arsenal following this narrative too, as the line-up was announced to the usual over-the-top online reaction. Actually, I think this was even worse than the usual over-the-top online reaction. This was bordering on pathetic.
I get that we all have players and formations and what have you that we want to see on the pitch, but for crying out loud at least give us a chance to get on that pitch before you start whining.
Moaning about who's playing and who isn't playing isn't exactly a new thing, of course. However - and call me "boomer" all you like - years ago, when the internet was but a mere twinkle in Tim Berners-Lee's eye, we didn't even know what the team was until we got to the ground. Even then all you got was a collective groaning noise, compared to the meltdown you get nowadays.
I think this is probably amplified even more now that we aren't allowed to attend matches. Literally the whole supporter experience is an online one at the moment. Personally, if I was in the pub before a game when the line-up was announced and I wasn't too thrilled about it, you'd get a tut or an eye roll out of me at best before I went back to my pint. I don't know anyone that would stand there tweeting their disapproval for an hour in the pub. You'd have to be one weird bastard to do that, and I don't drink with weird bastards. *

As it happened, I found myself on a 12-hour Twitter suspension (can't even say you want to punch the Prime Minister these days!), but the trending topics were uncannily accurate……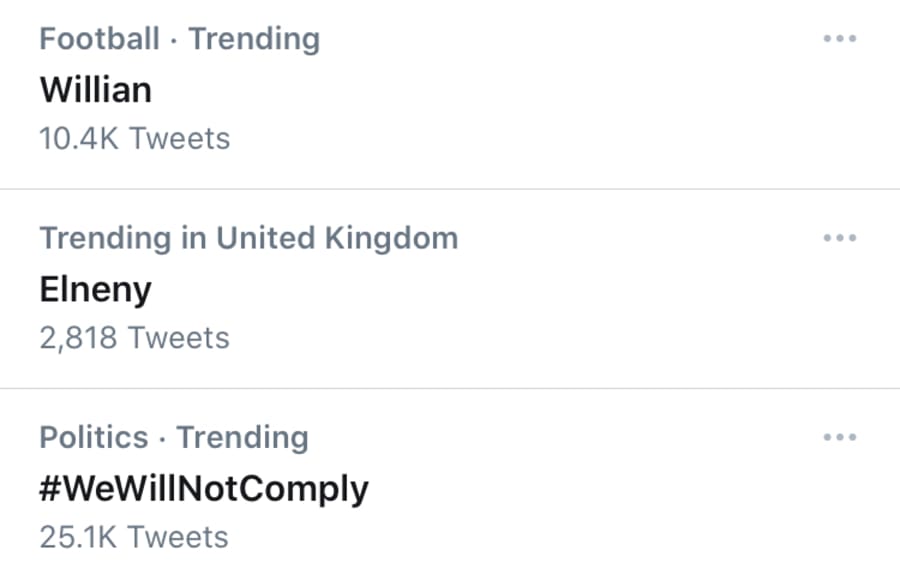 So, with betting suspended on Mike Dean awarding United a penalty, and with the stage set nicely at the Theatre of Dreams for Sir Marcus Rashford to condemn Arsenal to defeat and a week of social media inquests, it was time for Arsenal v Manchester United….
*This may not actually be true.
Manchester United 0 Arsenal 1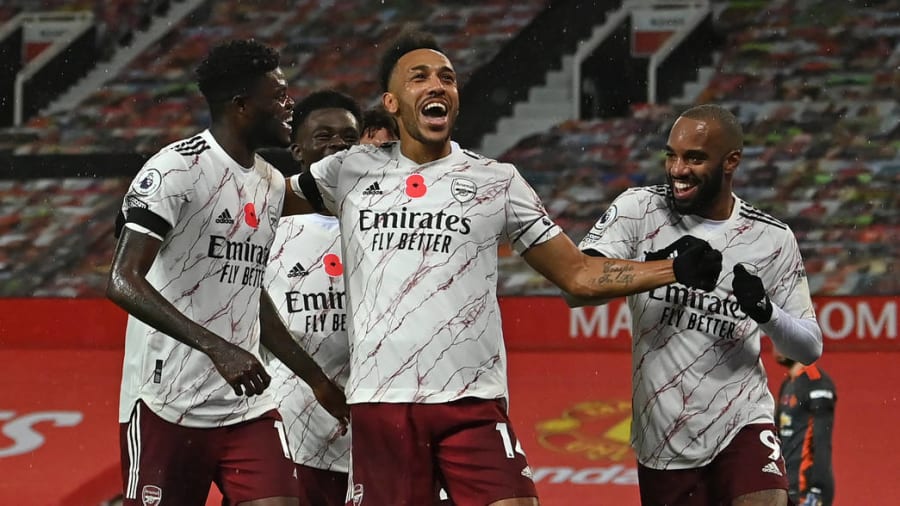 I've said this many a time before, and I'm happy to repeat it as often as I need to – as much as Arsenal are often happy to follow the narrative, we also have this knack for kicking the narrative square in the nuts and pulling a result out of the bag when it's least expected. The club's history is littered with such results. Anfield '89 will always be the one that stands out, obviously. 1-0 at the Bernabeu, 1-0 down 2-1 up, we f***ed Rushie's record up in the Littlewoods Cup Final are among other examples I can think of, off the top of my head. City in the FA Cup semi-final last season a more recent example.
We've done it countless times in games not so grand in stature too, so to me this result – and performance – didn't come as a great surprise.
As I alluded to above, digging out the manager and certain players before a ball has even been kicked can sometimes come back and bite you on the arse and embarrass you. Today was one of those days.
The thing is, if you were to simply raise your eyebrows and question the managers team selection before the game, it would be a lot easier for you to simply hold your hands up and say "fair play, Mikel, I got that wrong."
Not many people are that measured these days though. I mean, if you've jumped on Twitter a minute after the teams have been announced and declared that Arteta should be sacked for picking Elneny, you're not exactly going to jump on Twitter a minute after the final whistle to say you got it wrong, are you?
Okay, I've gone with the most extreme of examples there purely for effect, but it's the kind of example that is out there, nonetheless.
Funnily enough, there is actually someone in this very room that declared Arsenal wouldn't win at Anfield in '89 if Michael Thomas was playing.
I know the words "imagine if Twitter was around when…" have become something of a cliché, but I'm 100% certain that I would have been labelled a "nonce" at the tender age of 15 if it had been around in 1989 for that opinion.
Anyway…. the game!
We started very well. That should be a good thing, but given the expected narrative, I would say that at least 99.99999999999% of us had that "seen this film before" feeling. Indeed, despite our superiority in terms of possession, United had the first clear-cut chance when Greenwood forced a save from Leno at the near post.
Still, we were playing very well, and our pressing game was as good as I've seen it for a while.
We went in 0-0 at the break.
What could possibly go wrong?
With Mike Dean as ref, this was set up nicely for it all to go massively tits up for us in the second half…..
Mike Dean. Awarding Arsenal a penalty. At Old Trafford. In a game we were supposed to lose. Just when you thought you'd seen it all this year, eh?!
Yes, it was a stonewall penalty, but it was also Mike Dean. (Alright, I'll whisper it now…he actually had a decent game.)
Anyway, up stepped Aubameyang… 1-0 to The Arsenal.
Dancing on the Old Trafford pitch.
Love it.
That's how it stayed, despite a nervy last 10 minutes or so.
All of a sudden, that latest wave of negativity seemed a bit ridiculous.
Sometimes, maybe it's best to judge what you see with your eyes, rather than your own preconceptions. Elneny is the perfect example of this. He's hardly put a foot wrong since he came back, but people wet their pants when he's picked. He was the best player on the pitch for me, with Thomas Partey not far behind.
A word for the manager here too - Arteta got it absolutely spot on from the first whistle today. Tactically perfect.
There were always going to be bumps along the way, and yes he's made some mistakes, but let's not forget he's not only learning on the job, but he's also taken on his first managerial role during a very difficult time for the entire f***ing planet.
The post-game analysis was glorious too, with Roy Keane totally embarrassing himself after being taken to school by the brilliant Tim Cahill, who clearly loves Arteta. A refreshing change really, seeing as we're so often on the receiving end of such nonsense.
Oh, and if Roy Keane has a problem with the Arsenal players calling Mikel Arteta, "Mikel", I hope to God he doesn't hear what most of us call Roy Keane.
A great day all round, and I could go on even more, but I'll leave it at this for now – at the time of writing, Arsenal have the best defensive record in the Premier League, having conceded just 7 goals. Considering we've been to Anfield, the Etihad and Old Trafford, that could have been a lot worse to say the least.
Okay, we need to start scoring more, and I know stats aren't everything, but they say a lot more than some dickhead tweeting "Elneny only passes sideways…."
Suddenly, what looked a worrying situation a week ago has been turned on his head and we're looking at positives again.
What a difference a week makes.
Advert Inserted
Of course, football being the way it is, and Arsenal being Arsenal, there's every chance this will all be turned on its head again after we play Villa at home on Sunday.
Before that, though, a bit of Europa League action….
Arsenal 4 Molde FK 1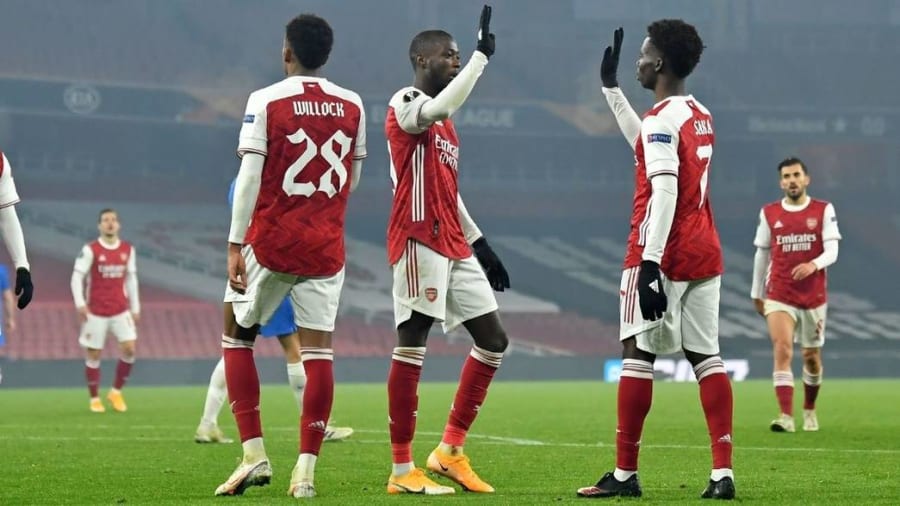 A rather underwhelming start to this game after the heroics at Old Trafford, but it's not as if that was unexpected. Some suspect keeping from Leno helped give the visitors a shock lead, but once we had levelled on the stroke of half-time, as OG scored his first of the night, it was really only a matter of time before we took control.
We did just that after the break, with OG getting his second of the night, and Pepe rounding off the scoring.
Joe Willock put in another superb performance, to plenty of acclaim from Arsenal fans over the next few days.
He's pushing for inclusion in the first team in the league with performances like that, and I look forward to the pre-match meltdowns from the "select your starting XI" bedwetters when Elneny starts on Sunday against Villa instead....
Arsenal 0 Aston Villa 3
Have I mentioned what a difference a week makes?
I said this at the top of the article, but I'm sure as hell going to say it again - If there's one week that sums up this "rollercoaster" that I keep going on about; it's this one.

If the United game went a way to answering certain questions being asked of the manager and the team, the Villa game just probably raised a whole lot more.
We even had a hand from VAR early on, with Villa ridiculously having a goal disallowed. Still, if we're asking for consistency with decisions, I'll take that one any day of the week.
After that, though, the whole game was one big shit sandwich, and not one I want to live through again on a Monday morning, so I'm sure you'll forgive me for not going over the game itself in too much detail.
You saw it. You hated it. I just hope you didn't pay for it.
If you've been paying attention, you'll remember that I said after the United game that "suddenly, what looked a worrying situation a week ago has been turned on his head and we're looking at positives again…."
Well, swap the word "worrying" with "promising", and the words "at positives" with the words "like a big bag of shite" and there you have it.
Fine lines, eh?
I can't argue with most of what I'm hearing either, because if Arteta and the team deserve the plaudits after the win against United, they deserve, erm, whatever the opposite to plaudits is after this absolute shambles. This was an utter, utter shambles. Just not good enough.
Something needs to change with our attacking game because this just isn't working.
I'm not generally one for singling out players (see Michael Thomas above), but I have no problem if players with the initials "AL" and.... erm... "W" are singled out today.
I say "most" of what I'm hearing because, as usual, there is a little bit of overreaction, with people genuinely calling for Arteta's head. I even saw a few Emery comparisons. Look, if that's the way you want to look at things, you crack on, I'm not here to tell you what to do, I just think it's more than a little premature, personally. Yes, there are serious questions to be asked and a lot of work to do at the moment, but that doesn't mean you just sack the manager!
I think some of this impatience comes from what I mentioned earlier, about the whole football experience being online while there are no supporters allowed in the stadium. It's still a bit weird, and football still doesn't seem quite "real." It's almost as if football is just like this reality TV program at the moment.

You would think that this crazy year might have led people to be a little more patient, but it seems to have had the opposite effect. Damn you, 2020.
Anyway, we have an international break upon us now. Time for Arteta to sort it out before Ant and Dec turn up and tell him he's been voted off of the show!
Until then, stay safe.
Up The Arsenal