For Arsenal, Pierre-Emerick Aubameyang has always been the go-to-man over the last couple of years. Since joining the club in a then club record fee back in 2018, the Gabon international has regularly found the back of the net, even sharing the Golden Boot for the 2018/19 season. This season, despite Arsenal not having the best of campaigns, Aubameyang has been banging them in throughout, making him one of the central parts of the revival under Mikel Arteta. However, the 30 year old has been linked with a move away, with his contract expiring in one year. A move to a top club like Real Madrid or Barcelona looks likely for the Gunners skipper.
In his time in the Premier League, Aubameyang has scored 49 league goals and has simply been Arsenal's best performer. Even when forced to play out on the left wing, the former Borussia Dortmund star has delivered the goods. Whenever any discussion arises about the best striker in the Premier League, one can be sure that Aubameyang is central to it. Here, we compare Aubemeyang with the other top strikers in the Premier League based on a few parameters. The strikers taken in the comparison are Jamie Vardy, Harry Kane, Marcus Rashford, Danny Ings and Sergio Aguero and only Premier League statistics have been considered.
Sources: Whoscored and TransferMarkt
Goals:
In terms of goals, Aubameyang is second in the scoring charts this season, with 17 goals, 2 goals behind top scorer Jamie Vardy. while Sergio Aguero (16) and Danny Ings (15) were right on his tail before the season stopped. Having consistently found the net throughout the season, Aubameyang was a safe bet to win his second consecutive Golden Boot, especially with Vardy's loss of form in 2020 while the likes of Kane (11) and Rashford (14) saw their seasons end early due to injury.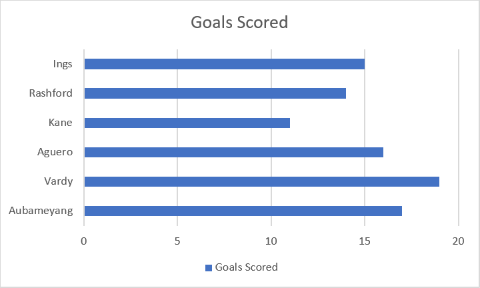 Minutes Per Goal Involvement:
While looking at number of goals scored is being done universally while comparing strikers, a closer look might tell a different story. When comparing these strikers on minutes per goal involvement, Aubameyang seems to be among the worst. In fact, only Harry Kane (137 mins per goal involvement) is worse off than the Arsenal star who has taken 128 mins per goal involvement. In this regard, the best in Manchester City's Aguero who scores or assists once per an astonishing 73 minutes. Of course it pays off if you are playing for a team like Pep Guardiola's.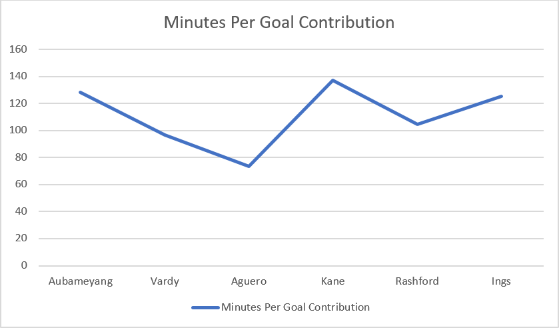 Conversion Rate:
Another important metric for any top striker is their conversion rate. It is the proportion of their shots that they can converted into a goal, i.e., it is a fraction of the goals scored out of all shots taken. In this aspect, Aubameyang's 26.15% is bettered by only Vardy (32.2%). Maintaining such a high rate over the course of a season is difficult but these two have shown that they are lethal in front of goal. Give them chances and they will bury them.
On the other end, England duo Kane (19.64%) and Rashford (18.92%) have poor conversion rates, something that they must hope to improve upon.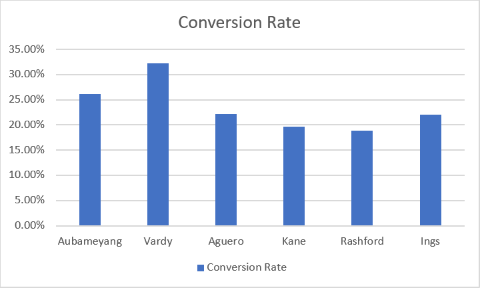 Final Thoughts:
Statistics and numbers can paint an excellent picture on a player but it never tells the story. However, they can be used as a reference while doing such comparisons. After all, numbers do not lie! However, they do not tell the entire truth too and that is something that must be held in mind while comparing football players!