In the hierarchy of players most important to Arsenal's return to success, it's hard to argue there's anyone above Bukayo Saka. Sure, the club might suffer more if someone like Ben White or Martin Odegaard turns out to be a flop, but Saka is the face of the club. He's a 20-year-old, full-fledged international with goals to his name, and not for a small country, mind you.
Saka is the one who comes up in arguments with supporters of other top-six clubs. He's the one who gets touted in hypothetical £90 million deals (e.g., Would you sell Saka for £90m?). He's the one who gets nominated for Golden Boy and nxGen and Young Player of the Year. He's won Arsenal's Male Player of the Year already. And hopefully, before long, he'll set his sights even higher.
It's pretty rare you see fan page or analyst propose an XI for Arsenal that doesn't include Bukayo, unless we're talking about a cup competition or he's returning from international football. But, interestingly, he's gone back and forth between the left and the right side of the attack.
With names like Nicolas Pepe, Gabriel Martinelli, Emile Smith Rowe and others both available to play at present and potentially important to the long-term success of the club, there's something of a dilemma about where Saka should play. So what do the statistics say about the starboy's performance on either side of the attack? I'll do my best to break it down here.
I always find it helpful to start with a radar chart. Above, I've done my best to split out Premier League games where Saka started or played predominantly on the right over the past season-and-change (about 1,300 minutes) against games where he started or played primarily on the left of the attack (about 879 minutes). There are a few things going on here, so let's break it down a bit more.
(Note: Arsenal's Oct. 18 result against Crystal Palace wasn't yet available when this was written.)
Saka as a scorer
Depending on what you think Bukayo Saka should be doing, that vertical axis on the top could be crucial to you. Since the start of last season, Saka has six Premier League goals. Five of them came in games where he started or played primarily on the right wing: MW15 against Chelsea, MW17 at West Brom, MW19 against Newcastle, MW20 against Southampton and MW6 this season against Spurs. His only goal from the left came in last season's fourth game, home against Sheffield United, when Arsenal played a 4-3-3 with Saka in the midfield rather than as part of the front three.
Those numbers to translate to around a goal every 270 minutes from the right or one every 900 minutes from the left. That scoring rate from the right may not excite you at first blush, but keep in mind it's around a top-30 Premier League mark if sustained over a full year. Nicolas Pepe's 10 goals in around 1,800 minutes from last season boosted his career Arsenal goals per 90 minutes to a rate that's just a bit slower.
Saka's lack of scoring from the left isn't necessarily due to lack of chances. In fact, his minutes there have generated around 0.25 xG per 90 minutes compared to 0.28 xG per 90 on the right. He's actually taken a few more shots from the left, as well: 2.5 per 90 minutes, versus 2.26 per 90 from the right. His shooting on the right has been a bit more accurate, though: 39.4% on-target, as opposed to 28% from the left.
Saka as a creator
Saka has been a bit more consistent from either side as a creator, according to the numbers. Over the past two seasons, he's averaged 4.11 shot-creating actions per 90 minutes as a right winger and 3.90 per 90 as a left winger. The good news is that both of those marks are good -- the latter would have been 13th in the Premier League last season if sustained.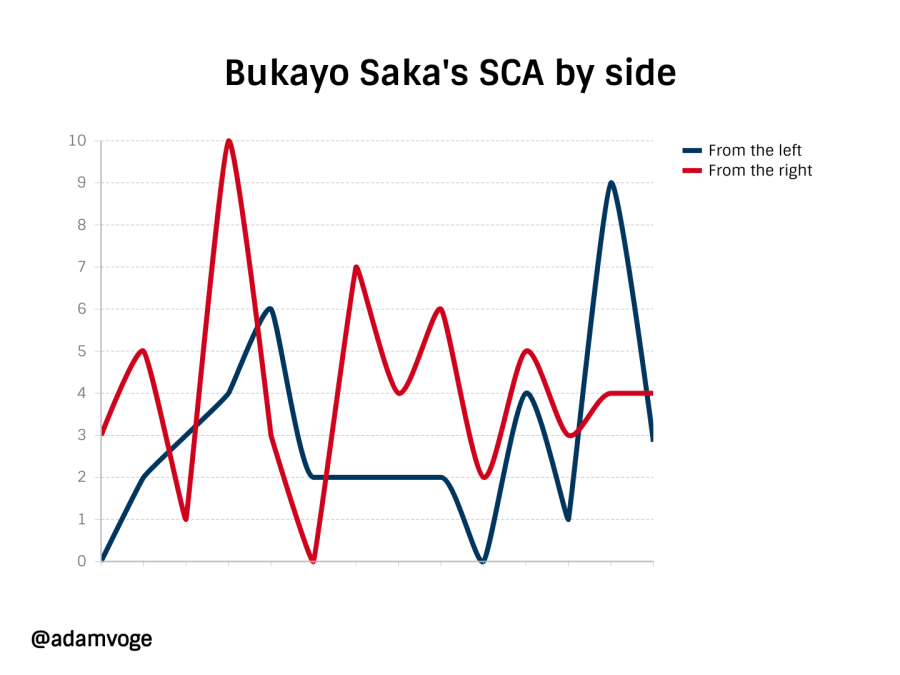 As the chart above shows, Bukayo has been a bit inconsistent in terms of SCA no matter which side he's played on. (Please note: This chart includes substitute appearances and early exits). It is interesting to note the number of times Saka provided five or more actions, which is a high-level output: Twice on the left and five times from the right.
Expected assists, often touted as the holy grail of creation stats, paints a less even picture. Bukayo has amassed 1.0 xA on the left wing, or about 0.10 per 90 minutes, and 3.3 xA on the right, or 0.23 per 90 minutes. Again, he'd have to sustain it for more minutes, but the latter mark is roughly top-25 in the Premier League.
For what it's worth, traditional assists bear this out as well. Of Saka's four assists in the Prem these past two seasons, three have come on the right of the attack, one as a left back.
Saka as a defender
Here's an angle you might not really consider when talking about Saka: What about his defensive numbers?
They're traditionally not strong. Let's get that out of the way.
But when I cut them by LW or RW appearances, I was shocked at what I saw.
In his roughly 10 games' worth of minutes on the left wing, Saka pressured the ball successfully 3.38 times per 90 minutes. He amassed 1.43 tackles and interceptions per 90.
But on the right: 5.0 successful pressures. 2.67 tackles and interceptions. A significant difference, and one that would put him more in the "pretty good" group of attacking midfielders, rather than "pretty bad."
Defending or pressing might not be what you look for from a player like Saka, or any attacking midfielder at all, but it's certainly interesting and something I thought was worth noting.
Strength of opponent
One thought I had when I put these numbers together was that maybe Saka was playing better opponents as a left winger. After all, that might be a scenario that calls for Pepe's experience in the attack. So I took a look.
On the left: City, Chelsea, Leicester, Wolves, West Ham, Brighton, Brentford, Burnley twice, Sheffield, Leeds, Norwich, Palace. Eight at home, five away.
On the right: City, Chelsea, Spurs twice, Brighton twice, Wolves, Villa, Leeds, Burnley, Everton, West Brom, Palace, Newcastle, Fulham, Southampton. Eight at home, eight away.
I don't know that the top list is much easier.
And for what it's worth: Arsenal went 5-6-2 in that top set. They went 8-4-4 in the bottom.
Summary
So, there you have it. There does seem to be a measurable difference between Saka on the right or the left. Given his stature in the club, importance to the club's future and range of options on the left, I'd nail him into the XI in that right wing role. I realize that there's a contingent of support for Nicolas Pepe, and just to be clear: This isn't about downgrading him, or saying there's no role for him here.
It's about recognizing where your key player plays his best ball, and using him accordingly.