A great end to what has been a tumultous season, Arsenal are FA Cup winners for the 14th time, qualifying for the Europa league in the process. Mikel Arteta has his first piece of silverware, we have some level of finances to operate within in the coming window, the team spirit is high and we can be hopeful of this momentum carrying into next season. Lot of things to be positive about.
Let's reflect on the individual players that shaped the season.
Player of the season: Pierre Emerick-Aubameyang
Via Getty Images
22 goals in the league for the second successive season in a row, brace in the semi-final and final of the FA Cup, carrying us to a trophy and European football. Never take him for granted. My striker.
Most improved player: Dani Ceballos
Dani Ceballos under Unai Emery and under Arteta are like two different players. He was always good at helping us progress play from deep, but struggled with his positional awareness and defensive stability. As Arteta said, he worked his socks off and changed his past behaviors, becoming a reliable presence in central midfield.
Player that surprised you: Emi Martinez
When Bernd Leno's injury took place, we all started fearing for the worst. Leno had been a key player for us, keeping us in many games with his brilliant shot stopping skill. Up step Emi Martinez. Played every single game since Brighton (A) and showed that he's a top class keeper. Achieved his dream of winning a trophy with Arsenal. Should become Argentina's number one soon and is going to make it hard for Leno going forward.
Signing of the season: Kieran Tierney
It had been an injury hit season for Kieran till project restart began. But he showed us all what a top player he is - capable of playing left back in a 4, wing back in a 5 and third center back in a three. He does all the basics right and is our Mr.reliable. Played a vital role in the FA Cup winning run. For just £25m, he will prove to be an absolute steal. Prediction: Will captain Arsenal one day.
Player who didn't perform to expectation: Lucas Torreira



Torreira's first season with Arsenal started incredibly well and he looked like someone who could be a mainstay in our side. However, he hasn't been the same since those first few months. This season, Unai Emery didn't always use him properly, but even under Mikel Arteta bar a handful of games, he hasn't impressed. His lack of ball progression has led to him being displaced from the starting eleven and being replaced by Ceballos.
Goal of the season: Gabriel Martinelli Vs Chelsea (A)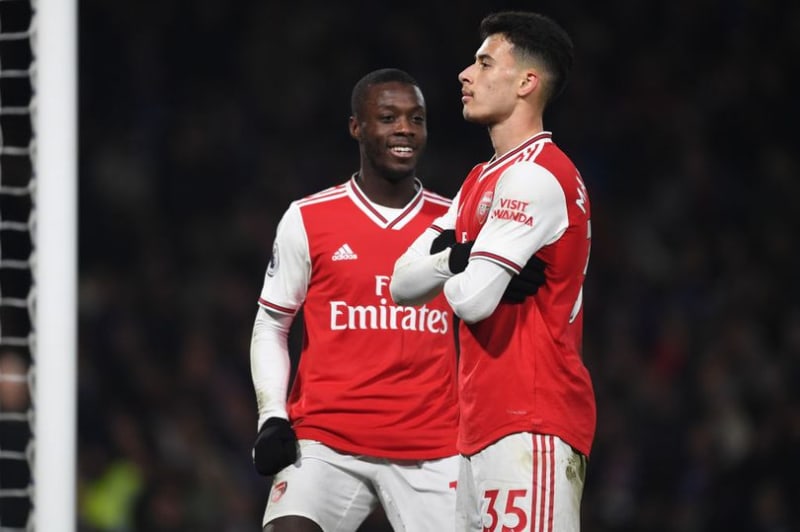 Down to 10 men at the bridge, losing 1-0, enter Gabriel Martinelli. Ran the entire length of the pitch and slotted cooly past Kepa. An 18 year old doing that in such a cirumstance are what fairy tales are made of. It was one of those moments that typified the character and fight the side would show under Mikel Arteta in the subsequent games.
Best young player (U-21): Bukayo Saka



There have been some excellent contributions from youngsters this season. Martinelli, for example has the best goal/assist ratio per 90 minutrs at the club. However, Saka edges it for me. He's played 38 games in all competitions, which for an 18 year old which is a huge feat - all the more when you realize that he's played as a left back, wing back, right forward, left forward and in central attacking midfield. Saka has 13 goal/assist contributions which is the icing on the cake.
A huge window coming up for Arsenal. It is time to built on this success and go from a cup side to a team that can do it over 38 games. COYG!