A few weeks ago, I published an article which looked at the latest information and example images for Arsenal's 2020/21 Home, Away and Third kits. Yesterday, we were able to have a look at the Home shirt for the very first time. There may be no football at the moment, but a kit leak is always exciting, especially if you are like me and find what the team wears very important!
Whatever Adidas throws our way next season, it is always going to be difficult for it to match or even beat what we have got this campaign, i'm sure you will all agree that our current kits are some of the best we've ever had. I actually ended up buying all three and that very rarely happens.
Some details about next seasons jersey were revealed a month or two ago, we were told that a darker shade of red will be used, a pattern will appear on the top and the three Adidas stripes will be positioned on each side of the shirt instead of the sleeves. It now appears that those reports were spot on.
Arsenal 2020/21 Home Kit - Leaked by Footy Headlines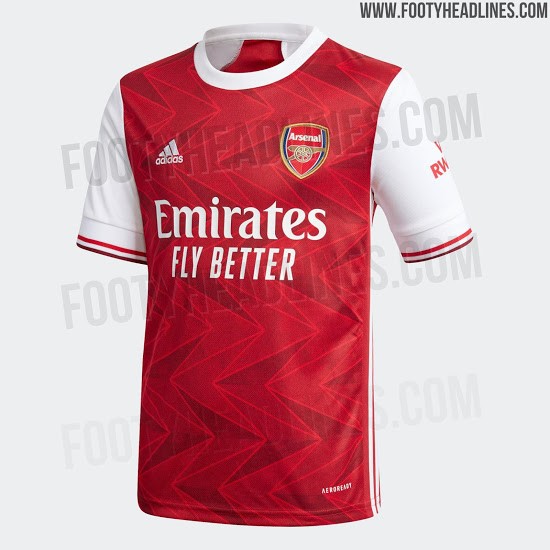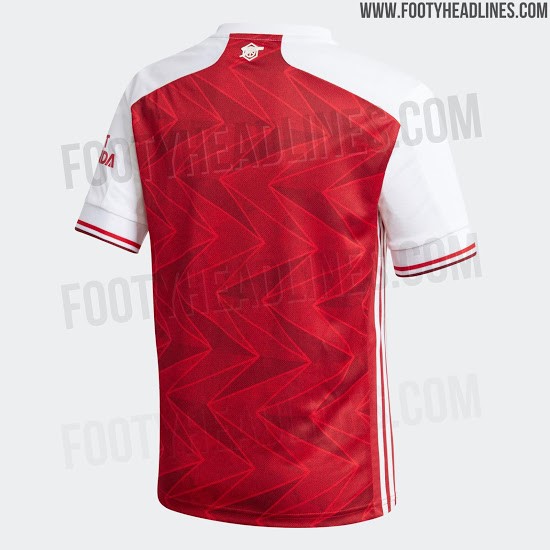 The description on the Footy Headlines website is as follows: The Arsenal 2020-21 home shirt features a darker shade of red while keeping the club's traditional look. A subtle pattern appears on the red parts of the Arsenal 20-21 home jersey, while stylised cannon graphic is placed on the upper back just below the neckline.
The sleeves are the ones seen on the Germany and Juventus home shirt, which means that the white part extends onto the upper back. The Arsenal 2020-21 home kit has high sleeve-cuffs, predominantly white with red and maroon piping. As reported by us previously, the 3 Stripes sit on the sides.
The shorts will be white, while we don't know whether red or white will be primary choice of sock colour.
So, there we have it, our Home shirt for next season. First impressions, i really like it. I love the pattern which carries a mixture of dark and light red. The inclusion of the red on the sleeves looks good and the stripes on the side of the shirt goes well. I quite like how the red doesn't go all the way up on the back, it's good to see the cannon return too, that looks quite retro.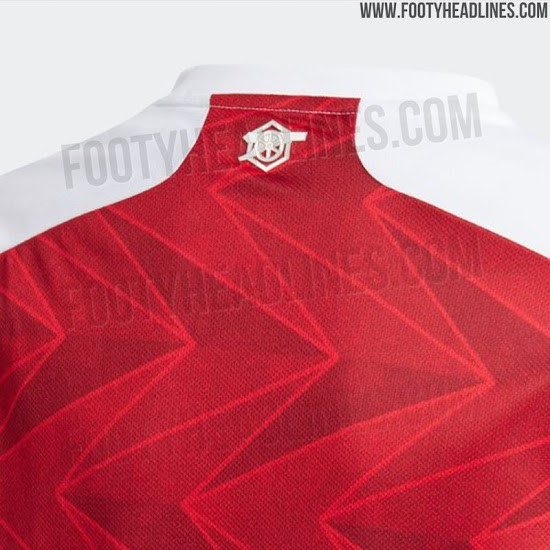 My only criticism is the sponsor change, it takes up more room and it just doesn't look right to me, 'Fly Emirates' would be so much better. However, that's probably out of Adidas' hands, as it's up to Emirates Airline how their slogan looks and what it says. If it does indeed end up looking like that, then the change should apply to all of the other clubs that are sponsored by Emirates.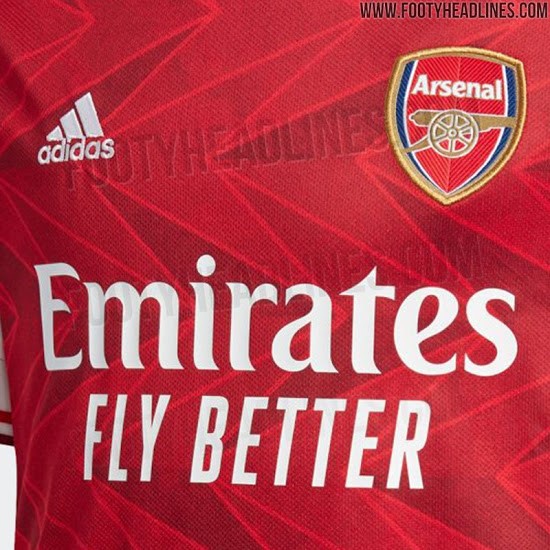 A few people aren't a fan of the collar, but i don't think it's too bad. Yes, it is basic but we have had similar before, just think of the home shirt from the 1970's and the 2010/11 one too, that was actually the last time we had a plain white round neck if i remember correctly.
Overall, i would give the shirt a solid 9/10 rating. Like i said earlier, nothing was going to beat this seasons in my opinion but i think the new one has come close. I believe it will end up growing on a lot of people and like always, it will look so much better in person and on the players themselves. Let's be honest, anything is better than Puma...ew.
We still don't know how the Away and Third Kits will look, but some details about them have already been revealed and you can read more about that by clicking here.
Thank you for reading folks, please feel free to let me know what you think about next seasons Home shirt by commenting below or simply tweeting me @cdavison_afc
Stay safe!