After a poor weekend against Liverpool, there have been doubts re-emerging over Mikel Arteta and his young side's capabilities to truly deliver on the early expectations the fans have after the Gunners' return to form. The fact is this constant cycle of belief and doubt would go on until the Gunners start to perform against the big guns of the league.
And that will only happen with time or to be specific, with some more intelligent signings and a more refined 'process'. But the path that Arsenal are currently on is going to the destination every Gunners fan wants to arrive at.
To further back my belief in Mikel Arteta, I'm gonna look into an interesting tweak he has made to his side which has not only helped them 'click' but also utilized a player who was seemingly looking like a benchwarmer that would eventually leave.
Alex Lacazette seemed like another player who was on his way out soon who wasn't going to be utilized anymore as a first-team player until the match against Aston Villa. After an underwhelming start to his second stint at Arsenal for Martin Odegaard, Arteta was swift to reinstall Lacazette in the first team. Since then, the Frenchman has become an integral part of the setup.
One of the many facets that Alex Lacazette has helped Arsenal out has been as an outlet for Arsenal's backline to ping balls into. While Pierre-Emerick Aubameyang has improved his hold-up play this season, he's still no match for the Frenchman. Lacazette has received the most progressive passes per 90 (7.57) in this Arsenal side. In comparison, Aubameyang is receiving more than 3 fewer progressive passes (4.39.
He has been able to find pockets of spaces between the lines to receive passes and then either run at the opposition defense himself or lay it off to a teammate, and it's fair to say he has been effective in doing so. Infact, he's averaging the second most key passes per 90 in the Arsenal squad (1.89) just behind Nicolas Pepe (2.22). He's also completing the most number of passes into the opposition penalty area per 90 (2.16) and recording most shot-creating actions per 90 (4.59) within the Arsenal squad.
Martin Odegaard might be the big-money signing for Arsenal, but Lacazette seems to have moved up the pecking order and the stats suggest it's only justified.
However, to show for his return he only has a single goal contribution but he has never been a high-output player for Arsenal. What has made him so valuable is his ability to improve others around him and contribute defensively to the cause of his team -- and he continues to do so.
Now, it's tricky to reflect on his work rate through raw numbers because being an attacker his stats will never put up against those in the defense. So here I compare his stats against Martin Odegaard, the player he's competing against for his place in the side.
In terms of pressures, Martin Odegaard tips Alexandre Lacazette for successful pressures (5.24 v 4.86) and pressure success rate (25.4% v 25%). Now the Frenchman isn't really known for his athleticism -- and you shouldn't be expecting impressive numbers from him. However, he's smart with his defensive efforts and that still makes him effective.
Advert Inserted
He's making more than twice the number of blocks per 90 (1.08) than Odegaard is making (0.48), more interceptions (1.35 v 0.95), and tackling more dribblers (0.54 v 0.48).
Though, it's not just about what his defensive contribution has been, but also about where that contribution was made. The Visualization below is a good reflection of how Lacazette has helped Arsenal sustain with a double pivot, he consistently drops in and helps out the midfield from being outnumbered.
Mikel Arteta has done a brilliant job fitting in Alex Lacazette on the right-hand side to link-up the defense to the attack. This is tricky given Arsenal's right-back Takehiro Tomiyasu usually stays back and tucks in the back three more often than overlapping high on the right-wing. To make it work, the right-winger usually had to drop deep to receive possession from Tomiyasu which made it difficult for him to impact the game in the attacking phases.
With Lacazette, Arteta has formed a link between the defense and the right-winger, allowing Bukayo Saka to stay high and wide and receive possession in potentially dangerous situations.
As shown in the Visualization, before Alex Lacazette was included in the first-team lineup, Bukayo Saka's heat map showcases he had to drop deep far more often in comparison to after he was included in the first-team.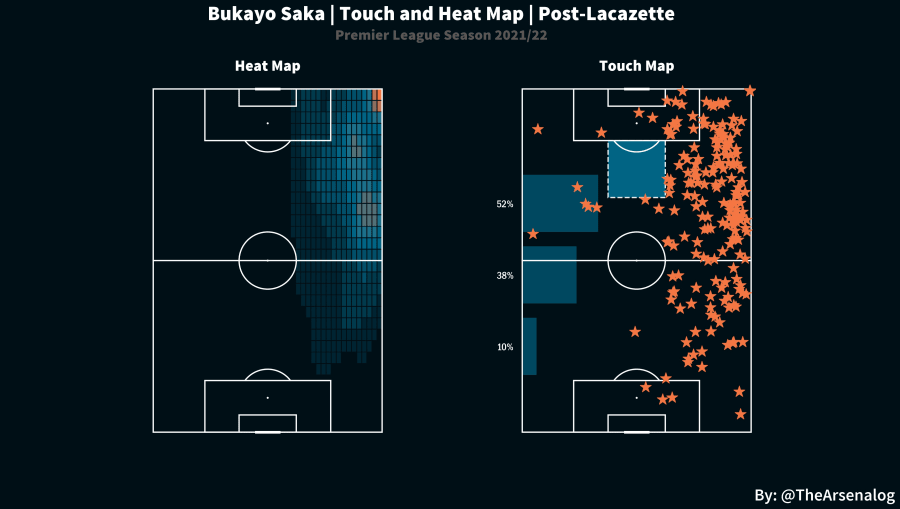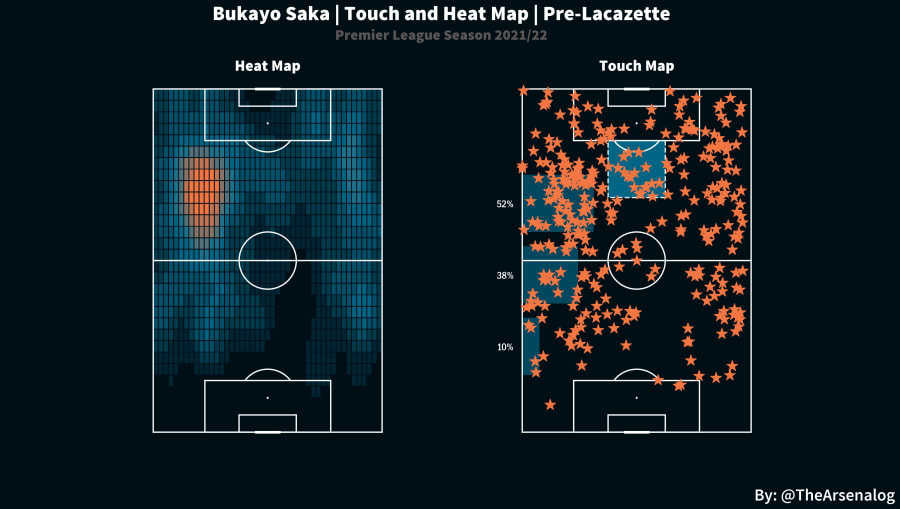 Lacazette largely operates in the right-half space meaning Saka is allowed to stay wide and be isolated 1v1s against his opposition left-back creating a more favorable attacking scenario for him. And that surely has impacted his performances. Below are two Visualizations reflecting Saka's xT creation before and after Lacazette was introduced to the first team and the difference seems to be massive.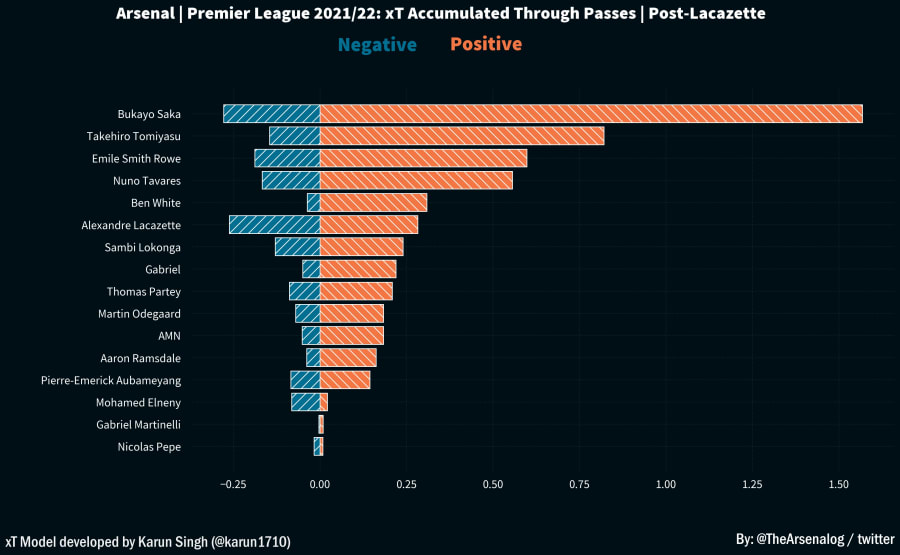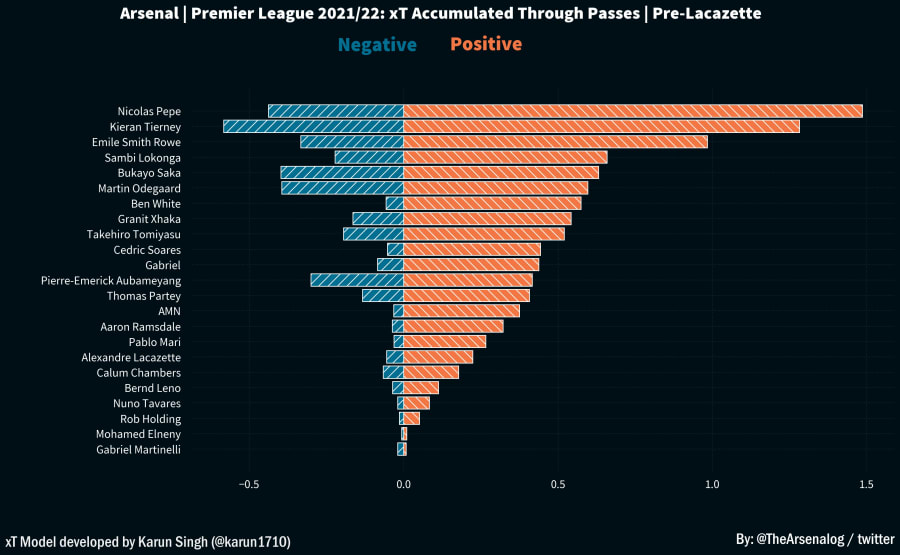 The role that Lacazette has played and its effectiveness are both down to the player and the manager. Now, whilst the player must be applauded for his efforts, Mikel Arteta has found a new role for a player who is probably departing soon and made the team better in the process. And in doing so, he has also solved the mystery that managers before him couldn't which is finding a way to play Arsenal's two marksmen together in the same side.