A midfield general is what Arsenal have lacked since the days of the invisible wall, Gilberto Silva. Someone with athleticism, mobility, and a relentless engine. But finally, after years of neglecting this fundamental profile, the Gunners captured Thomas Partey towards the dying embers of the summer 2020 window by paying his £45m release clause. As per The Athletic - 'The Kroenkes provided some funds to meet Partey's release clause as a show of their confidence in Arteta.'
The deadline day signing lifted the spirits of Gooners across the world - this was a signing that fans clamored for right through the summer. That belief in Partey was reaffirmed by Arteta - speaking to the club website, he said: "We have been watching Thomas for a while, so we're now delighted to add such a high-quality player to our squad. He is a dynamic midfielder with great energy."
Partey's first major impact came against Manchester United at Old Trafford and after completely nullifying the incredible Paul Pogba in what was a man-of-the-match display, the expectation was that he would kick on and become Arsenal's midfield linchpin.
Instead, injury issues and fitness problems prevented the 28-year-old from frequent minutes before the Christmas period. Frustration springs to mind instantly since his injury record was almost faultless before arriving at the Emirates. But it's also no surprise since the consequences of a global pandemic meant that the pre-season period was shortened coupled with the fact that the former Atletico Madrid midfield enforcer isn't used to the increased intensity levels provided by the Premier League.
Since the new year, however, although performances have been inconsistent, Partey has demonstrated exactly why he's an integral cog to the overall team functionality, showcasing an abundance of qualities - many of which his midfield teammates simply cannot give.
1) In possession
In an 'Arteta system', individuals must show confidence on the ball, particularly players along the backline and in midfield, as the emphasis is placed solely on building out from the back and bringing the ball into the final third efficiently.
Regarding Partey's passing capabilities, the talented midfielder possesses an excellent range. Whether it's a long ball delivered down the channel or a diagonal switch of play, the 6ft 1in midfielder is consistent with his delivery. This is illustrated numerically with Partey completing 9.03 long passes per 90 minutes, ranking him in the 84th percentile. Comparatively, only Granit Xhaka (10.2) betters him in this aspect.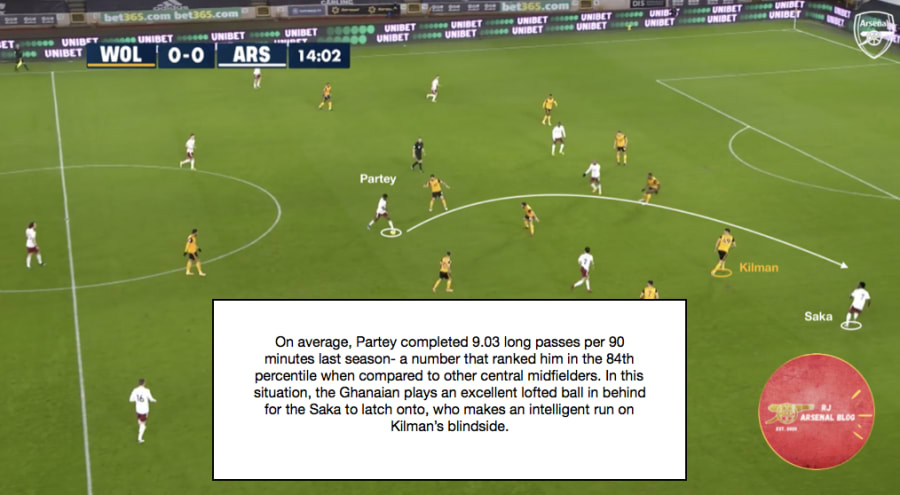 Not only does Partey flourish when favouring the aerial route, but he also excels when it comes to executing passes along the ground. The Arsenal number 18's ability to thread forward vertical balls between the lines is excellent - a trait that helps quicken the 1st and 2nd phases of play. Last season, he registered 6.23 progressive passes per game with only Granit Xhaka (6.62) yet again slightly edging him in this department.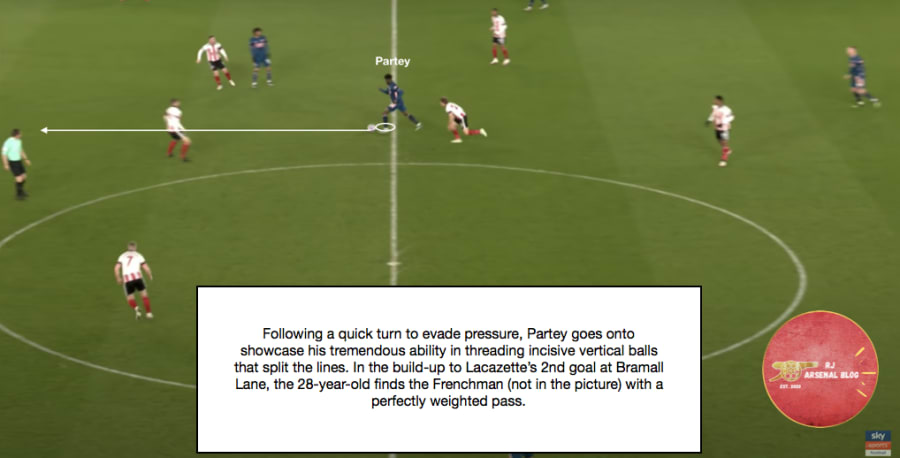 Furthermore, arguably Partey's most underrated attribute is the way he evades pressure by smartly adjusting his body accordingly followed by either driving forward with the ball or quickly passing to a supporting teammate. On average, Partey completes 1.6 dribbles per 90 minutes, more than any other Arsenal central midfielder barring Joe Willock (1.79), but what's worth mentioning is the greater amount of freedom Willock was given in Newcastle's 3 man midfield.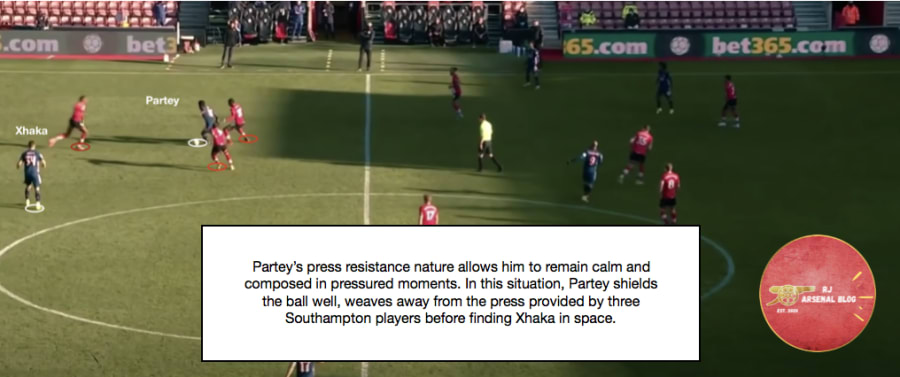 2) Out of possession
Defensively, the Ghanaian international is far superior to his fellow central midfield partners, and this is largely down to his profile. With aggression and the willingness to win the ball back in advanced areas - the former Mallorca loanee provides sufficient defensive assurance. Statistically, Partey averaged 4.47 interceptions and tackles last season, illustrating the high levels of tenacity he shows out of possession.
Whilst Emile Smith Rowe's availability enabled Arteta to shift towards a 4-2-3-1, Partey has also been an instrumental figure in giving the Spaniard confidence in setting his team up to defend with a back four as opposed to a five because of his sheer presence and the way he covers large distances.
3) Flexibility
The attributes Partey possesses gives Arteta a degree of freedom when it comes to adjusting his formation. Although the former Arsenal captain predominantly favours a front 5 channel attack (2-3-5 final third shape), the dynamic destroyer's ability to slow down transitions by using his strength and recovery pace allows an additional player to join the attack if necessary. An example where Partey's operated in a single pivot is in Arsenal's hard-fought stalemate against West Ham.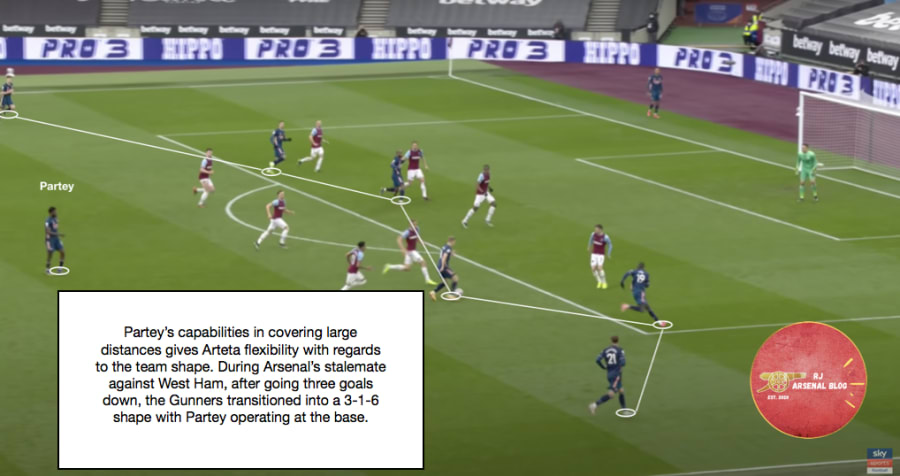 Operating in a 3-1-6 in possession setup certainly has its advantages, particularly against opposition who deploy a back five as having six attackers creates a numerical superiority. During Arsenal's 3-0 victory at Bramall Lane, this proved to be an effective strategy as the Gunners appeared to have no problems in breaking down Sheffield United's 5-4-1 low block, with Partey dominating the midfield battle.
Advert Inserted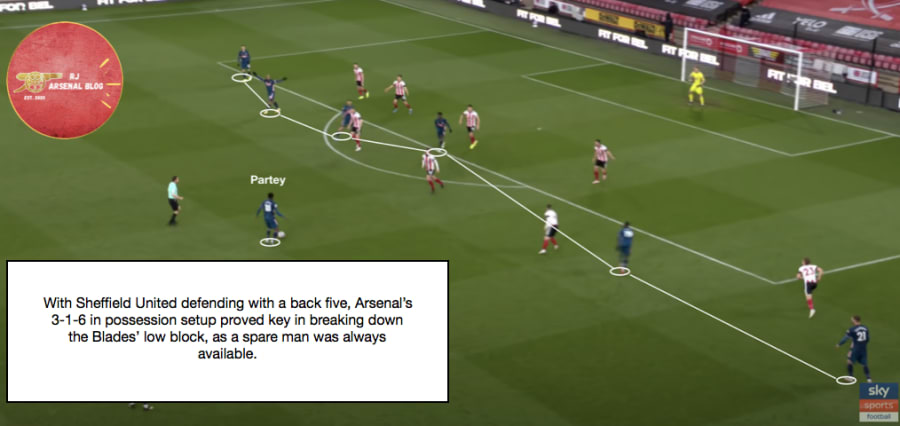 Final thoughts
Despite the abundance of qualities he has, Partey still needs to improve on certain aspects of his game. Currently, he does have a tendency to dwell on the ball for slightly too long as well as losing possession in dangerous areas at times. Whilst he is a high-risk high-reward player, Arsenal's big-money signing shouldn't be afraid to take a simpler route when necessary.
But with a full pre-season to look forward to along with a fair amount of Premier League experience under his belt, there is growing confidence amongst the fan base that his performance levels will rise next season.
Right now, it's a case of trying to identify the correct midfield partner. Whilst Partey is capable of playing as a lone 6, he is somewhat constrained in an attacking sense in this position. Instead, he is tailored to the right-hand side of a double pivot as he's given slightly more license to express himself in this role.
Profile-wise, it depends on which avenue Arteta is looking to take. If the Spaniard is favouring a dynamic option, Bissouma fits the criteria. The Mali international has excelled in Graham Potters exciting, free-flowing system, tasked with sitting in front of the backline, providing ball progression, and ensuring the center-halfs aren't exposed on the counter.
Recently, however, Bissouma has played a more advanced role, which has allowed him to venture forward more often, and the 24-year-old has had no issues in adapting his game - demonstrating his versatile nature.
A Partey and Bissouma partnership would allow the Gunners to sustain pressure for prolonged periods because of their capabilities in regaining possession swiftly high up the pitch. A pivot consisting of these two would also enable Arsenal to move into a 2-2-6 final third shape when needed- reminiscent of the system deployed during the Invincibles era, where the two full-backs Lauren and Cole were given license to bomb forward because of the defensive security provided by Gilberto and Vieira.
But with Xhaka's exit looking likely, the Arsenal boss may opt for a similar replacement, someone in the mold of Locatelli. Contributions during the build-up phases, dropping into the left channel to allow Tierney to advance forward and recycling possession; the talented 23-year-old midfielder would have no problems in replacing Xhaka since he performs a similar role for both Italy and Sassuolo.
But no doubt there will be plenty of clubs fighting for his signature following his impressive showings in the Euro's so far. The only noticeable concern surrounding Locatelli would be how quickly he could adapt to life in the Premier League since there are significant differences between English and Italian top-flight football.
The transfer window is beginning to gather pace and it will be interesting to see who the Gunners bring in to strengthen the engine room of the team.
Hope you enjoyed the read! Please comment below as I'm intrigued to know your thoughts.
(All data used in this piece has been taken from fbref.com)