The 2021 summer transfer window opens on June 9th and closes on the 31st of August. Arsenal have their work cut out in terms of gearing towards a brighter future and emerging with a stronger roster than what we have currently.
The need for overhaul and lack of European football:
Every summer, we say the same thing. 'This window is our most important.' The issues at Arsenal in recent years have been evident. To put it simply, we've had 3 different managers, but results haven't improved. That points to a larger underlying issue - the quality of our squad. It comes as no surprise why most fans look forward to the transfer window - people have come to the realization that if we don't strengthen, we won't progress. The window offers us that ray of hope to set the wheels in motion.
It has been clear for some time now that Arsenal needed an overhaul. There are a multitude of disparate factors that have prevented it from materializing thus far. When Mikel Arteta took charge, everyone was given a fresh start and the squad was re-energized. That came with its short-term rewards. But as the saying goes, 'Old habits die hard!'
The struggle has been to sustain a competitive culture over time. Arsenal have papered over the cracks for far too long.
The coming season marks the first time in 25 years that we aren't playing European football. For a team as big as Arsenal, Champions league football is a must. In recent seasons, we've embraced the Europa league as it offers a pathway to the Champions League - however if you don't turn up on the day, all the hard work goes without reward. The conference league? I'm thankful we're not playing in that irrelevant third-tier competition.
All things considered, no European football is a blessing in disguise for Arsenal considering where we are and extent of the rebuild that is required - focusing solely on the league is the best way forward. The need for huge squad depth is reduced and we can channelise our energies into building a strong first team that can turn up over 38 game weeks.
The long list of potential outgoings marks the end of a cycle:
Arsenal are set for a garage sale this summer. As someone who loves to follow the transfer window and has been doing so for years, I've never seen this many concrete links concerning our outgoings at such an early stage - the window isn't even open yet!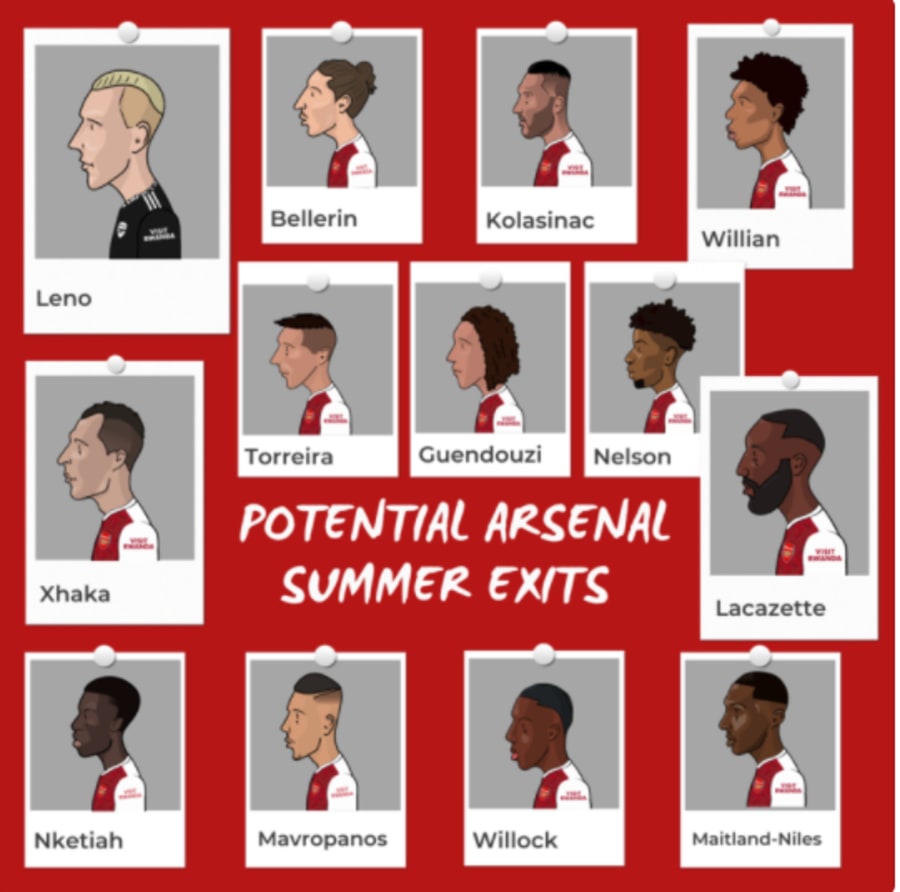 Essentially, 13 first-team players have been linked with moves away. Based on what has been reported, each of them have their own reasons. Let's take a closer look:
Bernd Leno has 2 years remaining on his deal and there seems to be no indication that he will sign.
Granit Xhaka wanted to leave Arsenal in the 2020 January window, but Mikel convinced him to stay - it seems like he wants to move to AS Roma based on reports in the Italian media.
Eddie Nketiah has fallen out of favor and a number of Premier League clubs have shown interest.
Mavropanos has impressed at Stuttgart and Sven Mislintat is a huge fan of the defender. With William Saliba set to return and be part of our first-team squad next season, I can't personally see a pathway for Mavropanos.
Joe Willock has been Newcastle's best player since joining them on loan, but will Arsenal guarantee him starting minutes consistently? I'm not sure. Personally, I think he goes.
Ainsley Maitland Niles fell out of favor with Arteta ever since he stopped implementing the 3-4-3 hybrid system. Another versatile player a lot of Premier League clubs will be looking at.
Lacazette will have a year left on his contract. There have been links with AS Roma and Atletico Madrid, but we need to hear more. I believe he'll be sold in the end.
Nelson hasn't started a Premier League game in almost a year - the disastrous signing of Willian has made things difficult for him. I see Arsenal selling Reiss, but if you left it to me, I'd prefer loaning him. There's a player there.
Guendouzi and Arteta don't see eye to eye. With one year left on his contract, there's no way an extension is on the cards. Concrete reports that he's close to joining Marseille.
Torreira went out on loan to Atletico Madrid and didn't get much game time. Arteta prefers Elneny over him, so another one who will definitely leave.
Kolasinac wanted to leave London and go back to Germany, with Arsenal paying a portion of his wage and allowing him to join Schalke. The relegated German club are said to be keen on keeping the player. There is also reported interest from Turkey. One way or another, we will get him off our books.
Willian will leave Arsenal this summer, as widely reported - whether Arsenal receive a fee or not remains to be seen, but he's another one I'd just be happy to get off our books.
Bellerin has attracted a number of suitors and has been linked with Real Betis recently, but I personally think he'll move to a team that's playing in the Champions League. It is reported that Arteta asked Bellerin to stay for this season and now it looks increasingly likely that he will be moved on after 7 years in the Arsenal first team.
This summer marks the end of a cycle at Arsenal. It is time to start a new one, which would be closely influenced by the incomings.
Potential incomings to bolster the squad:
Arsenal are reportedly looking at a new goalkeeper to replace Bernd Leno, with Ajax's André Onana being mentioned. Additionally, the second choice goalkeeping option looks increasingly likely to be Maty Ryan, who hinted at his desire to return to Arsenal in an interview with Fox Sports Australia. Of course, there are still things up in the air on the goalkeeping front - Onana's verdict in his failed drugs test is sure to play a part in the planning.
Edmond Tapsoba seems to be the most concrete centre-back link thus far. It is widely reported that we will bring in a right center-back to replace Luiz. Tosin Adarabioyo is another name that has been mentioned by The Athletic.
With multiple exits expected in midfield, I see us bringing in a new base midfielder and a box-to-box player. Arsenal might actually be able to find both characteristics in Yves Bissouma who has been mentioned as a target - judging by the Instagram activity and some of the hints his agent is giving out, I feel like we'll get this one over the line.
I think the attacking midfield position is very clear. It is Martin Odegaard as the first choice and Buendia, the second. With Carlo Ancelotti off to Real Madrid, does Odegaard have a change of heart and decide not to come here? We'll know soon. Buendia is another smart option from the Championship, but it isn't one of those cheap bargain deals by any means.
Additionally, we will need a starting right back to replace Bellerin and a substitute left-back who can reliably fill in when Tierney is absent. I also believe we will either sign a left-winger or center-forward based on the movement in those positions, but in terms of the names, we know very little right now.
Let's wait for the window to open - hopefully, then we can know more - but I see us bringing players in at least 6 positions.
Advert Inserted
Will Arsenal invest? Some indications that they will:
The question on everyone's mind is 'Will Arsenal spend?' Now before I'm accused of being a part of Kroenke's PR team, I'd like to say I want Kroenke Out. He has been a shambles of an owner and I've dedicated an entire article to expose his part in the club's decline.
But when it comes to this transfer window, I am optimistic that Arsenal will spend a significant sum of money.
1. Firstly, Arteta has come out and said publicly about the 'resources we are going to have' - confirming that the owners plan to invest.
2. As reported, Arsenal employees were informed in a Company-wide call about plans for investment.
3. Let's not forget the ex-senior KSE official speaking to TheAFCBell stating that the ownership and board plan on doing something exceptional this summer.
4. Josh Kroenke stated in the zoom call to AST that plans had been submitted for the summer by Edu and Arteta around the first week of April.
5. David Ornstein hinted at the idea of a lack of European football not having an impact on the business.
6. Pep Guardiola, who is well connected to Arteta suggested that Arsenal will invest this summer in a recent interview.
Some will throw out words like 'PR' and whatnot - but there are too many indications that something will happen this summer - to what extent? No one knows, let's see. But there is no smoke without fire.
In addition to possible financing, whether directly from the owner or through a loan, Arsenal's wage bill is going to finally look beautiful! Several questionable deals and contract agreements have been executed in the past that subsequently went on to constrain Arsenal in the market - Richard Garlick is Arsenal's new director of football operations who will closely work on player contracts.
Earlier this year, the contracts of Mesut Ozil, Shkodran Mustafi and Sokratis were terminated, with Sead Kolasinac being sent out on loan. When you couple that with Luiz's contract expiry this summer, the annual wage bill goes down by about £45m. Then, add in the 13 potential exits.
Arsenal's wage savings, money acquired through player sales, and the increasingly likely prospect of external financing make this summer an interesting one. If we play our cards right, I believe we can emerge with a significantly stronger team that can challenge for top 4 and beyond.
Time will tell if the Kroenkes, Edu, Arteta, and others involved make this a reality.
As always, I'm intrigued to hear your thoughts in the comments below!